Apr 3, 2020 | Native Hope
March was filled with giving hope and sharing love with the various community members and tribal organizations—partnering to helping those in need. In response to COVID-19, multiple trips to the local reservations continue to take place to ensure the communities are being supported during these uncertain times. We truly appreciate our generous donors who help make these outreach deliveries possible.

Meth Walk scheduled to take place in Bullhead, SD on April 26th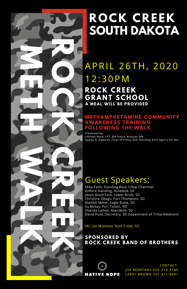 On April 26, a walk to raise awareness for meth is planned in Bullhead, SD.
Joe Montana reached out to Native Hope for help in getting
the word out. Ashley, Native Hope Digital Media Editor, created
a poster to help promote the walk and show our support for meth
awareness. Additionally, Native Hope plans to sponsor
some of the speakers for the event.
Unfortunately, due to the recent COVID-19 pandemic, it is not
known whether or not the walk will take place. When the walk
occurs, we will be there to support Robert and his vision.

Native Hope Mní Wičóni Coloring Contest
Since March 22 was World Water Day, Native Hope decided to create a coloring contest in honor of Mní Wičóni. Three coloring pages for three different age groups were designed by Dennis Metcalf, a local Hunkpati artist of Chamberlain, SD.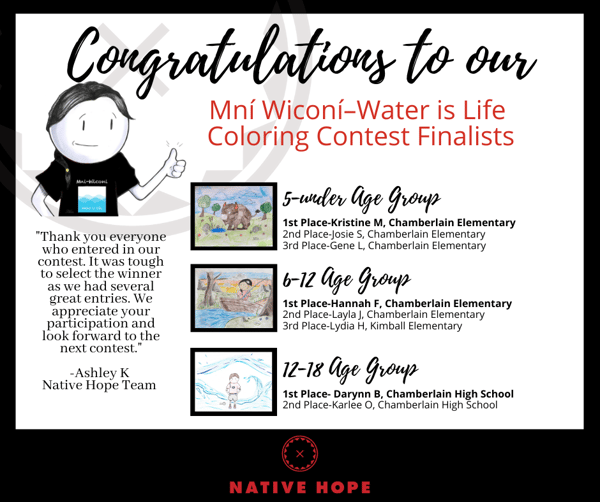 His designs were delivered to several schools around Chamberlain, Lower Brule, Fort Thompson, and Kimball, SD, for children in each community to participate. We also encouraged our Facebook fans and donors to get involved through our website.
"Our first entries came all the way from California," reported Ashley Korzan, Native Hope team member. "It's exciting to see people get involved with the contest." Numerous coloring pages and drawings were entered. After extending the deadling due to the COVID-19 outbreak, we are excited to announce the winners (see picture). Philámaya, to all who entered! It was a bright spot for us this month.
Back to Basics allows several families hope during this uncertain time
Our Back to Basics program has brought in many donations, which has made it possible to deliver several basic bundles to reservations and local Native American families in need. On March 3, Native Hope delivered baby bundles to the Family Enrichment Center in Fort Thompson. "Thank you so much for all of these, a lot of families will benefit from them," Lynn Harrison, Crow Creek Family Enrichment Director, said with appreciation. Items included diapers, wipes, baby soap, lotion, infant clothing, and blankets.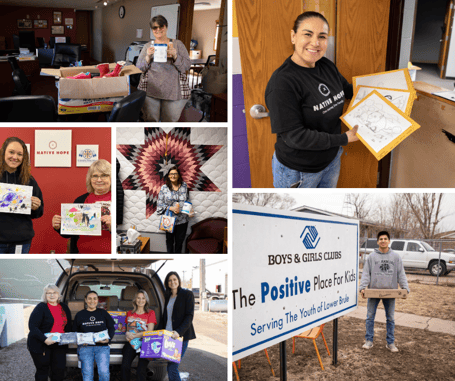 Also, we received a large shipment of hand sanitizer, antiseptic soap, and Purell disinfecting wipes from a donor. With the outbreak of COVID-19, these have proven to be much-needed supplies. Several tribal agencies requested these supplies. On March 12, we were able to deliver the items to the Lower Brule Drug Court, Teen Center, and Tribal Hall. The Department of Social Services in Chamberlain also received hand sanitizer for their case workers.
Since several schools are closed, Native Hope delivered a large stock of non-perishable food items to the Boys and Girls Club of Lower Brule and the Totanka Youth Center in Fort Thompson. Each organization divided the food items and delivered to the youth in their communities. Finally, the Food Pantry of Lower Brule expressed a need for diapers, formula, bottles, body wash, deodorant, and shampoo which we delivered on March 12 as well.
If possible and funding remains, we plan to make weekly deliveries throughout the COVID-19 crisis. Wóphila Tȟáŋka to those who are making this possible!
Have you met Hotah and friends?
Our talented friend, Dennis Metcalf, designed the Native Hope characters who were launched in March.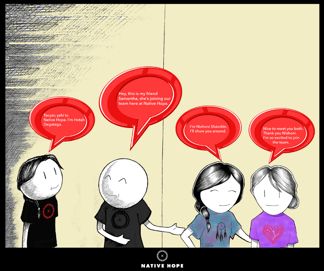 Each week we launched a new character, totaling four, and asked our social media friends to vote on a strong name for each.
We had some great contenders! The winning names were Hotah Degataga (Strong, standing together), Nizhoni Shandiin (Beautiful sunshine), Anthony (Loyal, priceless one), and Samantha (Listener). Philámaya, to everyone who helped voted on the names for each of our friends.
Our Media Coordinator, Iris, has been creating various, digital scenes and images utilizing Dennis' characters in new ways. These characters will appear throughout our social media posts and in our upcoming campaigns to bring awareness on various topics surrounding the Native American culture. Wóphila Tȟáŋka, Dennis and Iris.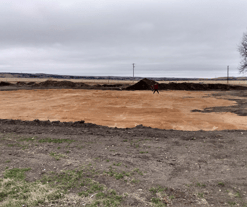 Play ball!
Our field in the Crow Creek District continues to take shape despite COVID-19. A big shout out to Don Big Eagle and Chad LaPointe who spread the baseball aggregate. There will be more loads to complete the field after this viral outbreak is under control.
Also, Ben Jenkins, founder of Warstic and major donor for project, is currently working on designing unique dugouts for the field. Things will come together–Native Hope and community members anxiously await the time we can finish the field and start the next. Stay safe out there, so we can play ball this summer!
Generous donors make this possible. If you want to make a difference, invest in hope.