Jan 14, 2020 | Native Hope
Our community outreach efforts in December were the highlight of our holidays! Thanks to the generosity of our supporters and the work of other local organizations, Native Hope was able to provide gifts, fun, food, and support at events ranging in theme from meth awareness and historical remembrance to Christmas and New Year's joy.
Keep reading to learn more about our on the ground efforts during the month of December.
Christmas Party and Successful Amazon Toy Drive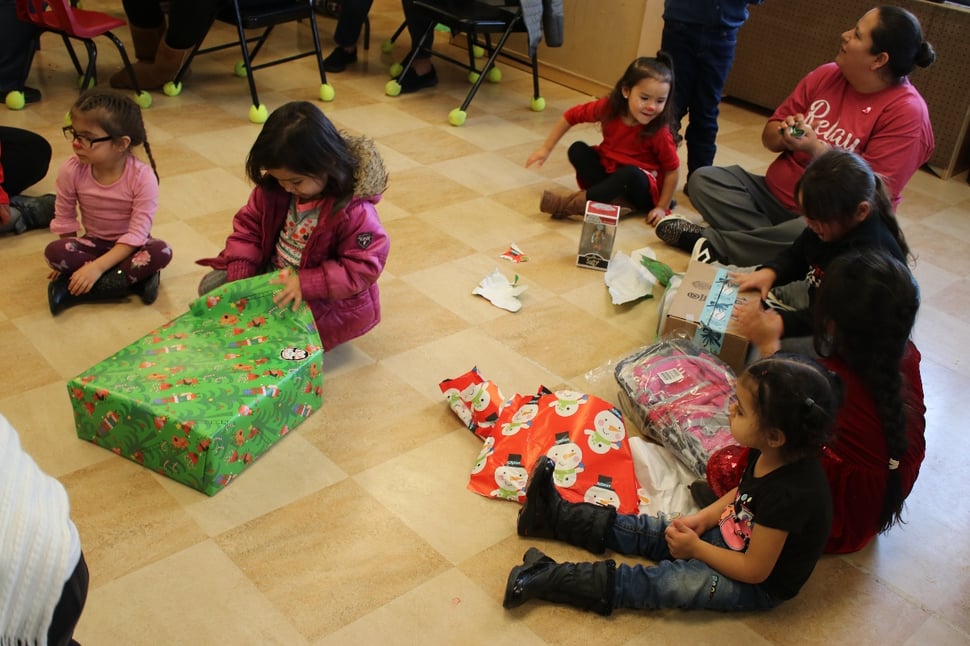 Native Hope was contacted about helping to provide gifts for a local preschool classroom's Christmas party.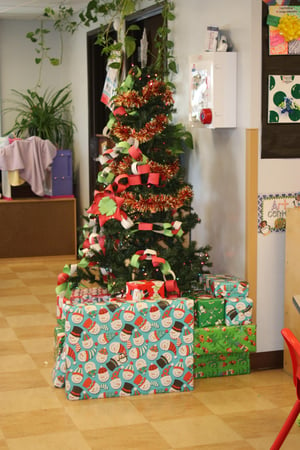 Each year, the teachers fundraise to provide some sort of Christmas gift for each of their students, and as the years have gone by, it gets more and more difficult to raise the money. This year, Native Hope set up a gift drive on Amazon and allowed each child to create a wish list of items.
Thanks to the tremendous generosity of the Native Hope family, the campaign was successful! Each child in the Topa Classroom received what they had asked for and more. It was enlightening to see the simple asks of some of the wakanija—children, and how big-hearted they are at such a young age. One boy asked for nothing but a Hulk toy for himself and a Barbie for his little sister.
I truly loved being a part of their party. Getting to share a meal with the children, listening to them sing Jingle Bells in English and in Dakota and then watching them open their present was a blessing. We look forward to doing this again next holiday season.
Meth Awareness Event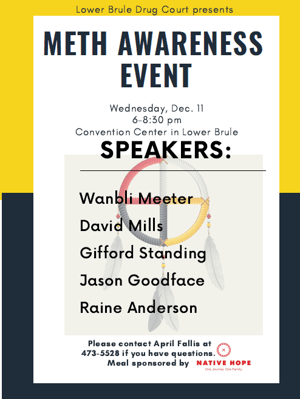 On Wednesday, December 11, 2019, the Lower Brule Drug Court hosted a Meth Awareness Event for the Lower Brule Community. The event featured speakers who shared their personal stories of meth use and its devastating effects; speakers included Wanbli Meeter, David Mills, Gifford Standing, Jason Goodface, and Raine Anderson. Each speaker gave testimony to their road back from the use of this dark drug. They shared their journeys in hopes to prevent others from making the same mistake.
Native Hope supported the event by sponsoring door prizes plus a meal for all those in attendance. Often Native Hope is called upon to help with a meal for community events, and we are thankful that the supporters of our community outreach fund afford us this opportunity. When asked about the importance of the meal for the Meth Awareness Event, April Fallis (coordinator) shared, "When you are eating—when you sit and listen to the words—it is as if you are 'eating the words,' and putting the knowledge in your heart, so you know something good is coming. Healing!"
Dakota 38+2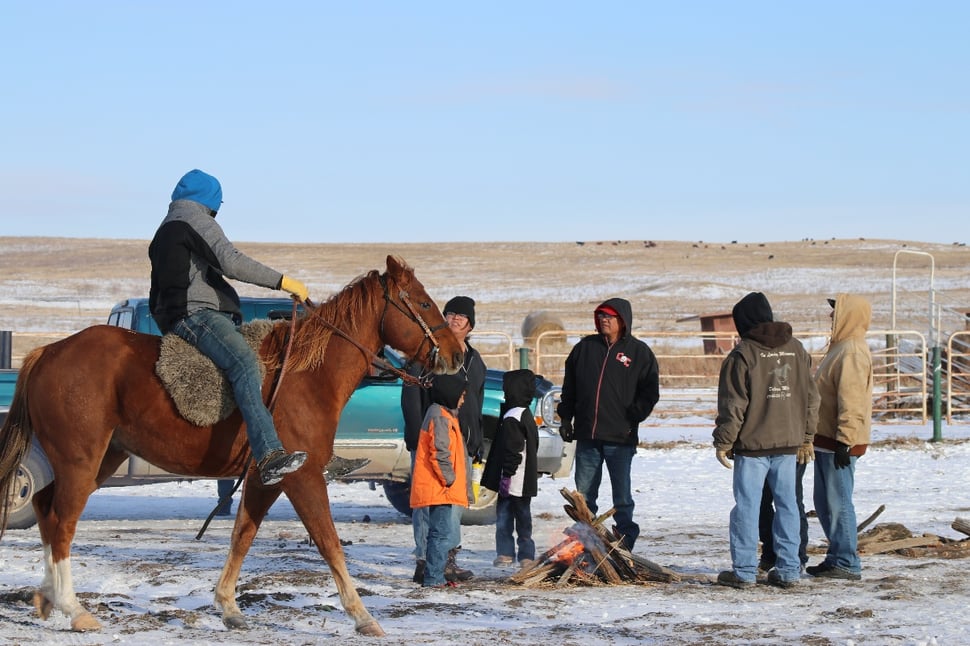 On December 9th 2019, Trista and another NH team member went to Lowe Brule, South Dakota (SD) for the first leg of the Dakota 38+2 memorial ride. The ride is a reconciliation ride in honor of the 40 Dakota men who were hanged at the orders of President Abraham Lincoln. We were humbled and honored to present for these happenings.
The riders started in Lower Brule, SD that morning and rode around 17 miles to Fort Thompson for a brief ceremony. The following morning we were present for another ceremony and prayer before the riders left on the second leg of the journey, from Fort Thompson to Wessington Springs, SD. The ride concluded on December 26th, 2019 in Mankato, MN in the spot that the hangings took place.
To learn more about the Dakota 38 + 2, read our other blogs about the history of the ride and the unique type of healing that takes place for Native Americans who are able to participate.
A Healthy and Family-Focused Party to Celebrate the New Year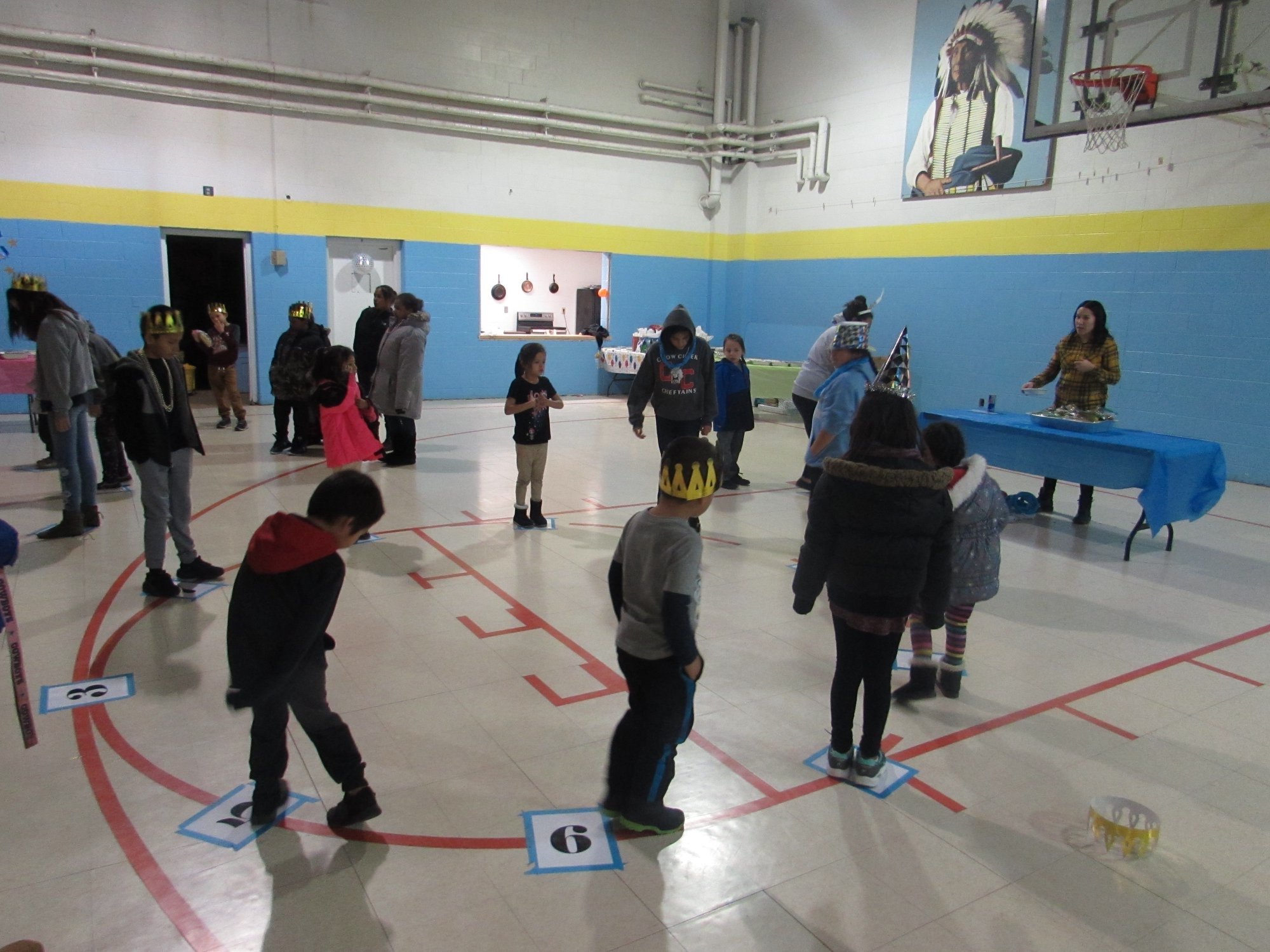 The New Year's Eve Bash is an event put on by the IHS Behavioral Health Department. It is an extension of a trial Bash put on by the Hunkpati Hocoka Agdi, a group of different programs seeking to make a difference on the reservation.
This celebration was thought of as a way to keep families together, and in a safe environment during a high risk time for drinking, suicidal ideations and poor mental health. The holidays in general are triggering times for many people, but especially for Native Americans because of horrific, historical events that took place in the deep of winter. This generational trauma is still at play in our communities today, and the winter months can be difficult.
Native Hope was able to provide healthy snacks and refreshments for this event, as well as the pickles for a pickle walk. Much like a cake walk or musical chairs, a pickle walk is where numbers are taped to the floor and a person stands on each number. Music is played while you walk from number to number in a circle. When the music stops a number is drawn and the person on that number wins a pickle. This is a favorite game/activity at nearly every community event that kids and teens attend. This event was very successful in bringing families together to ring in the New Year and at keeping kids safe during this time.
Are you interested in supporting our work in the communities around South Dakota? Chip in a gift of $5 or $10 to help us reach more families and children in need of hope.