Jan 11, 2020 | Native Hope
In 2010, President Obama declared January National Human Trafficking Awareness month and the United States Senate designated January 11 as National Human Trafficking Awareness Day.
Human trafficking has reached epidemic proportions in the United States. The International Labour Organization [ILO] estimates that worldwide, this modern-day slavery industry profits over "$150 billion annually—$99 billion from sex exploitation."
What is trafficking?
The crime of trafficking occurs when a trafficker pursues, recruits, and entraps an individual forcing him or her to perform sex or labor for another party as payment in order to survive. Traffickers groom their victims to become reliant on them financially, emotionally, physically, and/or chemically.
Essentially, trafficking is the "process" through which individuals are "owned" by their trafficker. The trafficker stands to make large profits off of these victims. "Women, girls, and yes, men and boys, are victims," explains sex trafficking survivor, J. Dakotah. "Victims are "trafficked" into either prostitution or death."
"Women and girls disproportionately are affected by forced labour, accounting for 99% of victims in the commercial sex industry and 58% in other sectors." Most of these victims see no way out of their given situation. They are vulnerable—socio-economically or situationally. Traffickers prey on these vulnerabilities for personal gain.
Those at higher risk
Oftentimes, victims are people of color, people coming out of the foster care system—they live in a "pipeline of vulnerability."
They are looking for solutions. They need food, shelter, and protection. Traffickers can solve their problems.
In the April 2019 edition of Fortune magazine, Dr. Sharon Cooper, founder and CEO of Developmental and Forensic Pediatrics, states, "The general public thinks that trafficking of girls occurs in inner cities. We've seen cases where girls were taken to farms and sold to migrant farmers, drugged in order to become compliant. We've seen girls who have been living in homeless shelters, and who come out of the homeless shelter just to walk down the street, but that homeless shelter has been cased by traffickers who will then drive down the street and say, 'Hey I have a job for you and you can get the tips.' This is the kind of thing if you offered to a homeless child they would absolutely believe is authentic and is an okay thing to do."
Among those hit hardest by this epidemic are Native Americans; in fact, the grim reality is American Indians and Alaska Natives [AIAN] are at higher risk of being trafficked than any other racial group in the United States.
"You've got a number of perfect-storm factors," says Sarah Deer, a law professor at William Mitchell College in Minnesota and an expert on domestic violence in Native American communities. "You've got poverty, you have high, high rates of sexual abuse, which is often a precursor to prostitution and you have just a sense of desperation on the reservation in terms of day-to-day life."
It is hiding in plain sight
If people think trafficking isn't affecting their states and communities, they are naive. It is everywhere. According to the Human Trafficking Institute, South Dakota, a state with only 882,235 people (2018) and a quiet life-style, ranks as the 11th in the number active sex trafficking cases. Nearly 50% of these cases involve Native American women or girls. This may not seem staggering, but in South Dakota the Native population is only 8.4 % of the state's overall population.
Because Native Women are frequently marginalized, this problem is largely overlooked. Many of these women have experienced violence and trauma—Native American women are 3.5 times more likely to experience violence than any other race in America.
Trafficking victims of any race didn't ask to be sold for sex, many were children when the crimes began.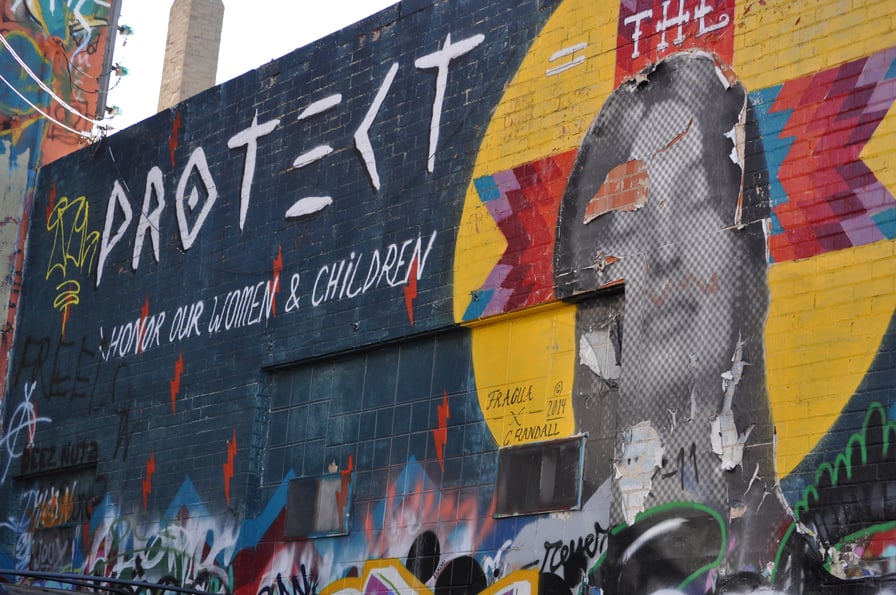 This is unacceptable
The best prevention for human trafficking is to stop it. People of all races, socio-economic levels, and geographic locations must learn the signs. They must allow conversations to occur in schools, churches, and public forums. A proactive approach will detour a trafficker and the buyer. This is more than education; it is saving lives.
Across the nation, anti-trafficking billboards are popping up. This is important. If traffickers see that people are aware there is a problem, they may take their business elsewhere.
Together, we can be a powerful force in raising awareness and bringing an end to this dark industry.