Jan 22, 2020 | Native Hope
J.Dakotah, a survivor, believes in the power of healing through sharing her experience in order to prevent others from the abuse she suffered.
January is National Human Trafficking Prevention month. In order to better educate local communities about the realities and signs of this crime, Native Hope contacted J.Dakotah, sex trafficking victim, survivor and advocate, to visit Chamberlain, Lower Brule, and Fort Thompson to share her story of survival.
Educating Communities Is Key
J.Dakotah first become acquainted with Native Hope when she shared her story with the organization through their "Storytelling Heals" campaign in 2017. She gave Native Hope permission to share the story with its online audience on NativeHope.org: "A Victim of Sex Trafficking Speaks." Since that time, J. has kept Native Hope updated on her work as an advocate for human trafficking victims and worked with Native Hope staff members on a podcast "Live to Tell" to be broadcast in 2020. Watch her full story on YouTube.
Trafficking Happens Everywhere
Many in the area may not view human nor sex trafficking as a problem with which they need to be concerned. However, our state is indeed one of the most vulnerable and is falling short of protecting potential victims. *See the National Report Card. A main concern for all communities is the development of the Dakota Access Pipeline and the dangers presented by the influx of workers, specifically, the man camps set up in neighboring communities. Currently, there is one such camp in Vivian. Because of this concern and others brought to the area via "Sex Tourism," J.'s visit was of grave importance.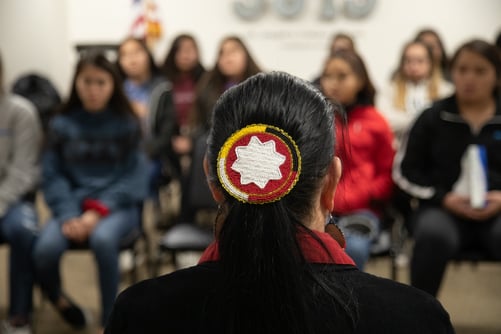 During her stay J. Dakotah delivered several presentations to various audiences. On Monday evening, she spoke with the young women of St. Joseph's Indian School grades 7-12, while community members of the Crow Creek Reservation welcomed her in Fort Thompson on Tuesday evening with Native Hope providing a meal for all in attendance. Finally, J. Dakotah presented to both the Lower Brule middle and high school students Wednesday afternoon and community members that evening where the LBHS students cooked and served a meal to those in attendance. Assisting with the Crow Creek and Lower Brule community presentations was Peter Lengkeek, Crow Creek Suicide Prevention Coordinator for the Great Plains Tribal Chairmen's Health Board.
Dakotah explained to her audiences that while her story is harrowing there are many others out there experiencing similar circumstances. "You need to protect each other, know the signs. If you see a white, panel van with no markings and tinted windows, it is most likely a trafficker," she warns. "Take a picture of the license plate or text it to a friend, stay in groups when you are walking downtown. It can and is happening here. Traffickers are not discriminative—they will take anybody who is vulnerable."
At one event, a girl asked, "Is it only white vans because I noticed a creepy black van once?" J. explained that white is the most commonly used by traffickers because it is the most common color of van purchased by mothers, so it seems "safe" to potential victims. This and many other tips were shared with attendees.
Don't Live in Fear—Be Aware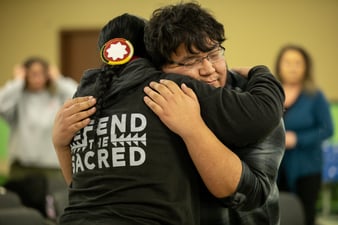 "These speaking events were a coordinated effort," explains Trista Gonzales-Medicine Crow, Native Hope community relations coordinator. "Our staff met with or contacted various leaders from each of the communities and schools in order to make this happen. Thank you to all who welcomed J. Dakotah and attended the awareness events."
We are dedicated to raising awareness and supporting organizations that seek to offer resources and to help victims of abuse.

How Can You Help?
By contributing to our community outreach fund, you help us bring powerful testimony to the people who need the awareness. Communities deserve to be made aware of the dangers that exist for their daughters, mothers, and aunties. It's time to break the cycle of abuse.