Jan 28, 2020 | Joanne Lewis
Communality, it is a word borrowed from our Indigenous relatives of the South. It is defined as "the state or condition of being communal. A feeling or spirit of cooperation and belonging arising from common interests and goals." It is a word used to describe our Indigenous communities. Historically, the solidarity of our tribes came with tangible advantages. For thousands of years, our people thrived in kinship, comradery, and stability. And, if we didn't have it, we created it. Then, we were colonized.
At first the idea of historical trauma is a difficult concept to grasp. We often run into the "get over it, it happened years ago" mentality. Then, a friend explained to me: it takes seven generations of healing to rebuild the way of life of one generation ravaged by colonization, genocide, and war. Just one generation. What about two dozen generations of terrors? How long does it take to heal our communities then? Where do we start? There is an organization in Santa Fe, New Mexico, that has taken a unique approach to tackling these tough issues.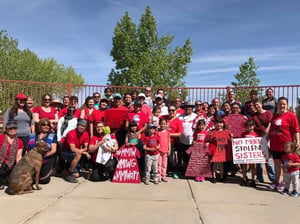 Establishing a way to help others
When Christina Castro, Autumn Gomez, and Autumn Rose Billie – all from Taos Pueblo – found themselves asking the same questions, they decided to take action. According to Christina, even within their own community they "felt marginalized and invisible." Knowing many other urban Natives shared the same experience, they decided to address these social issues through the creation of a collaborative, Indigenous space. Thus, Three Sisters Collective was born in 2017.
The mission of Three Sisters Collective is to "re-center and re-matriate a Pueblo/Indigenous presence in Santa Fe (known traditionally as O'Gah Poe Geh) through art, activism, education, and community building." Their happenings include a wide range of topics such as seed sovereignty education, vigils for victims of violence and oppression, and empowerment through dance and movement. The issue they address the most, however, is Missing and Murdered Indigenous Women [MMIW].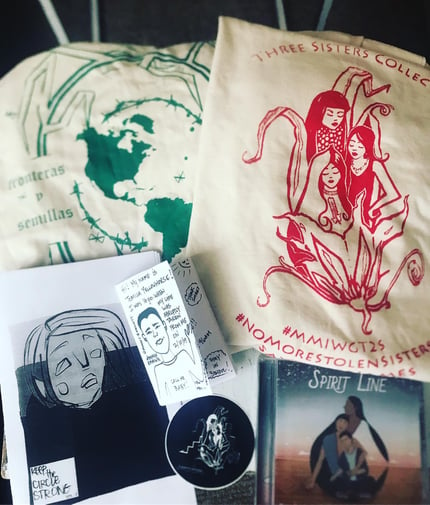 Women are highly revered
As Indigenous women go missing or are murdered at an alarming rate, we see the devastating effects within our tribes. Native women were the backbone of our cultures. We were the ones who passed down our culture, our knowledge, and our genes. Traditionally, women were seen as sacred beings. But due to colonization, the patriarchal mindset of women being inferior infested our communities. As such, our way of life deteriorated. Until women are respected and protected as it once was, healing is next to impossible.
Three Sisters Collective was inspired to take on the MMIW issue because "it is a natural extension of the work we do for female empowerment." With Urgency in her voice, Christina said, "It is an issue that hits close to home. There are people in our community who are going missing." She proceeded to list the names of Native women/girls that were found murdered in this area. Destinee found in Tesuque, murder unsolved. Renezmae is a 5-year-old, allegedly murdered by her stepfather. Tomika found in Albuquerque, murder unsolved… And the list goes on. According to the Urban Indian Health Institute, New Mexico has the highest number of documented MMIW cases.
The role of trauma
The complexity of MMIW extends into many factors including location, jurisdiction, isolation, and politics. It is difficult to create some sort of tangible solution to MMIW. Although awareness is a good first step to addressing this issue, we have to do something. "As Indigenous people," Christina added, "we carry the genetics of not only the bad (historical trauma), but also the good, such as resilience." One of the things that is in our hand is what we know best, creating communality among our people.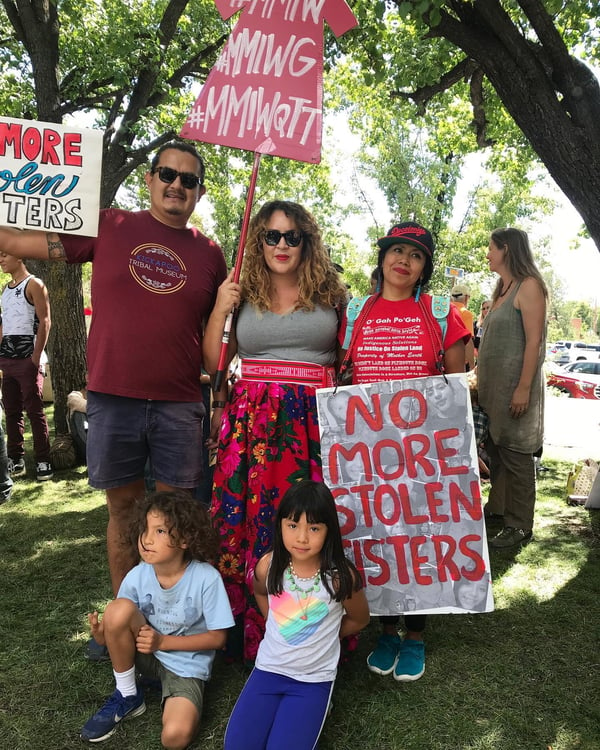 With the use of communality, Three Sisters Collective is filling a huge gap within the communities of northern New Mexico. Indigenous people are in need of an empowering urban community. Three Sisters Collective provides a space for Indigenous people to come together and express themselves in a safe environment. They have hosted self-defense classes along with MMIW memorials and marches.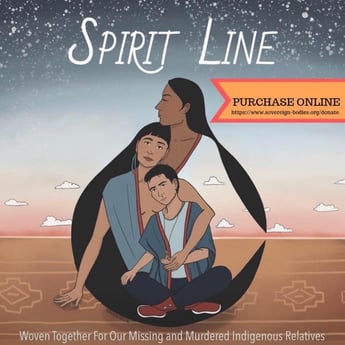 Creating a safe space

On January 11, 2020, hosted an event called "An Evening with the Spirit Line CD." Produced by Three SistersCollective and Clara Natonabah, they debuted a CD that featured Native women singers, spoken word artists and activists addressing MMIW. One of the songs, "Say Her Name," was written by Christina. "We are working to create a curriculum around the CD," Christina added, "to discuss the issues about MMIW, to heal and build a safety net for the community. We need to create a space to heal from generational trauma." CDs can be purchased through Three Sisters Collective, and all proceeds are donated to
Sovereign Bodies Institute
.
As the mother to a 6-year-old daughter, Christina carries the severity of MMIW in her daily life. "I feel the impact when I have to talk to her about her safety," Christina's voice quivered. "What I do can help to build stronger people. That's the motivation behind Three Sisters Collective." Despite the issues we face as Native women, we have the communality, resilience, and strength to build strong women in our communities.
We're on a mission to spread healing by telling the beautiful and the tough stories that come from the Native American experience. Help us spread healing today and inspire hope. #StorytellingHeals