South Dakota is most recognized for its open ranges, miles of lush farmland, and as the home of 1.2 million acres of the Black Hills National Forest. These same serene rolling hills and towering pines awaken with sounds of rumbling as they host the largest annual tourist attraction in the state every summer.
Celebrating its 81st year, the Sturgis Motorcycle Rally attracts hundreds of thousands of motorcyclists from across the country to gather for the week-long rally, which runs officially from August 6-15. While most of these motorcyclists tour the natural beauty of the Black Hills, enjoy outdoor concerts, and spend their tourist dollars at vendor tents, local bars, and restaurants—there is also a disturbing reality taking place. Hidden in the shadows from the music and crowds, are DCI agents and other law enforcement officials standing vigil and conducting undercover sex sting operations.
Regrettably, the Sturgis rally has become a main
event
that drives human trafficking within the state of South Dakota. However, it's not the only time the state sees human trafficking.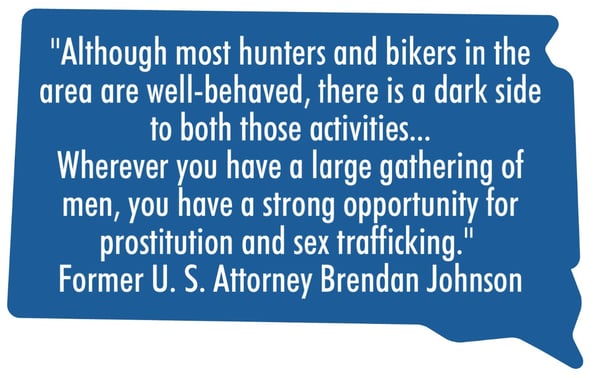 The two major interstates that run through the state, I-90 and I-29, are "part of the 'Midwest Pipeline,' the superhighways used to deliver trafficking victims to cities across the country, " according to this fact sheet.
The reality is that whenever there is an event that attracts a large number of men, there is a market for some form of sex trafficking. And, while sex trafficking exists around the nation, there's something distinctive about South Dakota. The peaceful, homegrown mentality that exists here has made it an excellent "cover" for sex trafficking.
A growing epidemic in South Dakota
This is not an isolated issue; rather, it is a growing epidemic. The Division of Criminal Investigation has been conducting undercover sex stings in South Dakota for several years, even allowing KELOLAND News to be a part of the undercover operations in Sturgis.
Although there has been an agreement in place with the Attorney General's office preventing them from showing the public all the operations' details, the Attorney General feels strongly that bringing public awareness to the forefront of this horrific issue will make a difference in the fight against human trafficking.
"When you have large events like this, there's a criminal element, and we've experienced in the past some child predators out and about in the community. We've taken it upon ourselves in law enforcement to do certain operations really to protect children." – South Dakota Attorney General Marty Jackley
In the past few years:
There were 30 federal sex trafficking cases in South Dakota between 2009-2014.

9 arrests were associated with the 2013 Sturgis rally.

5 indictments came from the 2014 Sturgis rally.

8 arrests were made during the 2016 Sturgis rally.
9 arrests were made during the 2017 Sturgis rally.
6 arrests were made during the 2018 Sturgis rally.
11 arrests were made during the 2019 Sturgis rally.
8 arrests were made during the 2020 Sturgis rally.
9 arrests were made during the 2021 Sturgis rally.

Victims ranged from 12 to 15 years of age.

Dozens of girls and women have been discovered as victims of sex trafficking in South Dakota.
Protecting Native American women and children from sex trafficking
South Dakota is also home to 9 Native American reservations and designated tribal land areas...more than any other state. Native women and children are at higher risk for trafficking than any other racial group. According to the U.S. Attorney's office, over 40% of those trafficked in the state have been Native women. What's even more startling is that only 13% of South Dakota's residents are Native.
Now with COVID-19, KIMT3 in Minnesota reports, "there's a viral social media post warning parents that children are at a higher risk of being abducted by traffickers wearing masks since they say the suspects can't easily be identified."
These women and children will often spend a lifetime trying to heal from this horrific abuse. Native Hope spoke with a sex trafficking victim who was able to find her way out. She acknowledged the devastating effects of her past by saying, "I wonder just how aware the people who commit these crimes are of the damage made."
Native Hope is determined to end sex trafficking of Native Americans. But we can't do it without you, together, we can be a powerful force in raising awareness and bringing an end to this dark industry.
You can make a difference in the lives of these young women and children. Let's Rally Together to prevent sex trafficking! When you support Native Hope, you are investing in giving HOPE to the voices unheard.