Mar 30, 2020 | Native Hope
"The effect it [drug court] had on me was it opened my eyes to reality, because it [meth] wasn't only hurting me—it was hurting my family," shares Jason Goodface, recovering meth addict and Lower Brule Drug Court graduate. "I didn't think it was, but after opening my eyes and seeing first-hand what I was doing to my family, I knew I needed to change my ways."
Drug Courts began in 1989. They are an innovative and effective solution to addressing substance use within the criminal court system—reducing recidivism and promoting long-term sobriety is the direct result of successful Drug Courts. One such Drug Court exists in Lower Brule, SD, on the Lower Brule Sioux Reservation.
Drug Courts strive to help addicts
In 2012, Judge Lorrie Miner, tribal court judge, recognized that nearly 98 percent of the 1,000 criminal cases in the Lower Brule Tribal Court [LBTC] were drug or alcohol related. She and others wrote and received a grant to institute a Drug Court within the LBTC system. A Drug Court works with men and women who have committed a criminal act related to drugs or alcohol. A person may choose Drug Court or traditional court, but if they complete Drug Court in most cases their criminal charges will be waived or drastically reduced.
"You can walk away with a clean slate," Marlys Langdeau-Medicine Bird, Lower Brule Tribal Court Administrator explained. "You have an opportunity to change your life—it is your choice if you want to get out of the cycle of using [drugs/alcohol]."
Drug Court uses restorative justice methods based in cultural values to battle drug and other issues—it is challenging. There are 4 phases and each phase may include these activities: daily alcohol monitoring (2X), frequent and random drug testing, talking circles, Alcoholics/Narcotics Anonymous [AA/NA], in or out-patient therapy, individual behavior health appointments, SCRAM CAM monitor, parenting classes, spiritual ceremonies, probation programs, and more.
This program is set up over a 12-18-month period or more depending on the participant. Each participant has a team of supporters from the Drug Court: the judge, prosecutor, defense attorney, probation official, mental health counselor, department of social services case worker, treatment provider, and, in the case of Lower Brule, community members. In all cases, these team members strive to assist the participant in successfully completing Drug Court.
Members attend court on a regular basis. Judge Miner asks the participants how they are doing and hears other reports for other Drug Court team members. "It is good for the community, if people really want to change something, they choose drug court. Just a handful come back through the system," explains Marlys Langdeau-Medicine Bird. "All programs are designed to help people."
Connecting with offenders
On February 19, 2020, Native Hope team members were able to attend a special forum on overcoming meth at the Lower Brule Drug Court for inmates and drug court members. Judge Lorrie Miner opened, "Whether you know it or not, I love and care about each of you [inmates], so if there is a message of healing and recovery, I want to bring it to you. This is our first ever Drug Court forum." For this forum four recovering meth addicts spoke to the female and male inmates in two separate sessions. The speakers included Gifford Standing of Fort Peck Sioux Tribe, Jaime Spears of the Standing Rock Sioux Tribe, Wanbli Meter of the Cheyenne River Sioux Tribe, and Christine Obago of the Crow Creek Sioux Tribe. Each speaker offered their journey through recovery as a message of hope for those in attendance.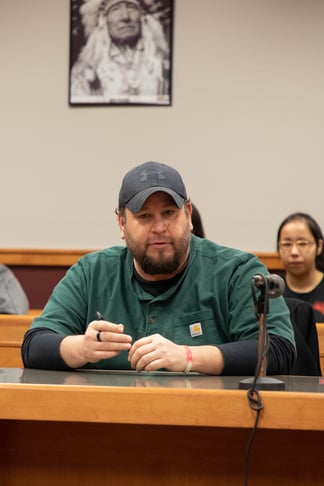 Gifford's story began in his dysfunctional childhood home where hugs were not given and blame for his father's drinking problem fell on Gifford. "I learned to protect my siblings. My mom was never there. We never got hugs. We learned not to trust anyone."
He turned to alcohol in his teens. Gifford developed a "cocky, better-than-everybody attitude." He used people to get what he wanted, mainly drugs and alcohol. In his late twenties, he found meth and from there everything spiraled out of control. He lost his long-time girlfriend and mother of his children, he lost his career in construction, and he lost nearly 100 lbs. He hit rock bottom when on May 1, 2016, he was arrested for simple assault and thrown in jail, again.
"I plead guilty because in jail, I felt safe. I had a hot shower, 3 meals a day—they cared about me," said Gifford. He participated in cultural activities: Sundance, sweat, etc. "I was feeling anxiety when I realized that I would be getting out. I was free in jail – free of the drugs – I realized 'out there' I would use. I had my parents help me sign involuntary paperwork to have me committed for treatment…I had nothing on the outside. Even at my highest time, I was not happy. I had something I have never had since I was 15: 60 days clean and sober."
He had to wait 2 ½ months to get into a treatment center. The wait was a battle with his addiction, but he stayed sober. Finally, he got a bed in Rosebud, SD, in their treatment center. "I hated it," joked Gifford. "There were too many happy people. The worst was my brother here [pointed to Wanbli Meter at his right]–I thought he was so fake." The treatment was difficult, but Gifford began to rely on the successful participants for guidance.
"My worst days as a recovering addict are still far better than those as an active addict. I had to understand how flawed I was…spirituality saved me. I studied Christianity, practiced cultural teachings, and learned there are people out there that want the best for you." Gifford went on to say, "I worked so hard to be an addict. Life is easier as a person making good decisions. But it only takes one slippery slope—if I ever think I've got this, I am off and running, and I will die."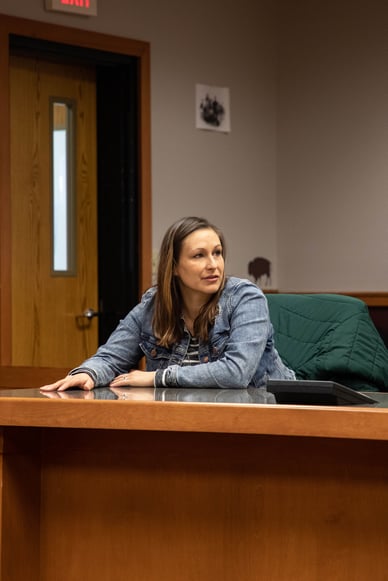 Jaime Spears shared with the group, "I believe everyone who struggles with addiction has experienced trauma. My mother left when I was a baby, so I grew up with my dad and the woman he married adopted me…I was ADHD and was always in trouble. I had low self-esteem. When I was 11, I was sexually abused by my dad's best friend. I didn't tell anyone – it destroyed me."
Sexual abuse is often the root of addiction. Jaime internalized her pain and found comfort in alcohol and drugs—she was self-medicating. When she was a freshman in high school, her perpetrator was under investigation causing her even more pain. She frequently snuck out of her house, hung out with older kids, and discovered meth by age 15. Older guys introduced her to the drug; she became their customer. She dated a drug addict and became a full-blown addict by her junior year of high school. "I went to class high on pot, but no one ever asked me if I was okay," she reflected. "When I was a senior, I had to testify against my dad's friend. I started to shoot up."
Jaime, pregnant, moved to Sioux Falls, SD with her drug dealer, who was 10 years older than she. While she maintained a good job, she continued to use. Eventually, her boss made Jaime call her mom who came to help her get out of the bad situation. However, Jaime's lifestyle didn't change. "I got pregnant by another addict. I had two boys living in chaos. I was homeless."
Eventually, Jaime moved back to parents' house in Chamberlain, SD, in order to get back on her feet. She wanted to be sober, but didn't know how to do it. She thought that if she started school and found a new job, she'd be alright, but a new friend at school had drugs. Soon, Jaime found herself using again and in another toxic relationship. Things went from bad to worse.
One day the Department of Social Services [DSS] showed up at her door for a welfare check. "They came in, found drugs, and since I was too ashamed to call my parents," Jaime admitted. "I allowed the DSS worker to take my sons. My kids had to stay in Children's Inn for 10 days."
Jaime's parents then took care of her boys while she went to treatment for 4 ½ months. "I was blaming everyone—until you accept responsibility that you are here because of your choices, you can't heal. No one else got me where I was except my actions," Jaime acknowledged.
The real difficulty for Jaime, and for many others, came after leaving treatment. She was friendless and lonely. For two years, she hung out only with her parents and children. "After the first year, I learned how to have fun with my kids. I learned how to do things without drugs and alcohol," she said with a reassuring smile.
Rising from rock bottom
Both speakers affirmed that hitting rock bottom was the only thing that saved them. Today, each of them works to help others with addiction problems. Gifford serves as a counselor for the meth program for Rosebud Sioux Tribe and attends Sinte Glaska University. Jaime attended the University of South Dakota and obtained a degree in addiction and substance abuse counseling. She works as a counselor at the Fort Thompson Indian Health Service Behavioral Health Clinic.
As a final note, Gifford looked at the inmates and reminded them, "Something good must come out of this. All it takes is one more time, one more try, one more prayer."
Tomorrow, hear from the other speakers in Part Two
We're on a mission to spread healing by telling the beautiful and the tough stories that come from the Native American experience. Help us spread healing today and inspire hope. #StorytellingHeals