Feb 6, 2020 | Native Hope
In addition to sponsoring J. Dakotah, sex trafficking survivor, for 5 local audiences, Native Hope donor funds new van for patients in need.
Theft prevents tribe from transporting patients to crucial appointments
Native Hope was notified by the Lower Brule Sioux Tribe, of Lower Brule, SD, of their urgent need for a patient transport vehicle on January 15, 2020, after their only operating transport vehicle was stolen and damaged. Helping the tribe with a transport vehicle was already in the works as Native Hope was approached in early December with the need to replace a broken-down transport vehicle with 446,333 miles on its odometer. Due to the theft of their remaining vehicle, the patients would have even more limited means to make their much-needed appointments in Sioux Falls, Rapid City, or other region facilities as referred by Indian Health Service [IHS].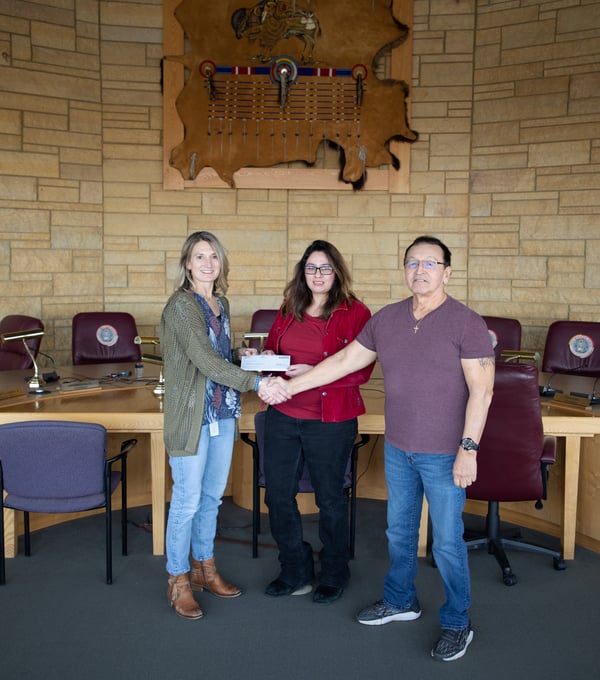 Receiving the check from Trisha Burke (Native Hope) is Vanessa Jimenez (Patient Transport Dispatch Supervisor) and Joe Abdo (Patient Transport Director)

"Patient Transport has been such a vital source for our reservation," explains Joe Abdo, Patient Transport Director. "With diabetes and cancer affecting more and more of our people every year, many patients would be at a loss without our tribe and this program." Each year, the program helps roughly 1,500-2,000 patients—transporting between 50-200 each month. Because of the high demand for transportation, the vehicles are logging as much as 200,000 miles in a year's time.
Unfortunately, the Patient Transport program has been crippled due to vehicle breakdowns. The program is barely able to deliver half of the services needed—leaving patients with no choice but to reschedule appointments made by IHS. Many of those rescheduling have serious medical needs: diabetes, cancer treatment, kidney dialysis, etc. The locations of these treatment facilities are over 100 miles from Lower Brule, so the need for a reliable vehicle is a necessity.
Donors anonymous gift provides hope
Because of the dire need, Native Hope contacted various donors about the problem, and one donor agreed to anonymously donate $14,000 for a new van for the Lower Brule Sioux Tribe Patient Transport program. It was truly a fabulous gift to deliver to the tribal hall last Friday, January, 31.
If you would like to support major gifts like this one, the need is great—there are numerous programs on reservations that have similar needs. Native Hope seeks a world free from barriers for Native people. Join us today in this important mission! Indian Country is in need of your support.
Like what we're doing? Want to help make a difference in Indian Country? Join our efforts and start a fundraising campaign to assist with more opportunities like this.