Dec 21, 2018 | Native Hope
As 2018 winds to a close, we're back with one more "In the Field" post! We love taking some time at the end of each month to share with you about the work we have done in our community and throughout South Dakota. Each month, we get to connect with young kids and other people who are working to create a new hope for the coming generation. We are inspired to keep working to tell stories and dismantle barriers for the next generation of leaders.
Here's a quick re-cap of what the Native Hope staff has been up to in the last month.
Working with Junior Achievements at Chamberlain Middle School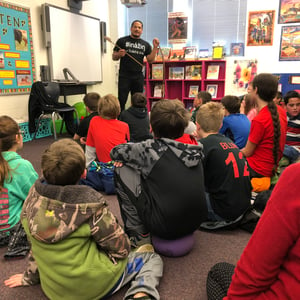 December 5th - Native Hope Ambassadors Kansas and Kyal spent the entire day teaching the Junior Achievements "It's My Future" workshop. We gave practical information and tips to help the students explore potential careers, tips for choosing a career they are passionate about, and basic job hunting skills and tools. JA "It's My Future" is a program for middle school students. It is composed of six sessions, each 45 minutes in length, with 32 students in attendance each session.
Native Hope Leaders' Society Heads to Rapid City
December 7th - The Native Hope Leaders' Society spent the day in Rapid City, SD! The trip was to reward our students for all their excellent work with the group and in all their achievements. Each member of the Leaders' Society reached their Semester goals and earned the Honor Student title. It was a great reminder that all our youth are capable of achieving goals and dreams with positive support. The trip was also a great way to reward our youth because not many youth in our area are able to take a trip like this one.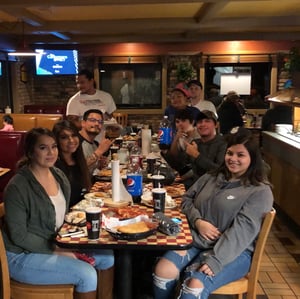 One Leaders' Society member said, "It feels good to leave the reservation for the day and have fun, it makes me forget about all the negative things going on." Another said, " I'm glad to be part of the Leaders' Society and Native Hope. Ever since I joined, the entire team supports me and encourages me to be the best person I can be. I feel like I just want to keep doing good because my family is proud of me."
Huge thanks to all of our Native Hope supporters, who make our work with the Leaders' Society possible. As Kyal likes to say, "YOU are the real heroes, without you we wouldn't be able to make a such a lasting impact."
Serving as the Guest Artist at Lower Brule Community College
December 10th - Native Hope Intern, Alexis, was a guest artist in the class "Integrating Art in Elementary Schools," at the Lower Brule Community College of the Lower Brule Sioux Reservation. Alexis was invited by instructor, Zeke Prado, to teach painting techniques and share about her experiences as a mural artist. The students of the class included staff and faculty of the Lower Brule Elementary School. They were able to incorporate a few painting techniques Alexis suggested into their pieces, such as layering bright shades first and dark shades after. The teachers now plan to incorporate painting into their daily lesson plans for their elementary school students.
Playground Magazine Interviews Native Hope Team
December 11th - Playground Magazine of Spain interviewed Native Hope staff, including Kyal, Kansas, and Alexis. The interview included questions to raise awareness of human trafficking and domestic violence, especially in regards to the large number of Native American women that have been victims.
Native Hope staff brought their personal experiences regarding the topics to light, and concluded with positive insights on how to make a change to the statistics. The film interviews were captured by Native Hope film crew members, Orlando Skidmore and Mark Lewis.
Working with Junior Achievements at Chamberlain High School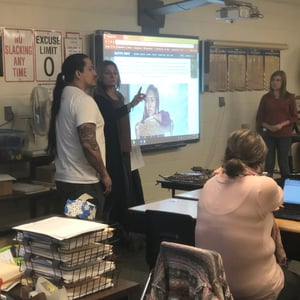 December 11th - Native Hope Ambassador Kyal spent the day with Chamberlain High School junior and senior students teaching the Junior Achievements (JA) event "Excelling through Ethics." Students learned that ethical behavior is essential to their futures. The goal is to help students understand the role of ethics in the workplace and life.
We were able to do hands-on activities and group activities that put the students in real life situations. The students were great, and Kyal offered stories about choices he has made that have affected him and his future in good ways and taught him life-lessons. The class had 30 students attend and we spent 3 hours learning and engaging so it was a fun day.
In the end the students were able to define ethics, discuss how important ethics are in life and the workplace, and to absorb an ethical decision making process that can help them better react to ethical dilemmas in their personal and professional lives. "I love teaching the youth life skills because it gives them an advantage in life, and every advantage they can get will only make them more prepared for the real world," says Kyal.
Teaching Traditional Hand Games to Kindergarten Classes
December 18th - Kansas and Kyal were the surprise guests for the Kindergarten class at Chamberlain Elementary School. The brothers were asked to play cultural games with the little ones.
The game that the brothers taught them was a traditional hand game. Traditional Lakota hand games are a simple game of "Guess Which Hand," but transformed with a complex ritual of concealment and deception. The class picked up real quick on the game, and they all shared nothing but smiles and laughs. We also incorporated some counting because that's what the class is learning.
Attending the Lakota Dream Mixer in Rapid City
December 14th - Trisha Burke (NH Executive Director) and Kansas and Kyal of Native Hope attended the Lakota Dream museum mixer. It was a great night with awesome guest speakers and some very notable people in the crowd such as Jim Warne (retired NFL player, now movie producer) and Lakota Elders who carry and keep very much wisdom and artifacts for the museum.
Lakota Dream gave a heartfelt thank you to Trisha Burke, Kyal and Kansas and Native Hope for believing in this vision and dream and supporting it in it fullness. The social gathering which is very common in Native American culture had speakers who were funny and passionate about sharing the culture. The event also fed the guests and ended the night with a silent auction and prayers for everyone and their journeys as they travel home.
Native Hope believes in empowering Native Americans and supporting their ideas and visions to help make Indian Country a better place for all nations of people to come together. Thank you for being a part of the Native Hope family! We wish you the very best holiday season.
Are you wondering how you can give back this holiday season? Right now, there are 86 homeless families on Crow Creek Reservation who need your help!