May 24, 2022 | Native Hope
"Behold, my friends, the spring is come; the earth has gladly received the embraces of the sun, and we shall soon see the results of their love!" - Sitting Bull

As spring arrived, March and April were chock full of outreach and events. As we hit the road, we felt those blessing by Unci Maka – Grandmother Earth.
Thanks to our generous supporters and partners, Native Hope continues to create a meaningful impact on the individuals and organizations within Indian Country.
Native Hope Outreach
In March and April, we took trailers full of clothing, shoes, household items, blankets, hygeine items, and other supplies to the communities:
Tree of Life in Rosebud, SD

CHR program in Lower Brule, SD

Episcopal Church, Fort Thompson, SD
Assistance Requests
In addition to the trailers, we supplied 15 twin mattresses and mattress covers to Wagner DSS to ensure families who need beds for children have access to children's beds.

Thanks to our generous donors, community members in Rock Creek, SD received Easter meals. Joe Montana and his band of brothers in the American Legion Post were kind enough to organize this.

With the help of Buche Foods Oacoma, we provided over $700 worth of food and snacks for the Lyman Backpack Program. This program provides food and snacks for students to take home for the weekend.

Native Hope continues to fill the need of providing one of our most requested items, feminine hygiene products. In March, we sent supplies to the Lewis and Clark Behavioral Health system with feminine for young girls.

The Lower Brule CHR program asked if we could provide 20 incentive packs to encourage parents/guardians to have an eye exams for their children. These packs included: laundry detergent, dish soap, kitchen towels, coloring books, a board game, kids toothpaste, and tooth brushes.

The Lower Brule Drug Court requested clothing, hygiene kits, and traditional medicines for individuals going to drug rehabilitation.

We filled ten different requests for food assistance and also

supplied hygiene kits for three families for St Joseph's Indian School.

We supplied food, clothing, towels and bedding to the Crow Creek Homeless Shelter in Fort Thompson, SD.

We provided healthy snacks and water for the Spring Fling Event at Fort Thompson, SD.

Missing and Murdered event by the Red Ribbon Skirt Society
At the beginning of April, our Director attended a MMIW event put on by the Red Ribbon Skirt Society. This event provided training to individuals and organizations on how to assist in the important efforts towards MMIW. Also in attendance were families of those who are victims to MMIW. Those families shared their heart-breaking stories. Native Hope provided a donation to help put on the event and each person a book called Water Protectors.
Native Hope held a Red Sand Event at the Sexual Violence Institute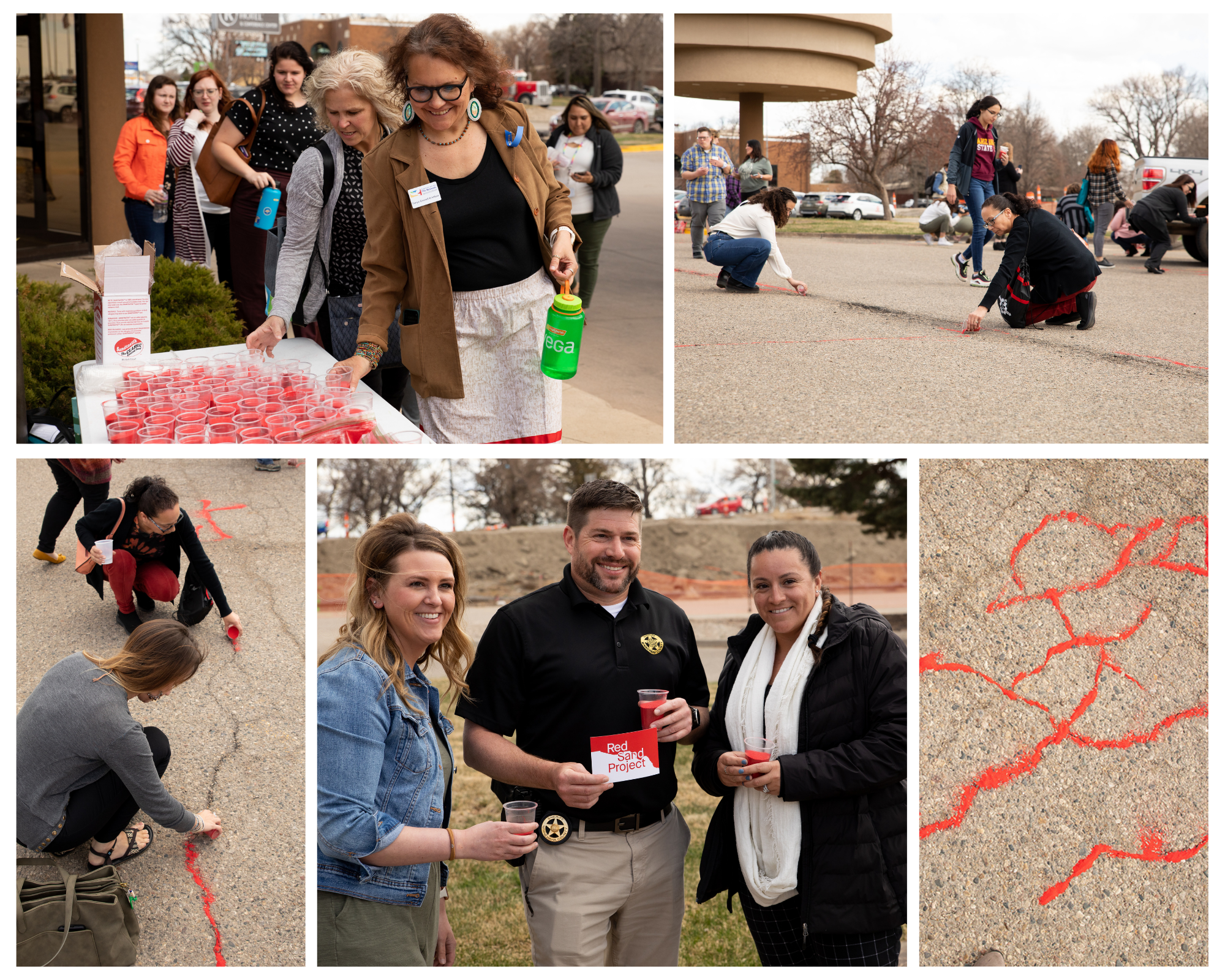 In mid-April, Native Hope sponsored meals for the Sexual Violence Institute hosted by the South Dakota Network Against Family Violence and Sexual Violence. During this event, Native Hope and our partner the Red Sand Project held a red sand event with conference participants to spread the message about human trafficking. Native Hope had a booth to help raise awareness on Native Hope's mission and our impactful program. Native Hope along with other participants received a certificate of appreciation for our service to crime victims and survivors in tribal communities.


Native Hope Celebrates Earth Day with Students from St. Joseph's Indian School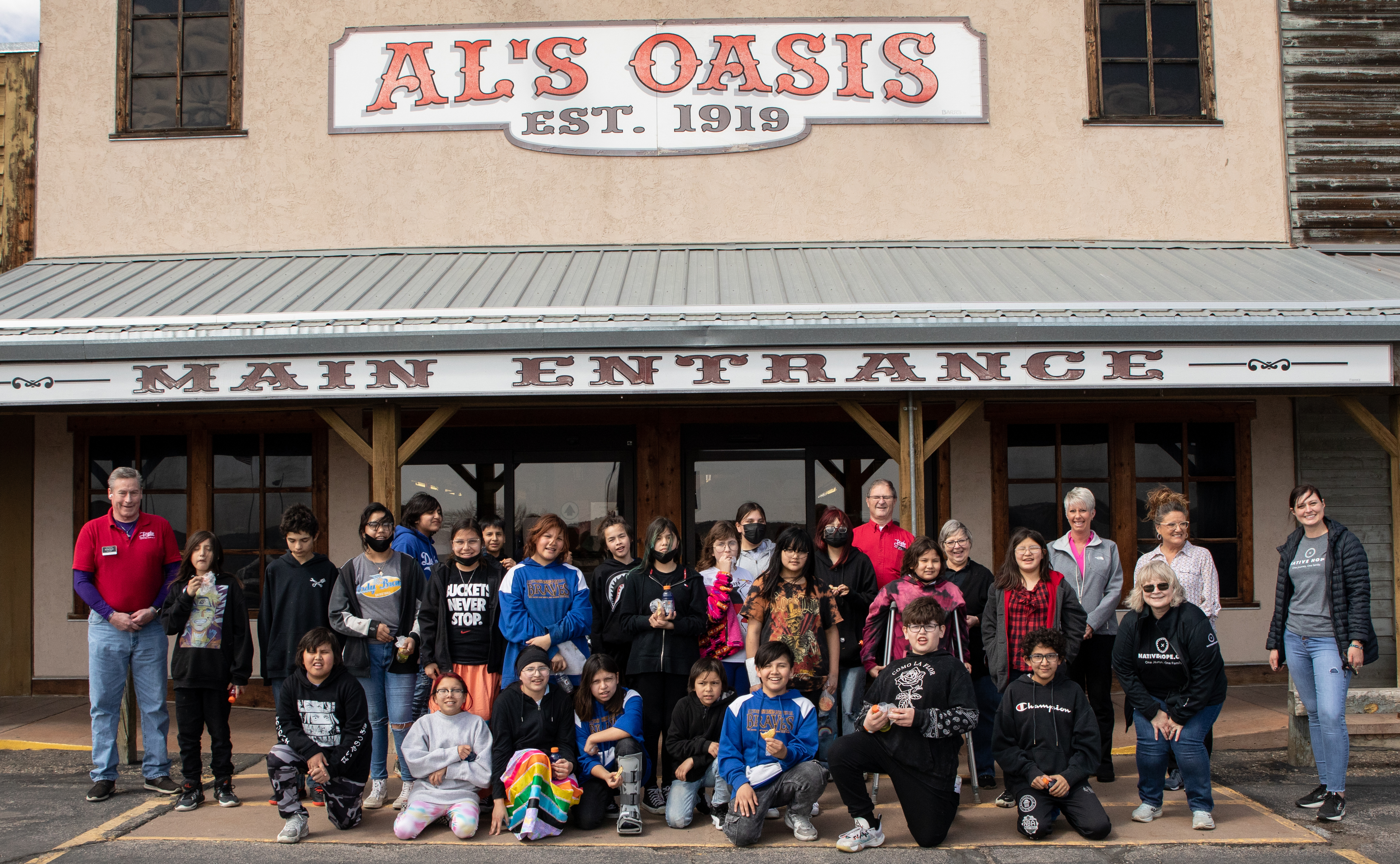 For Earth Day, Native Hope and our partner organization, St. Joseph's Indian School held a community clean-up event with St. Joseph's 7th and 8th grade students. The students cleaned up areas in Chamberlain and Oacoma, South Dakota. Native Hope provided prizes for students who had the most trash, largest item, and craziest item.
A special thanks to the Brule County Sherriff's Office for keeping our kids safe during the cleanup, Byre Brothers for providing their services by taking the trash, and Buche Foods Oacoma and Al's Oasis Restaurant for providing a snack and beverages for the students.
Equine Therapy for Native Communities
Native Hope ended our month with Dave Valandra, Ranch Manager at Tiwahe Glu Kini Pi (TGKP). Dave invited Native Hope, St. Joseph's Indian School and others to attend a demonstration of their equine therapy program. There, we made new connections and enjoyed the time with the horses.
Philámaya for your ongoing support.
Each day presents new challenges, but because of YOU, we can help and inspire hope.