Jan 12, 2022 | Native Hope
"One finger cannot lift a pebble." This Hopi Proverb sings true to the heart as we look back at our efforts. We would like to express our deepest gratitude for your generous support throughout the holiday season. Thanks to your help, we were able to make this December and Christmas one to remember for many Native American families.
COVID-19 VS Native Hope
We assisted a whopping 179 individuals with food kits, cleaning supplies and hygiene items this past month. When we receive a request, we prioritize getting these essentials to the families in need as soon as possible.
Native Hope Fellow Distributes Elder Packs for Community
Thanks to our generous supporters, Jama Bourne, Native Hope Fellow, was able to assist her community in providing elder packs during this holiday season.
So many people have joined together to help from various backgrounds, and it's truly humbled me to see the out reach of everyone coming together to help others in need.

The 2021 elderly boxes wouldn't be possible without the following people Diamond Willow (Andrew and Shoe) walleye and deer. Early in the spring someone I forgot to mention was Dustin H. He provided fish very last minute and we were able to get out a couple extra boxes. Thank you Dust.
Native Hope- blankets, tea, soup, hunting tags and processing supplies. Native hope has tremendously helped this year with these boxes, and I cannot truly thank Jennifer and her team enough for everything.
PAZA Tree of Life family- supporting me when I'm losing my marbles, and the hats, blankets, scarves, and sage bundles.
I had 2 anonymous individuals hear about my mission and send coffee, flour, and tea.
Buc Fallis Sr. and the wildlife team for the donation of a buffalo. The buffalo made a huge impact of the boxes this year. Maria T. Provost house hold goods and elk.
Without these people this wouldn't be possible. When we started there was only 2 of us, so the support that has been given through all of this has been greatly appreciated and I admire each and everyone for willing to help. Myself, my family, and everyone that receives a box thanks you.

-Jama Bourne (Facebook post)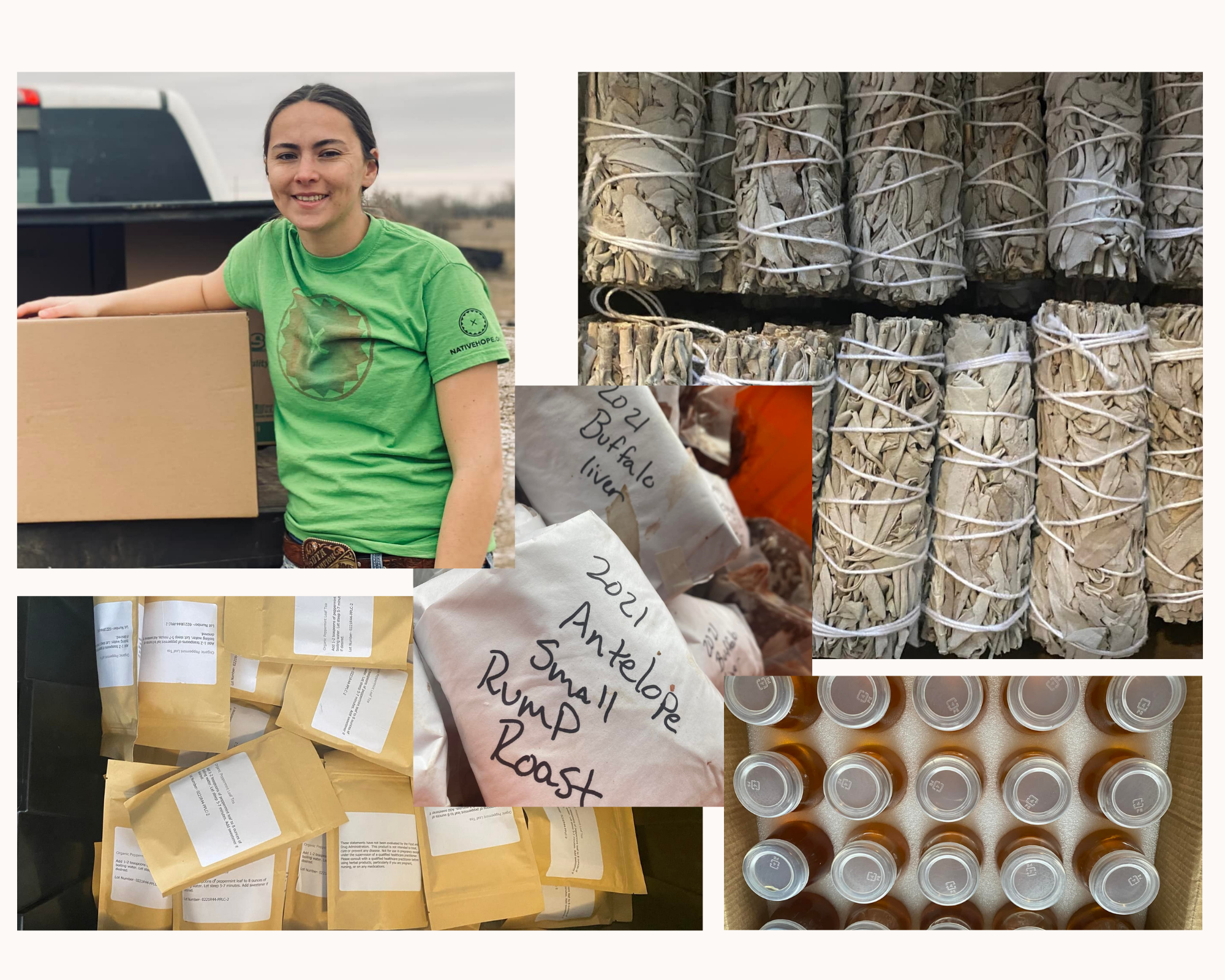 Come Train or Shine, There Will Be Supplies.
Thanks to our many donors who mail in gently used items throughout the year. And a huge thank you to Orphan Grain Train for their recent donations. Orphan Grain Train is a Christian volunteer network that ships donated food, clothing, medical and other needed items to people in 69 different countries including the United States.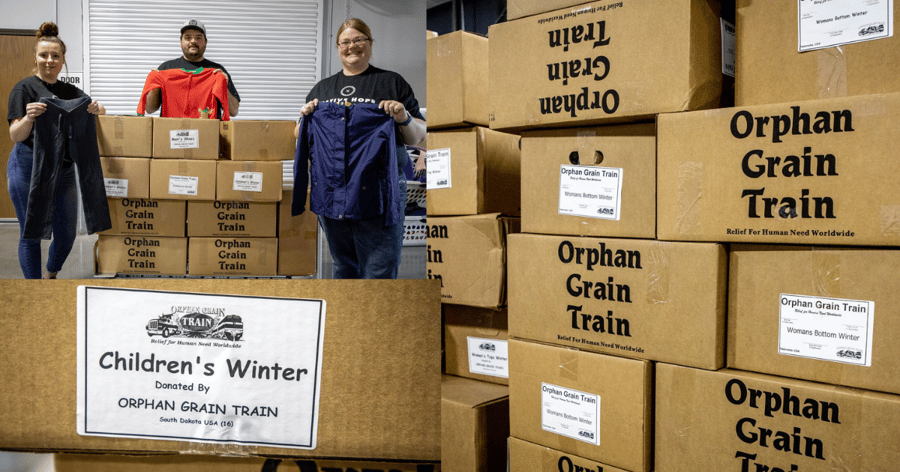 Other Outreach Efforts
We traveled a total of 1,200 miles in just 31 days to fulfill needs requested from reservations throughout our state:
The Crow Creek homeless shelter was permitted to open its doors back up! We were able to supply mattresses, bedding, blankets, furniture, cleaning supplies, food supplies and Christmas decorations! Thank you to our partner, St. Joseph's Indian School, for assisting us in fulfilling this request!
The Episcopal Church, located in Crow Creek, had a request for an assortment of supplies throughout the month. Some requests included Christmas supplies, oil, blankets, warm clothing, and more.
Thanks to our donors, we provided 201 Christmas meals, and stocking stuffers to children and their families located in Rock Creek, S.D.!
We spent a FULL day wrapping hundreds of gifts for children currently in foster care.
Our contact in Lake Andes made a request for a variety of supplies that we could deliver! Some of their specific requests were feminine hygiene products and diapers. Imagine our surprise when one of our very own donors, Brenda B. from Indiana, arrived with a car FULL of those exact items! Wopila tanka to Brenda, her friends, family and coworkers who also contributed!

When you contribute to our Back to Basics Campaign, 100% of your gift goes directly to those in need of these basic necessities.
Native Hope Fellow works towards Language Preservation
With only 2,000 fluent speakers, the Lakota language faces extinction. When languages die, so do many of the cultural ideas. Language offers the world insights into the nuances of the people who speak it. On December 17, Beverly Running Bear, Native Hope Fellow, held an event to protect and sustain Lakota language for future generations. Watch her video and learn more about Bev and her fellowship.
Philamayaye Santa! (Donors.)
This Christmas, we were given a challenge to provide Christmas gifts for HUNDREDS of Native American children on and off the reservations. We fulfilled each request from the following organizations: Lower Brule Head Start, Lower Brule Boys and Girls Club, Crow Creek Episcopal Church, Lower Brule CHR Program, The Bear Program (located in Pine Ridge, S.D.), The Cheyenne River Indian Youth Project, Legion Post 324 (located in Bullhead, S.D.), the Department of Social Services and the Lewis and Clark Behavioral Health Services who left us a sweet message.
Another year has come and gone in what seems like a blink of an eye. As most of us were hoping there would be relief after 2020; relief from COVID and the added stresses and financial strain, however that was not the case. This was another year of anxiety and turmoil for many and the time of year this always seems to the worse is the holidays. This year I can say I had the privilege of witnessing many of these anxieties lessened.

Throughout the months of November and December, Native Hope supplied numerous families with meals, Christmas presents, hygiene products, and books. And when I say numerous families that is because I literally lost count. Native Hope provided Christmas presents to all of the Native American children whose families work with Child Protection Services in the Lake Andes, Mitchell, and Yankton area. They provided gift cards to all of the Native American children working with Child Protection Services in the Chamberlain, Mission, and Winner area. They provided gifts, hygiene products, books, and meals for families served by Wagner Child Protection Team, which includes families recognized through the Lewis and Clark Systems of Care and the Head Start in the Wagner, Marty, and Lake Andes area.

This organization has provided relief to families with dignity and allowed for this time of year to represent what it is supposed to: togetherness, generosity, and love.

Child Protection Services from Lake Andes, Mitchell, and Yankton and the multiple entities involved with the Wagner Child Protection Team thank you from the bottom of our hearts!

-Lake Andes Child Protection Services
Thank you, Native Hope, for helping make our families Holiday a little brighter!!
-Lewis and Clark Behavioral Health Services
Whether you purchased a child's Christmas wish from our Amazon wishlist or made a contribution to our Back to Basics: Holiday Appeal campaign, you singlehandedly gave hundreds of children the opportunity to experience the joy of unwrapping gifts on Christmas morning.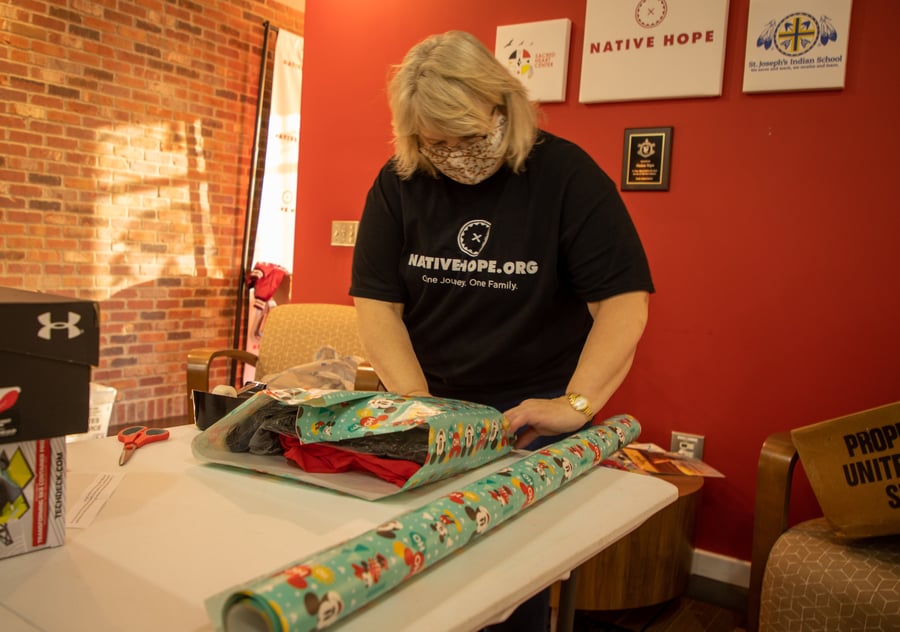 We consider it an honor you entrusted us to bring hope this holiday season. Many blessings to all—your gift has truly warmed our hearts and made 2021 a bit brighter for many here in South Dakota.
When you give to Native Hope, you bring much needed resources to Indian Country.