Nov 6, 2019 | Native Hope
October brought multiple opportunities to provide hope in action to our local schools and communities. We also continued our work on the baseball field of dreams with the Crow Creek District of the Crow Creek Indian Reservation. This past month, we celebrated the delivery of the baseball aggregate, the specialized material that makes up baseball fields, and marked other significant milestones in our progress!
Here are a few more highlights from our on-the-ground work during the month of October.
Teaching Traditions: Ribbon Skirts
The St. Joseph's Indian School Daughters of Tradition [DOT] mentors asked Trista, a Native Hope team member, to teach the DOT high school girls, who attend Chamberlain High School, how to make ribbon skirts. A ribbon skirt, a piece of clothing worn by Native women and by two-spirits, holds cultural significance. These skirts can be worn for special occasions—most commonly graduations, powwows, or any get together. Some people wear them as everyday attire for school or work.
Women traditionally wore skirts and dresses to keep themselves grounded and one with Unci Maka—Grandmother Earth. When wearing a ribbon skirt, the bottom of the skirt brushes the top of the plant nation and greets them in a good way, similar to the fringe of a buckskin dress in the days before colonization.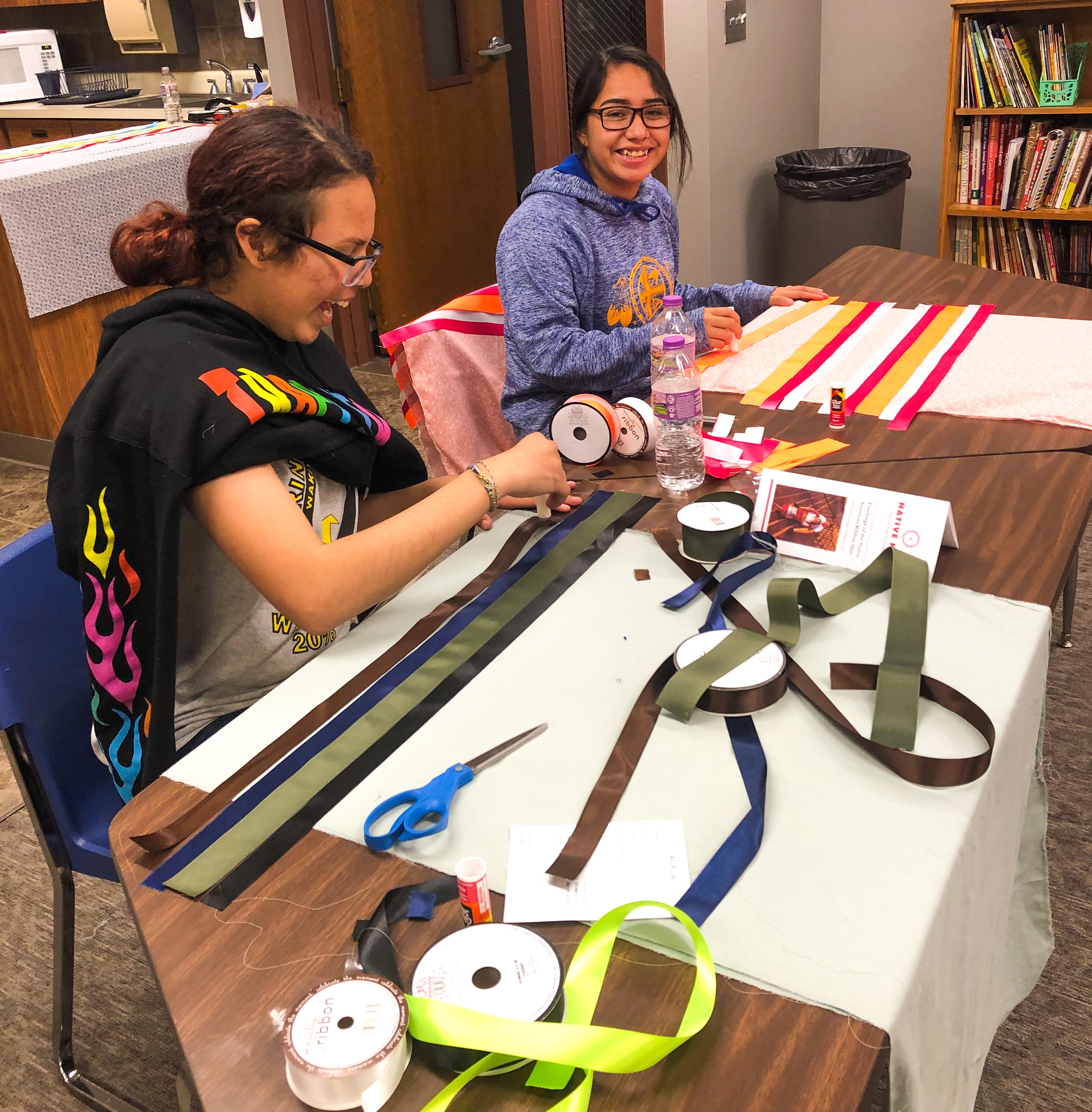 Ribbon skirts possess so much value and meaning; women should feel the most beautiful, powerful, and honorable when wearing one. The DOT girls created some beautiful and unique work on their skirts, and Trista was proud to have a part in teaching them something of their tradition. 
Learning Hand Games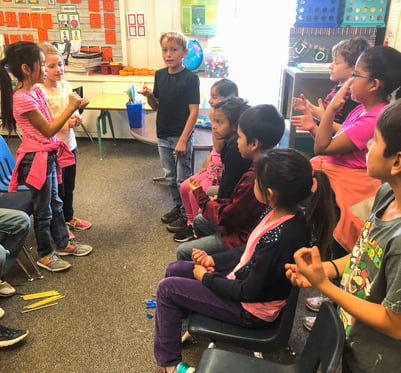 Pam Fleury, Chamberlain Elementary School second grade teacher, received a Running Strong's Dreamstarter Teacher Grant which she plans to use towards revitalizing Native American culture in the classrooms. Pam asked Native Hope how we could help bring culture to the classroom.  Trista, Native Hope team member, offered to teach a traditional hand games—games played long ago across Indian Country.
Today, there is a revitalization of these games, and the surrounding reservation schools even have hand game teams that travel to tournaments across South Dakota. However, hand games are relatively new to Chamberlain Elementary.
Trista first explained the history and the teachings behind the sport; then, the students crafted their own game pieces. Once they finished making their game pieces, they played. The second graders caught on to the hand game songs and the rules of the game pretty quickly. Native Hope plans to revisit the second grade and teach more about the Native American way of life in the near future.
Halloween Fun and Games
Our team had the opportunity to help in the Halloween events occurring on the Lower Brule Sioux Reservation and Crow Creek Indian Reservation. Lower Brule held their annual Halloween Carnival on Wednesday, October 30, an event where different programs create fun booths for the kids with games and trick-or-treating.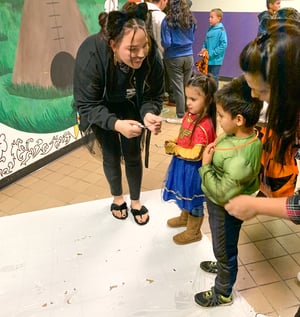 Native Hope hosted an awesome game called "eyeball on a spoon race." We used uncooked eggs and drew scary-looking eyeballs on them. The kids raced without dropping the eyeball for candy bars decorated as mummies. Kids and family members loved the game!
We also handed out 200 "hands" filled with popcorn to community members. Other games at the carnival included a cake walk and a pickle walk. Native Hope donated nearly 100 pickles to the pickle walk as well. It was a fun night of community gathering and happiness in Lower Brule.
On Halloween morning, the Crow Creek Oyate also had an awesome event of trick-or-treating for the younger kids who aren't in school yet, as well as the preschoolers and daycare kids. This event was a real treat because South Dakota October's can be harsh. We often have snow before Halloween, so it's not always ideal to take the younger kids and toddlers outside for trick-or-treating in the evening.
Various programs set up tables in the gymnasium and decorated tables for the kids to come through for candy or whatever each table had. Knowing the trick-or-treaters would be younger kids including babies and toddlers, we decided to hand out cute, little baggies full of cheese ball puffs—the kids absolutely loved them!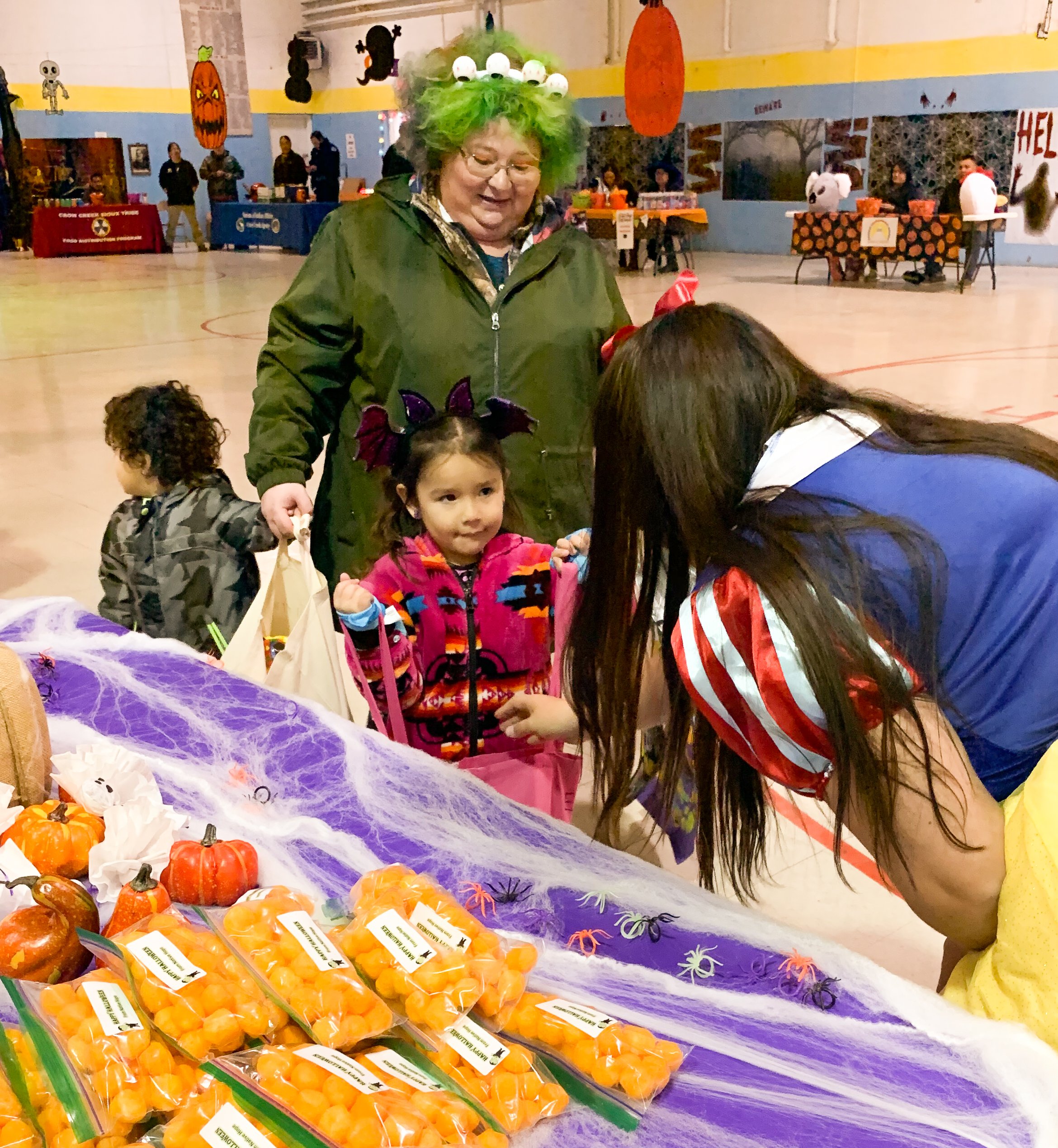 Prior to this event, the Crow Creek Head Start program asked for donations of old costumes for those who couldn't afford to buy one. The preschool program estimated that each year about 20 kids need costumes, so we purchased and donated 18 Halloween costumes, which was perfect because not one child attended the trick-or-treating event without a costume.
Interested in supporting the work we do? Your gift today, no matter how big or small, helps us reach more Native children and Native families with resources, community gatherings, and hope.