Nov 8, 2019 | Native Hope
The creativity and hopefulness among our community members is a constant source of inspiration for our work at Native Hope. In spite of adversity, there are people who wake up each day ready to fight for their communities.
There are three Native Hope partnership stories that stand out as we look back on the busy month of October: an enterprising duo of high schoolers; the awareness raised about sex trafficking with community alliances, and you, our supporters and donors, who raised money for a new van for the Boys and Girls Club of Lower Brule!
The Power of Positivity and an Ingenious School Survey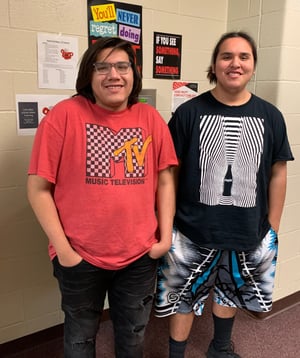 Native Hope was approached by two Chamberlain High School students, Josiah and Orlando, for assistance with their science project on the power of positivity. Last summer Josiah conducted a research project in his hometown of Lower Brule on the Lower Brule Sioux Reservation.
He created a film about the positive aspects of his reservation for his project by interviewing program directors and others in the community. Then, asked members of his Oyate (tribe) to take a survey on people about life/hope on their reservation. Next, he showed them the positive video he created about all the programs and events offered on their reservation. After people viewed his video, Josiah asked them to take a post-survey to see if their levels of hope rose. As expected, the positive video gave participants hope—their scores went up after viewing his film!
For Josiah's science project, he and his partner, Orlando, hope to go one step deeper and conduct a similar, more improved method of the Lower Brule survey on the neighboring Crow Creek Reservation and then comparing and contrasting the two groups.
This is where Native Hope comes in. The students asked for our help in obtaining footage of positive things in Crow Creek for their film. Interviewing inspirational people such as the suicide prevention specialist and elders of the community are at the top of the list. We are happy to help them with this project because we believe whole-heartedly in positive storytelling and empowering youth in the process. We will keep you posted our collaboration with Josiah and Orlando!
Every Year, Our Community Says: Sex Trafficking is NEVER in Season
Never in Season is an annual Native Hope campaign focused on bringing awareness to the high-risk times for human trafficking in our rural area of Central South Dakota. The most prevalent times for human trafficking in SD occurs during two major events: pheasant hunting season and the Sturgis Motorcycle Rally.

During these times, there are many new faces in our small towns, and with any increase in population, there are bound to be some people with bad intentions. Chamberlain, SD, lies next to Interstate 90 (I-90); the town also borders two reservations which are easily accessed from I-90.
Human trafficking statistics show that Native American women are 10% more likely to be trafficked than any other race. This is a startling fact, along with the fact that 1 in 3 Native women will be sexual assaulted in their life time.
This is because of several factors; their vulnerability makes them an easy target for predators and their unique ethnicity makes them a target for traffickers since pedophiles are often searching for Asian, Mexican, South American, Middle Eastern women—Native woman easily pass as any of these.

This hunting season, we combined our Never in Season project with the already existing Red Sand Project. We believe that the strong visual impact of red sand in the streets of Chamberlain helps keep all of us on high alert for predators and tells predators that they are not welcome here.
Annually, we order red sand from The Red Sand Project in support of their efforts to provide awareness to 40.3 million people held in modern day slavery. Native Hope focused on the side walk cracks in front of businesses and hotels in Chamberlain and on the Crow Creek Indian Reservation. We show those visitors to our communities, who may have bad intentions, that these women do have a voice, and they have people here who are fighting to protect them.
This is a community of hope, love, and protection, not a place where women can be captured and sold into a life of sex slavery. Sex trafficking is never in season.
Thank you to the many members of the Hunkpati Oyate who assisted us in laying sand in the cracks.
New Van Purchased for Boys and Girls Club
You helped us successfully raise over $6,000 during the last week of October to assist with the purchase of a new van for the Boys & Girls Club of Lower Brule! The club utilizes the van on a daily basis to provide reliable transportation for the youth of the Kul Wicasa Oyate to and from camp each evening.
Because their current van is having many costly issues, the club applied for and received a grant to replace it; however, the grant didn't cover the entire cost of the new vehicle. This is where you came in to help!
The van benefits the entire community as many families do not have vehicles or may be at work and cannot provide transportation. This vehicle allows children to attend a facility where homework is completed, learning experiences take place, and snacks and nutritious meals are provided.
Without a reliable van, the staff of the Boys and Girls club are required to take children home early and make more trips. Also, taking children on field trips off of the reservation is out of the question.
The Boys and Girls Clubs matter for Native youth.
"We are striving to create safe place for children to learn and grow. We work to keep youth on track academically, so they may graduate on time," explains Tonya Derdall, director of the Lower Brule Boys and Girls club. "We help youth grow, so they have a greater chance of succeeding in post-secondary education. We teach social and preventive skills that can empower them with the knowledge to create better choices throughout their lifetime."
Thank to you, our donors, one van gives the youth access to all of that and more. When children are successful, they feel confidant and supported which helps them become healthier adults!
Local Efforts Can Become Global Impact
The biggest movements begin with local efforts to tackle injustice, improve opportunity, and love your neighbor. Here at Native Hope, we focus on providing for the material and communal needs of local Native American communities plus sharing stories and information about the Native culture and way of life.
Your support is making a difference, one Native child and one Native family at a time.
Interested in fighting injustice alongside Native Hope? Your gift today helps us provide vital programming and resources to Native youth and families. Chip in today!