Jan 5, 2018 | Native Hope
"I'm doing something. You can do something. Be a light for everyone else around you," encourages Alexus Little, a member of the Cherokee nation who lives on the Lower Brule Sioux Tribe reservation in South Dakota. Alexus is, in fact, a light to those who know her. Her positive outlook radiates relentlessly against the lows that often come with life on the reservation.
It was suggested that we shoot a video featuring Alexus and her basketball ability. We agreed, but what we didn't know was that she was going to offer us so much more than dribbling, shooting, and rebounding.
"I combat the lows [prevalent drug and alcohol use] by getting involved in positive activities: sports, youth groups, and community activities," relates Alexus. "If I notice someone is feeling down or left out, I try to get them involved, too."
She maintains all the principles of the leaders Native Hope aspires to empower. Her motivation to be successful comes from those who are unsuccessful. "Everyone else my age [17] who isn't doing anything—those not staying in school, not getting an education" keep her striving to do more.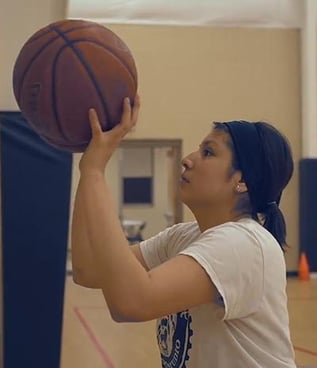 Alexus admits that without the game of basketball in her life, it would be "boring, empty, and confusing." She attributes her skill and passion for the game to her entire family of players: her grandma, aunts, uncles, and siblings all love basketball. Through the sport, Alexus has learned to be more outgoing and open as new opportunities and friends have arisen from participation in the game.
Alexus plans to attend college in Winnebago, Nebraska, at Little Priest Tribal College to study elementary education and play basketball. Alexus believes in the power of education.
She wants others to know, "You should finish school...go to college, do something fun, inspire others around you...NO ONE should get in the way of what you want to do—if they do, keep pushing and try harder!"
It takes all of us working together to cultivate a culture that celebrates our unique differences and embraces one another without prejudice. We invite you to join us on our mission to dismantle barriers and inspire hope for Native voices unheard. Together we will see this generation of Native American youth thrive.