Dec 28, 2017 | Native Hope
The past several months have been full of exciting events at Native Hope. Here are just a few of our Fall '17 highlights:
Lakota Language Class
Several members of our Leaders' Society recently attended an informative Lakota language class. Allen, the instructor, used interactive games and flashcards to teach and review Lakota words in a fun and engaging way.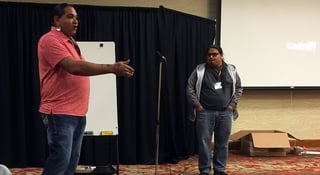 At Native Hope, we believe in the power of keeping the Lakota language alive. It is an integral part of Native culture, and we encourage its preservation and faithful instruction.
Alyssa Box, one of the students, affirms how beneficial the class was by saying, "I can build more confidence and not be ashamed to learn my language because many elders told us they are proud we are keeping the language alive."
Reflecting on his experience in the class, Carl says, "I think it would be a good idea for kids my age and younger to take these classes so when they get older, they know a lot more. It would even be cool if people who come work with Native Americans could learn the basic greetings."

Carnival in Lower Brule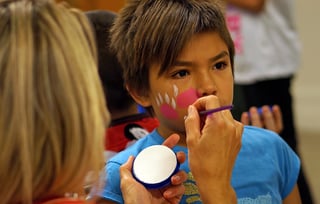 On October 30, 2017, the Native Hope team collaborated with other Lower Brule community programs to coordinate the annual Halloween Carnival.
Native Hope sponsored a hot-shot activity and handed out candy to the trick-or-treaters who participated in the competitive basketball contest.
The entire event was a tremendous success with many families in attendance.
One community member says, "Seeing Native Hope here is what we need to help give our kids happiness; you guys always have a great booth where the kids seem to really have fun and enjoy themselves."
Thanksgiving Outreach 2017
Native Hope partnered with Lower Brule and the Native American Heritage Association to provide Thanksgiving meals for thirty elderly people living in the community.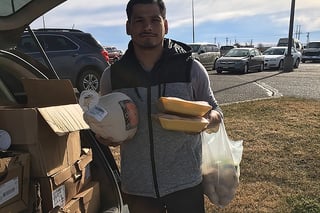 Kansas and Kyal delivered the packages of turkeys, chicken legs, and potatoes as a way to thank the elderly who have sacrificed so much for their people.
Everyone appreciated Native Hope's efforts, and we were honored to be able to provide food for their Thanksgiving meals.
Kansas says, "It all ties into being a warrior just like from the old ways, taking care of and helping those who need it." Kyal adds, "I was taught by my grandmother to help all those in need, especially the youth and elderly; it gave me great pride to deliver to them."
Thanksgiving Leaders' Society Dinner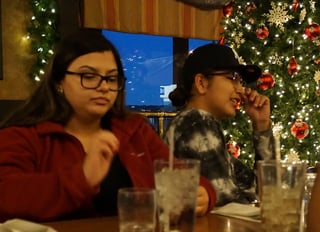 On Friday, November 24 Native Hope Leaders' Society and mentors sat down to enjoy a Thanksgiving meal together.
Then, we enjoyed the Parade of Lights on Main Street in Chamberlain. Afterwards, we all went to the movies together to end the night.
The group was excited to have fun, positive activities to be a part of on this Friday night.
"It was a fun night filled with laughs. I enjoyed being with the group," shares Kyal, a Native Hope mentor.
All of those in attendance said thank you and that they had a great night. One even stated "it was great to get away from the rez and have good fun."
Spotlight on Leaders' Society Member Carl "Tasunka Omani" Estes
We recently asked Carl "Tasunka Omani" Estes to reflect on his experience as a member of the Leaders' Society. He says, "The program changed my life a lot. I dealt with depression and still do, but with this program, it helps me. The twins [Kansas and Kyal] help me a lot; they've been there for me when I needed the help the most."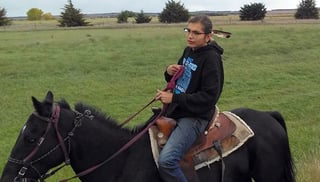 Carl hopes to inspire others and make an impact on his peers by speaking up and being a strong voice. He believes it is important for people to hear the voices of the youth and not just the adults.
Carl's mom can see the difference that the Leaders' Society is making in her son's life and states, "I love how he's been able to open up and speak on the mic and express his feelings; just being a part of a group...has definitely helped him publicly be able to speak in front of a crowd."
In addition to using his voice to help others, Carl is also very passionate about sharing Native dance with members of the community. He believes that dance is a powerful force that enables people to come together as one. He asserts, "Native dance strengthens our use of the language, keeps us physically active, and allows us to get in touch with our spirit."
Carl is an amazing young man with a bright future ahead of him. We are committed to inspiring hope and sharing Carl's voice to help make his dreams become reality.
"Thank you to all of you who support us here at Native Hope. Without your generous donations these activities and events wouldn't be possible." Kyal - Native Hope mentor