Jun 17, 2020 | Native Hope
If adults think navigating COVID-19 is a challenge, imagine the view from the eyes of a child. Think of the sweeping changes in their routines! Every household, every community, every state, every country has been affected. Suddenly, kids see masked faces and hear muffled voices everywhere. They can't play with friends nor cousins. They can't go to the store with mom. They can't visit grandma and grandpa. Life is strange.This month is International Children's month, and Native Hope wants to celebrate the youth of the communities we serve for their resilience and positivity. June is a time when most youth are playing baseball, swimming at the pool, and attending camp. COVID-19 has changed that, but children and parents are creating new ways to spend their summer vacation.
How to be someone else's miracle
Before the pandemic hit, International Children's Month chose the theme of "Love the Miracle—Crystal Clear Vision." The thought is to explore the concept of a miracle and "how we each can be someone else's miracle." What a perfect theme for 2020. This is the hour that many need miracles. The world is looking for answers and unity. Here, our team has witnessed the coming together of families and communities to assist in the making of miracles for others in need.
For the past 10 weeks, Native Hope has experienced the joy and privilege of supporting Native communities with ongoing food deliveries. This would not be possible without volunteers and donors. The whole process is a miracle in itself, but the blessing comes when we pull up to meet those helping us complete the final leg of the delivery: Toni Goodlow, Melissa Johnson, Tonya Derdall, Chris Little, Peter Lengkeek, Fabian Ross, and the Merritt family.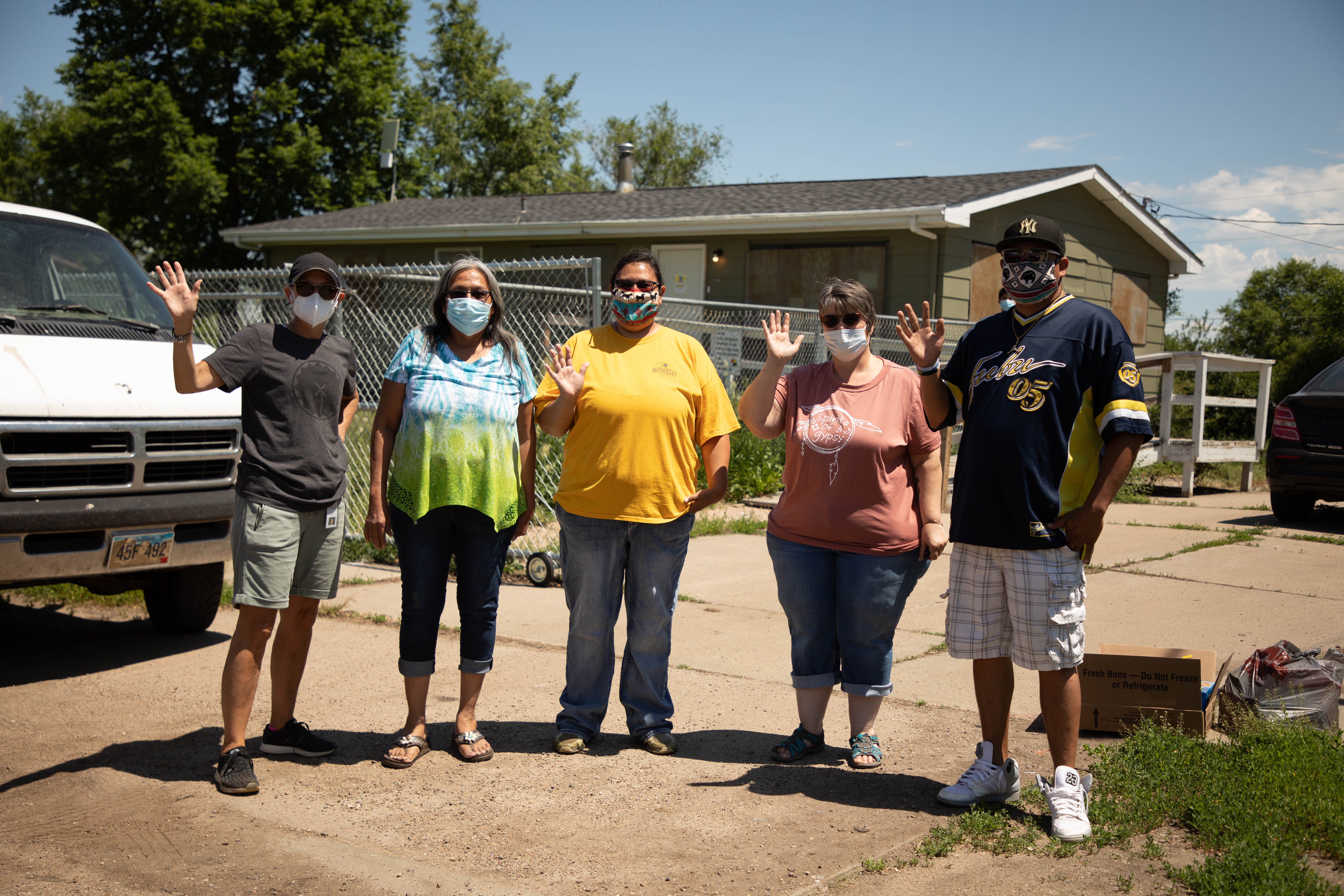 All of these people have the wellbeing of children and families in mind. In the Crow Creek District of the Crow Creek Indian Reservation, Tamra and Kyle Merritt plus their six children have been kind enough to join the effort of making a miracle for someone else by agreeing to deliver food sacks to their community members.
"When I was asked by Trisha Burke of Native Hope if I felt there was a need for food bags in my district, I immediately said, 'Yes.' My family of 8 often runs low especially in this time and knew others had to be also," explains Tamra. "That was well over a month ago, and since then my family and I have helped deliver hundreds of bags of food to our community. My children look forward to the delivery each week, and I love the fact they are learning about helping others. I've had a huge response from community members thanking us and Native Hope for the food bags."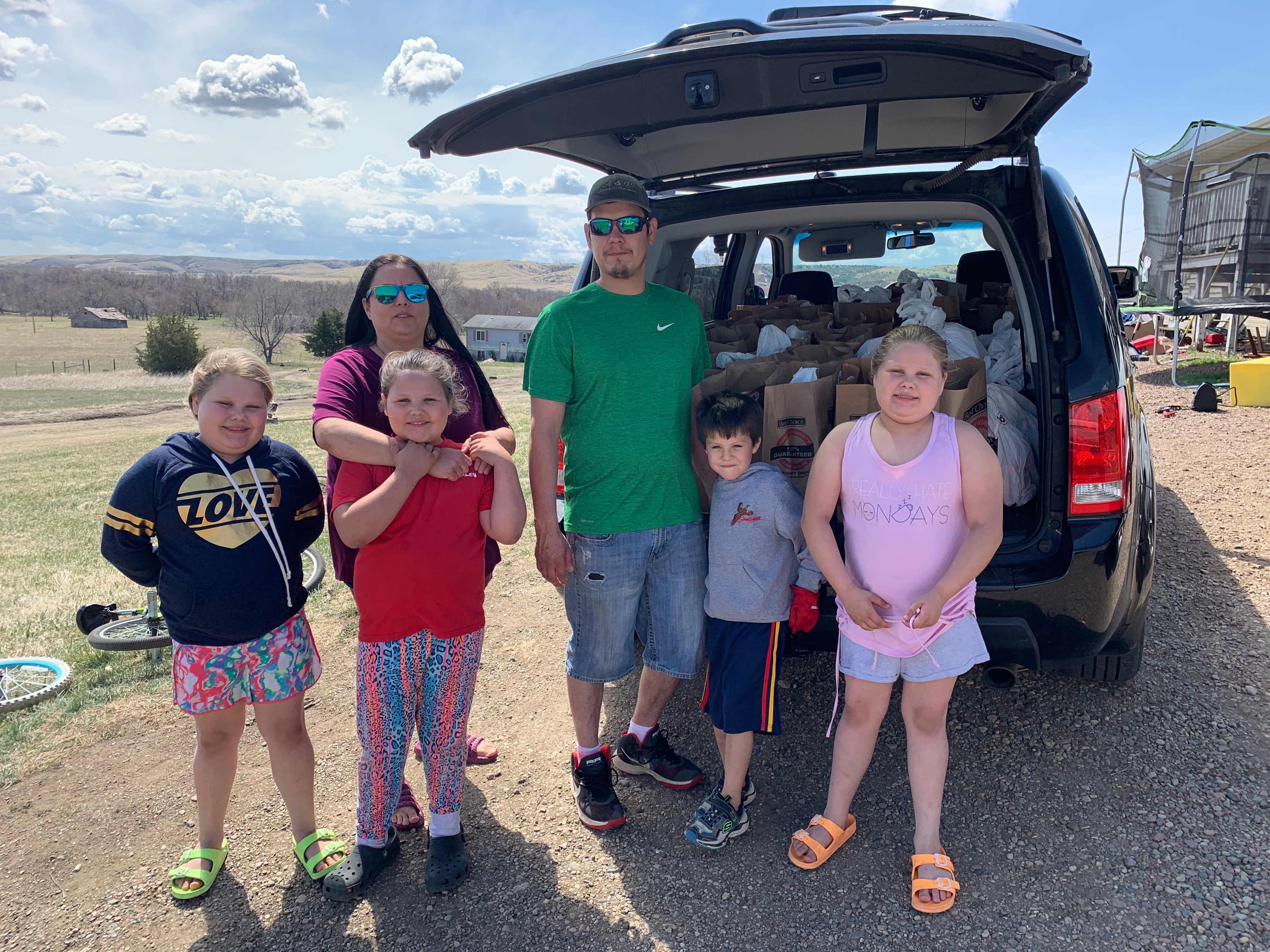 Last Saturday, the Merritt family and some of their relatives met the Native Hope team at the local airport to meet an Angel Flight from our friends at PAZA—Tree of Life and the Antinanco Earth Arts School, New Jersey. Pilot Chris Gilman of Angel Flight NE delivered supplies for the Crow Creek, Lower Brule, and Pine Ridge reservations.
The Merritt children were excited to see the planes coming and going from the Chamberlain Airport. They were even more excited to see the Chris's plane up close. "When I grow up I'm going to fly a plane and deliver boxes, too!" exclaimed Kash, 6. Kylie, 8, said, "Mom, some people don't have food, so people bring it on that plane, then we deliver it." What a joy it was to see the Merritt children witness the miracle of volunteers like Chris and our friends from the East Coast share their goodwill with our communities.
Miracles go a long way
When we first started our response to COVID-19, Toni, volunteer for Lower Brule deliveries, told us that for her "it is all about making sure the kids have something to eat, something they can prepare if their parents are gone." Her daughter, Melissa Johnson, is the Unit Director of the Lower Brule Boys and Girls club and knows firsthand the ongoing need of the youth in the community.
"Because of Native Hope's early and ongoing support of snack food and food trays, we were able to jump start our meal program and can offer the kids more than we can afford," says Tonya Derdall, Executive Director of the Lower Brule Boys and Girls Club. The Boys and Girls Club staff members have been preparing and delivering a hot evening meal every Monday, Wednesday, and Friday. In the beginning, staff made 43 meals, but now, the number has increased to 76 meals three times a week. Children and parents are so glad for this support from the club. On Friday's, they also deliver weekend snacks, an educational packet, an art kit, and a physical activity.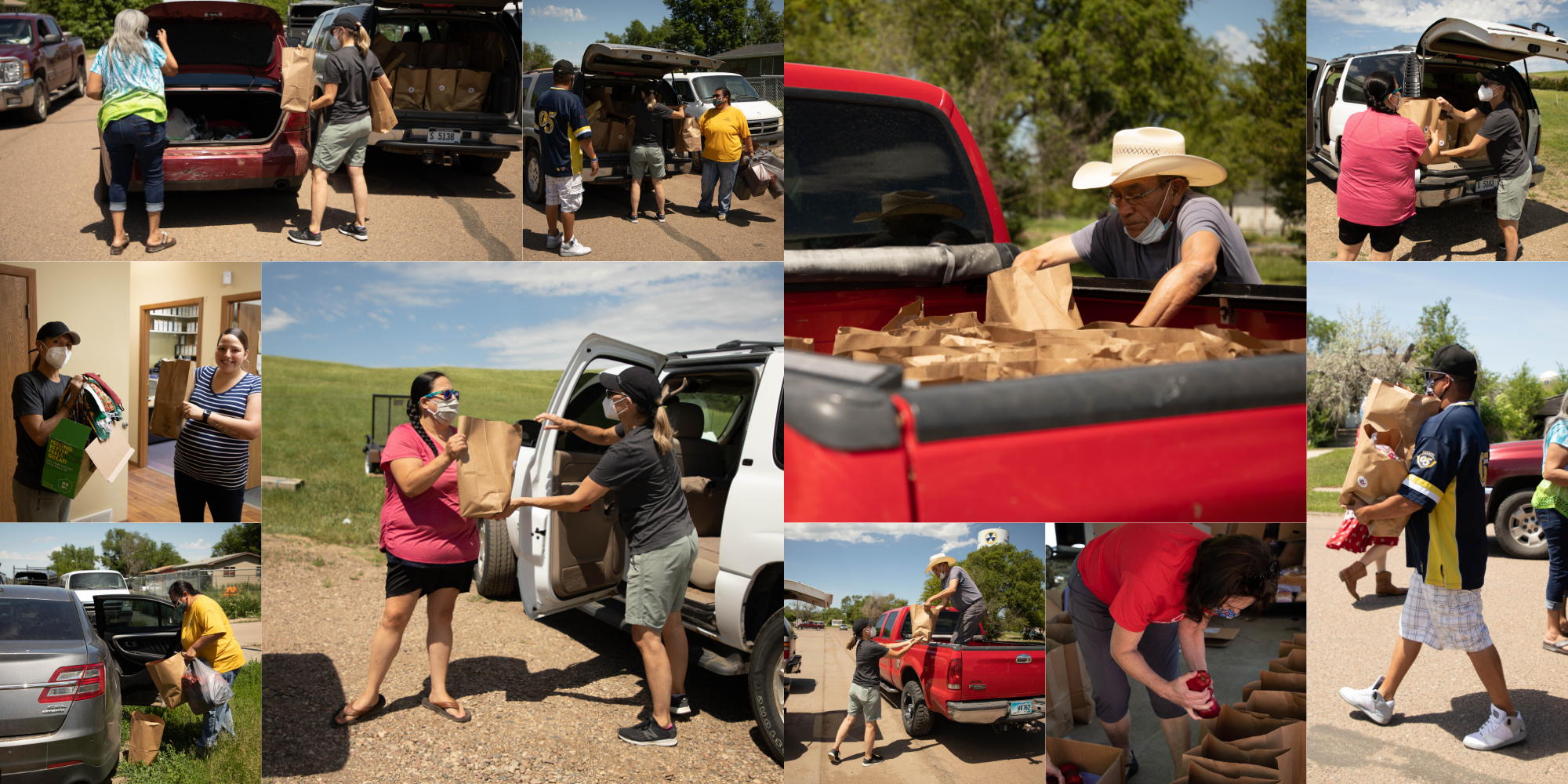 Normally, the kids would be coming to the club, but now they are home, so these activities are vital for learning and growing. Raven Soulliere, a team member, creates and shares educational videos that are posted online for the kids who may be lucky enough to have access to technology—this is always backed up by a paper instructional packet. These activities are literacy and STEM based. Melissa puts together a video along with paper instruction for a weekly art activity/contest: "Melissa had the kids find anything from nature, use it to spell their name, snap a photo, and share with the club." Finally, the club was able to give each household a basketball, football, paper, scissors, crayons, etc. They design physical and education activities around these items.
Through the action of these dedicated staff members, the children of Lower Brule see miracles in action almost every day. Native Hope is so glad to be a part of their important work—"it's all about the kids."
Take time to appreciate miracles
In honor of International Children's Month, take time to show kids about what it means to be a miracle for someone else. Kash and Kylie Merritt's dad, Kyle, said, "I am really moved that people care enough to do this for our people [Hunkpati Oyate]."
Wopila Tanka, a big thank you, to all of you who have been a part of Native Hope's Back to Basics program and the COVID-19 Emergency Response for our SD reservations. You are showing the youth the power of volunteering and helping those in need.
You can join our efforts and provide children and families the essentials they need.