Jan 20, 2023 | Native Hope
Thanks to you, Native Hope continues to create a meaningful impact. The past three months have been filled with many smiles as we continue our important work.
"Thank you for your help with Christmas gifts for our children. We, like so many others, have had a couple of very challenging years. This gift is a great help, and we are grateful." - Rural American Initiatives
October started by attending the Native American Day parade in Sioux Falls, South Dakota. It felt great to be a part of such a fantastic event. The theme for this year's event was Wounspewicakyag Hena Ob Maunipi (We Walk With Our Teachers).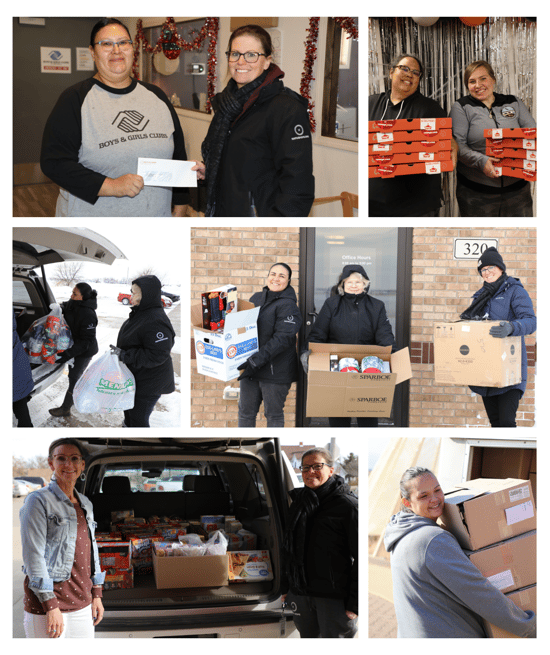 Every October, South Dakota draws men in considerable numbers to the state for their fall hunting season. To combat human trafficking during this time of year, we partner with The Red Sand Project to fill sidewalk cracks and post fliers to raise awareness of human trafficking and how to report it. Red sand is a tangible and effective way to illustrate the massive sex trafficking problem. This eye-catching approach helps spread awareness and shows our commitment to preventing women and children from falling through the cracks.

At the end of October, we received a request to assist with food for a Halloween Bash, an event for the youth in Fort Thompson, South Dakota.
In November, the Crow Creek Sioux Tribal Veterans office reached out requesting apples and oranges for an event held on Veterans Day.

Towards the end of November, our team traveled North to the Rock Creek community to deliver 100-holiday meals. Watch the video to hear Joe Montana, a member of the Rock Creek American Legion Post 324, thank Native Hope and our donors.

We closed out the year with winter storms impacting the communities we serve. However, we could still provide community programs with Christmas gifts for over 500 Native American children and 100-holiday meals for elders in Lower Brule, Fort Thompson, Big Bend, and Crow Creek District.
These last few months kept us busy providing essentials to those who need them most. We fulfilled 140 requests, including 129 food packs, 67 cleaning, and hygiene packs. Traveling nearly 1,000 miles with our trailer filled with boxes to deliver much-needed supplies to six communities in South Dakota. Some of our most requested items during this time included baby essentials, warm winter clothes, and blankets.