Feb 6, 2023 | Tamara Colaque
Tamara shares her journey to know herself through her mother's MMIW story. An aspect that is often forgotten when someone goes missing or is murdered is the impact on the family—especially the children. The wound is deep and the answers often intangible.
Say-yo-ma, (Greetings) from the Towa language of Jemez Pueblo. The names I identify with are Whee Bayla, which means (Governor bread) in Towa, Thuun Povi (Basket flower) in Tewa and Unee (The Songs) in Keres, which are all from bloodlines that nourish my identity.
Maternally, I represent the Tewa Tree people from Po-woh-ge-oweenge, meaning "where the water cuts through in San Ildefonso, Pueblo and the Eagle clan from the Hemish people, in Walatowa, meaning, "This is the place", in Jemez Pueblo, New Mexico. Paternally, I am Mexican and through adoption in traditional ceremony, the Keres Amber Sap Clan from San Felipe Pueblo. The government name given to me is Tamara Colaque. This name was received through a ceremony with family and Kewa Godparents from (Santo Domingo, Pueblo) at the Assembly of God Church in San Ysidro, New Mexico.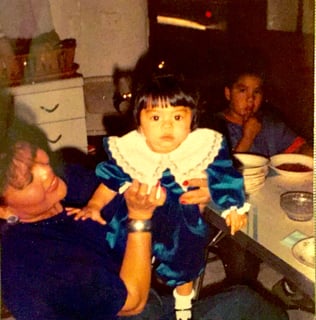 This is where I was molded together by the Pueblo and Mexican red clay pieces of my past, present, and future. I carry the legacy of storytellers and strive every day to coil my breath with the spirit of the ancestors with intention on the enhancement of my inner balance. As I continue to find ways to connect to all relations in the universe and my Her-story, the closer I am to discovering my identity, which has been like a veiled mystery, where I uncover new details every day. Facts reveal my roots and the relative roads I walk with loved ones not here today.
Specifically, I introduce my story in support of the recent work I did with Native Hope, on a film to bring awareness on the Missing, Murdered and Indigenous Women and Girls [MMIWG] epidemic. The film titled, ​Voices Unheard,​ and what the main character experiences in the story, highlights what most indigenous people go through on a daily basis. I am sharing my story in the hopes to connect with other warriors and survivors with support to solutions that end violence completely. I hope that by sharing my personal journey, it will inspire others to listen, learn, pray, and demand for a better change! We must strive to bring solutions that finally end any more stolen lives. There has to be an end of the line​ for the safety of all our communities.
As there are ups and downs to all journeys, my downfalls of healing include overthinking details of the past generational trauma, reliving the painful memories with tears and heartaches that take away the ability to breathe. Sometimes the worst could become toxic coping mechanisms that seem like the only remedies, until they make everything worse. Mostly, the process covers the wounds with conclusions, relieving the pain and healing every time—a small piece of a puzzle to some larger signs.
Looking Back: My Mother's Story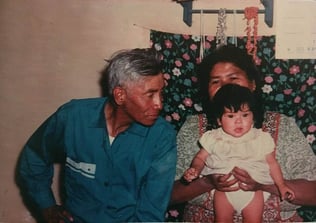 I've been told that before my journey on Earth began, my birth mother Madalynn J. Waquie shocked the family when she was born unexpectedly to my grandparents in their mid-fifties. As she grew up, they both died suddenly from health-related conditions. First, my grandmother died from diabetes, this was when my mother was only two years old. My grandfather died a few years later from heart disease, when she was ten. At the age of thirteen, she left her village and home in Jemez Pueblo, where she had been living with her older sister, Maria's family. It is known that she did not finish high school and took off to stay with her older sisters Bertha and Velda, both of whom were living in an apartment in Albuquerque, New Mexico. She stayed with them until she wandered off yet again, this time to go live on her own.
The words often used to describe my mother were, she was a smart, funny, beautiful wandering soul and free spirit, just like you. I've also heard she was a "Rebel Nomad" jumping trains to cure her craving for curiosity and world exploration. This path of uncertainty led her to drugs, alcoholism, and abusive relationships. Madalynn was a young wife and mother to my brother, Ricardo and sister, Anna Maria, when she became pregnant with me, apparently from another man no one knew nor had seen. They say that during the time she carried me, she was in an abusive relationship with the unknown person. Various bruises on her body could not hide her pain and the fact that she could not keep me with all the toxicity.
A Decision Made Out of Love: My Adoption Under the Indian Child Welfare Act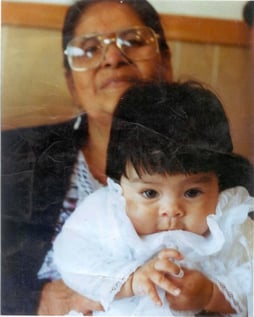 In the springtime of April, 1992, Madalyn Ruiz gave birth to me and disconnected our sacred life cord at the Indian hospital in Albuquerque, New Mexico. It is my understanding that on this day, she put me up for adoption, in order to protect and give me a better life. As it was her wish for me to be raised within her family, the Indian Child Welfare Act (ICWA), determined the fate of my guardianship, entirely. This law was passed in 1978, to protect the best interests of Indian children and promotes the stability of Indian tribes and families. ICWA sets federal requirements that apply to state child custody proceedings involving an Indian child who is a member of or eligible for membership in a Federally Recognized Tribe
Throughout history, the genocide of indigenous cultures thrived with a mission of, "Kill the Indian and Save the Man." Examples of this mission included kidnapping Indian children from their families, relations and then stripped them of all ties to their language and spirituality. A contemporary example of this brutality includes the story of a young indigenous mother, Savanna LaFontaine-Greywind, whose child was kidnapped from her womb and then later found dead in a river. Her horrid passing sheds light on the changes indigenous communities are taking to prevent any more stolen lives. After Greywind's death, communities unified to introduce a bill called Savanna's Act, that passed the senate on Dec 6, 2018 but was later held for further review. The bill was reintroduced after the 2018-19 United States federal government shutdown in 2019, ass S.227. I am grateful for all those people who stood in support of these laws to change the futures of the next generations of Indian families. Personally, the ICWA law gave me a sense of knowing where I came from and founded the connection I have with my relatives. Ultimately, it gave me an identity, my home, and community. The Savanna and Hanna Acts are added protections to ensure there is proper data collection and protocol for all our communities. In July, 1992, the state of New Mexico granted the Hemish community and my closely related family, full custody of me. After several family meetings and tribal court, it was decided that my mother's biological aunt, Tereasita and cousin, Susie Colaque, would become my legal guardians.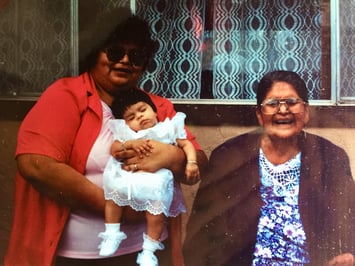 My aunts were financially fit to give me the best life. Teresita's income and Susie's career as a potter helped them meet the requirements to adopt and raise me.
I cherish that the sustainability of selling traditional arts blessed me with this connection with my beautiful family. A year and a half after my adoption, my mother gave birth to my younger brother Tony, who was also adopted by our mother's uncle and aunt, Joseph and Ora Tafoya, both who were also pottery makers. Madalynn's wish was granted and we were both to be raised within our Hemish family, while our older siblings were raised by her ex-husband and our step-father Ricardo Ruiz. Tragically, a couple of weeks after giving birth to Tony, our mother Madalyn J. Ruiz, was found murdered near the railroad tracks near the Shady Lakes in Sandia, Pueblo, on July 18, 1993.
Identity Keeps Me Connected to My Mother, Even in Death
Although her ties with us were cut short on Earth, we can still connect with her through our prayers, the stories shared about her life and visiting the land where she lies in rest. I am grateful that I was able to grow up on her homeland, walking the same muddy paths that she walked. Living and breathing on the sacred land where our family's blood, sweat, and tears reside. Listening to the stories of their past is what gives me a sense of belonging and identity. This connection I am able to share through these blood memories and stories passed down by family and ancestors is what gives me purpose. These are also the reasons why I believe in protecting laws such as ICWA, Savanna and Hana Acts. It is also why I am passionate about learning and sharing indigenous knowledge while protecting sacred entities for all my relations throughout all the generations.
Read part two of Tamara's story.
We're on a mission to spread healing by telling the beautiful and the tough stories that come from the Native American experience. Help us spread healing today and inspire hope. #StorytellingHeals