Mar 3, 2020 | Native Hope
Thanks to donors like you, February was filled with giving hope and sharing love. Native Hope was able to assist with various community events and worked with local organizations to help those in need.
How can one measure hope?
On February 4th, Native Hope ventured to the Crow Creek Reservation to assist in a school project, led by Josiah, a student of Chamberlain High School and resident of St. Joseph's Indian School. For his project, Josiah wanted to measure hope of Native Americans by conducting video interviews, asking participants questions about their youth, upbringing, and hope for future generations. His goal is to take his footage gathered along with photos and make an online video for people to watch and then participate in a survey after viewing his video.
Being a part of Josiah's project was very touching. The stories shared during his interviews were moving and brought to life the importance for positive change. We were grateful for the participants who shared their stories and wisdom. Pidamaya!
InvenTeam headed to EurekaFest in Washington, DC
Lower Brule High School, Lower Brule, SD, received a $10,000 InvenTeam grant from Massachusetts Institute of Technology. Interested students applied for the InvenTeam grant by submitting their plan for building a technological invention that would solve a problem in their own community or for the world at large. Once awarded a grant, young inventors and their mentors must fully engage in the year-long process to create their project from the ground up.
The Lower Brule students were awarded the grant to build a permanent, outdoor Bluetooth speaker for the community basketball courts.
Native Hope team members attended the Lower Brule InvenTeam's informational night and gathered video footage plus photographic images to create a short movie clip to share with the world. During the informational night, students gave a presentation about their invention, answered questions, and discussed their trip to EurekaFest in June, an exhibition organized by Lemelson-MIT, to showcase their Bluetooth speaker in Washington, DC.
EurekaFest will provide a chance for the students to receive feedback on their invention and the invention process from a wide variety of people including technical experts, other student inventors, and the general public. The Lower Brule InvenTeam must raise funds for this experience, and it is our hope that the video and future blog will do just that.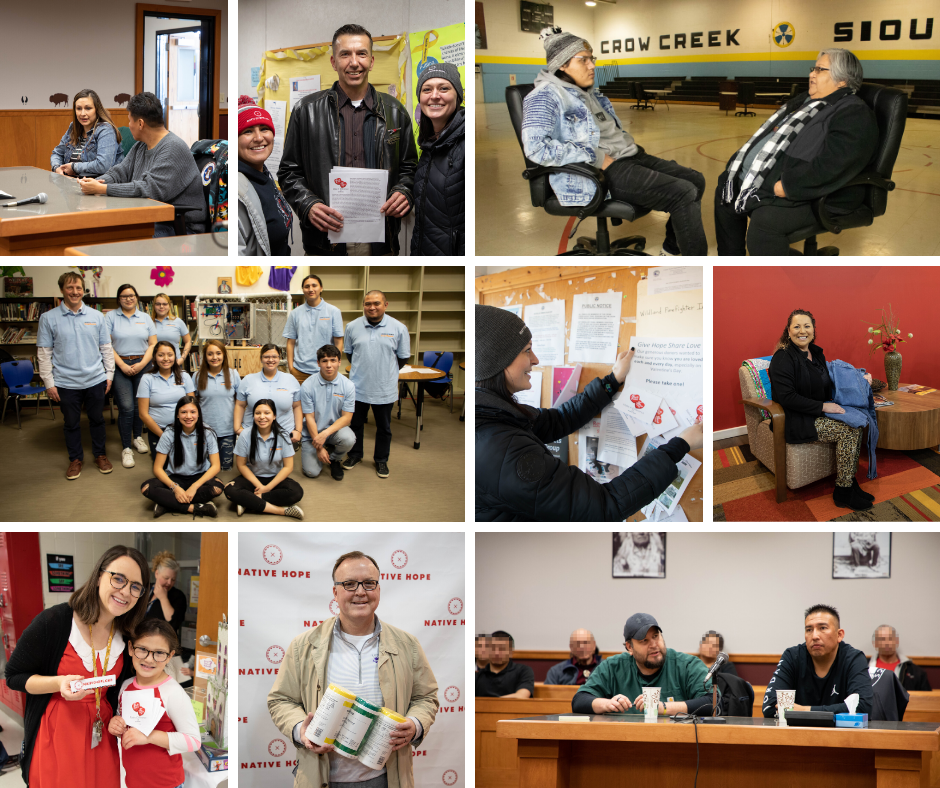 Valentine messages "Give Hope and Share Love"
February 14th was another fulfilling day for the Native Hope team. Through a campaign called "Give Hope, Share Love, Make a Difference," Native Hope set out to positively impact our local reservation communities by asking donors to "Send a Message of Hope" to someone in need. After receiving over 200 messages from amazing donors across the world, Native Hope traveled to the local reservations and hand-delivered their messages of hope. The response was overwhelmingly positive!
Cold and flu season is upon us
As part of our Back to School campaign, Native Hope provided the Lower Brule schools in Lower Brule, SD, with disinfectant wipes. This month, Lance Witte, Superintendent of the Lower Brule Schools reached out to see if we would be able to provide more wipes. "We are trying to stay on top of the cold and flu season," he said. Because of generous contributions from our donors for Back to Basics Campaign, Native Hope was able to purchase 21 containers of Clorox Disinfectant Wipes for the Lower Brule School to help with their needs.
Donors give gently-used clothing items
A donor contacted Native Hope with several gently-used men's pants and slacks in hopes we would give them to someone who needed them. We contacted the Missouri Valley Crisis Center with this generous gift, and they were delighted to accept the donation for the clients. Thank you for all the donations—we are blessed with fabulous donors!
Drug Court
Native Hope believes in the power of storytelling to not only teach but also heal. Wednesday, February 19, we spent the day at the Lower Brule Drug Court listening to the stories of four former Meth addicts. The Drug Court held its first-ever panel discussion for the inmates who are participating in Drug Court.
Drug Courts integrate alcohol and other drug treatment services with justice system cases. The Lower Brule Drug Court's aim, like others, is to stop the abuse of alcohol and drugs. The court is made up of Lower Brule community members who promote recovery through numerous support programs.
The panel of speakers: Gifford Standing, Jaime Spears, Christine Obago, and Wanbli Meter donated their time to talk with the inmates. Each speaker shared the story of their dark journey through meth addiction. Gifford stated, "I worked so hard to be an addict—life is easier as a person making good decisions. I remind myself constantly that one slippery slope is all it takes. If I ever think 'I've got this,' I am off and running [doing meth] and I will die."
Witnessing the strength of each speaker and the emotional response of the inmates offered hope to those of us in the gallery. At the conclusion of the two-hour discussion, Judge Amy Miner offered her thanks and reminded the inmates, "It's good to cry. Maybe this will help you tell your story, so you can start to heal."
A more in-depth blog post will be shared this month on this amazing experience.
Generous donors make this possible. If you want to make a difference, invest in hope.