Sep 29, 2020 | Native Hope
"At last, I see a rift in the rocks. A little way beyond, there are green prairies. The swift-running water, the Niobrara, pours down between the green hills. There are the graves of my fathers…"
- Chief Standing Bear, Ponca
All peoples have human rights advocates—Native Americans are no exception. Chief Standing Bear of the Ponca tribe was the first Native American to file a writ of habeas corpus (used to bring a detainee before the court to determine if his detention is lawful) against the U.S. government in the suit of his tribe's imprisonment at Fort Omaha. The Ponca's detainment began on March 27, 1879, after their 62-day, 600-mile trek north from Indian Territory in Oklahoma. The trek was a journey Chief Standing Bear and his band of 30+ people, mostly women and children, took in the dead of winter to bury Standing Bear's son in their ancestorial homelands near the Niobrara River in northeast Nebraska. Read here for part one of Chief Standing Bear's legacy.
The Ponca had been recuperating from their journey with the Omaha tribe just miles from their destination when General George Crooks learned of the Ponca's "illegal" movement from Indian Territory. Standing Bear must return the Ponca to Oklahoma. Crooks sent troops to the Omaha reservation to capture the Ponca and take them to Fort Omaha. Upon the Ponca's arrival at Fort Omaha, Post Commander Colonel John H. King "reported the serious illness among the Ponca and the weak condition of their horses made it impossible for the Indians to return to Indian Territory at this time."
Chief Standing Bear's plight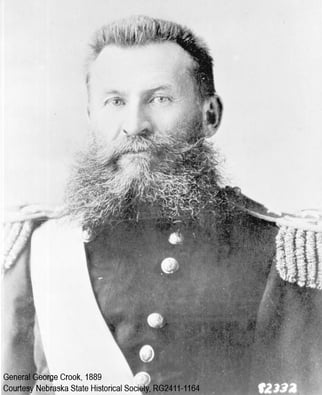 Crook, a decorated Civil War veteran and a notorious Indian fighter, found the situation dire and felt compelled to help the Ponca and kept his assistance under wraps. According to journalist and assistant editor of the Omaha Daily Herald Thomas Tibbles, General Crook came to him with Standing Bear's story and asked Tibbles to "make some noise" on Standing Bear's behalf. Crook asked Tibbles to attend a meeting with Standing Bear and other tribal elders held at Fort Omaha on March 31, 1879. There, Crook asked Chief Standing Bear to explain why he and his followers left Indian Territory:
"At last, I had only one son left; then, he sickened. When he was dying, he asked me to promise him one thing. He begged me to take him, when he was dead, back to our old burying ground by the Swift running Waters, the Niobrara. I promised. When he died, I, and those with me, put his body into a box and then in a wagon, and we started North," replied Standing Bear.
While Crook was moved and sympathetic, he had a direct order to return the Ponca to their homeland. He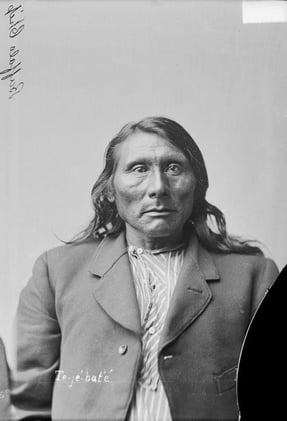 explained to Standing Bear, "It is . . . a very disagreeable duty." Crook felt to send the Ponca back would mean certain death for many of them. After years of duty in Indian Territory, Crook's opinion of the government's treatment of Indians had shifted—he conflicted with their policies. His only way to help Standing Bear was to rally support from the public.
On April 1, 1879, Thomas Tibbles opened a full-scale campaign to gain support for Standing Bear and the Ponca leading with this quote by Buffalo Chip, a Ponca medicine man:
"I have been told since the Great War that all men were free men and that no man can be held a prisoner unless he does wrong. I have done no wrong, and yet I am here a prisoner. Have you a law for white men and a different law for those who are not white?"
After Tibbles broke the story in the Omaha Daily Herald, the public response was tremendous. Religious leaders from numerous denominations—Christian and Jewish—sent telegrams to Washington, D.C., asking for the Ponca to be freed. As a result, Standing Bear would have his day in court.
Chief Standing Bear's case
John Webster and Andrew Poppleton, prominent Omaha attorneys, filed a writ of habeas corpus on behalf of Standing Bear against his tribe's imprisonment at Fort Omaha. They claimed that Standing Bear and his Ponca followers had withdrawn from the larger Ponca tribe, which meant they were U.S. citizens. Moreover, Standing Bear vs. Crook maintained that under the U.S. Constitution, Standing Bear and his followers had the same rights as other U.S. citizens.
After the Civil War (1868), the 14th Amendment to the U.S. Constitution granted citizenship "to all persons born or naturalized in the United States—including former slaves—and guaranteed all citizens 'equal protection of the laws.'" However, before 1879, this amendment did not apply to Native Americans. Standing Bear and his lawyers had to prove he was a person and deserving of the same rights under the law.
Attention to the case grew as, leading up to the April 30 trial date, Tibbles placed story after story in the Daily Herald. Consequently, Judge Elmer Dundy's U.S. Circuit Courtroom in Omaha, Nebraska, was packed with powerful allies: former abolitionists, religious leaders, and interested people—among them, the Omaha, Chief Joseph La Fleshe (Iron Eyes) and his oldest daughter Susette La Flesche (Bright Eyes).
John Webster and Andrew Poppleton argued that Chief Standing Bear and the Ponca had long been walking the white man's road. For years, they had been farming and working the land. His people were not adversaries of the U.S. government—they had never engaged in conflict; they were peaceful. On the second day of the trial, after nine hours of closing arguments, Judge Elmer Dundy allowed Chief Standing Bear to make a speech on his behalf. Bright Eyes, educated in the East, served as his interpreter.
Chief Standing Bear's address
Thomas Tibbles detailed the scene and Chief Standing Bear's speech via Bright Eyes' translation:
…Not one in the audience besides the army officers and Mr. Tibbles had ever heard an oration by an Indian. All of them had read of the eloquence of Red Jacket and Logan, and they sat there wondering if the mild-looking old man, with the lines of suffering and sorrow on his brow and cheek, dressed in the full robes of an Indian chief, could make a speech at all. It happened that there was a good interpreter present—one who was used to "chief talk."
Standing Bear arose. Half facing the audience, he held out his right hand and stood motionless so long that the stillness of death, which had settled on the audience, became almost unbearable. At last, looking up at the judge, he said:
"That hand is not the color of yours, but if I prick it, the blood will flow, and I shall feel pain. The blood is of the same color as yours. God made me, and I am a man. I never committed any crime. If I had, I would not stand here to make a defense. I would suffer the punishment and make no complaint."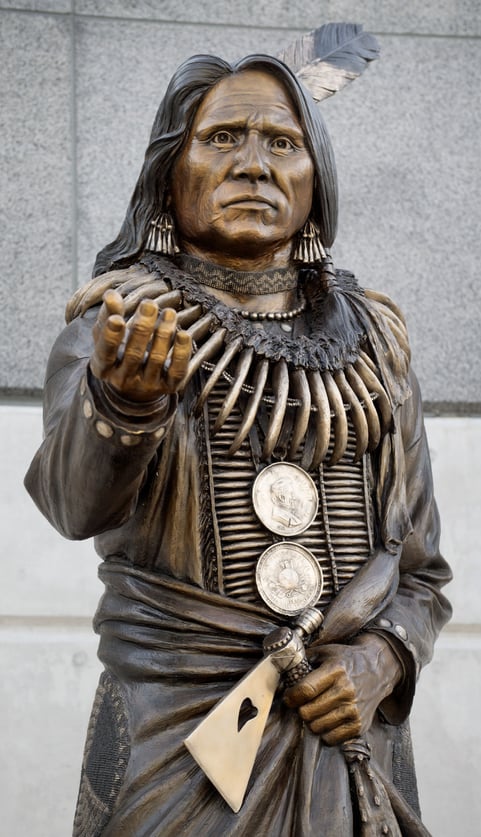 Still standing, half facing the audience, he looked past the judge, out of the window, as if gazing upon something far in the distance, and continued:
"I seem to be standing on a high bank of a great river, with my wife and little girl at my side. I cannot cross the river, and impassable cliffs arise behind me. I hear the noise of great waters; I look and see a flood coming. The waters rise to our feet, and then to our knees. My little girl stretches her hands toward me and says, 'Save me.' I stand where no member of my race ever stood before. There is not tradition to guide me. The chiefs who preceded me knew nothing of the circumstances that surround me. I only hear my little girl say, 'Save me.' In despair I look toward the cliff behind me, and I seem to see a dim trail that may lead to a way of life. But no Indian ever passed over that trail. It looks to be impassable. I make the attempt."

"I take my child by the hand, and my wife follows after me. Our hands and feet are torn by sharp rock, and our trail is marked by our blood. At last I see a rift in the rocks. A little way beyond there are green prairies. The swift-running water, the Niobrara, pours down between the green hills. There are the graves of my fathers. There again we will pitch our teepee and build our fires. I see the light of the world and the liberty just ahead."
The old chief became silent again, and, after an appreciable pause, he turned toward the judge with such a look of pathos and suffering on his face that none who saw it will forget it, and said:
"But in the center of the path there stands a man. Behind him I see soldiers in number like the leaves of the trees. If that man gives me the permission, I may pass on to life and liberty. If he refuses, I must go back and sink beneath the flood."

Then, in a lower tone, "You are that man."
"There was silence in the court as the old chief sat down. Tears ran down over the judge's face. General Crook leaned forward and covered his face with his hands. Some of the ladies sobbed.
All at once that audience, by one common impulse, rose to its feet, and such a shout went up as was never heard in a Nebraska court room…There was a rush for Standing Bear. The first to reach him was General Crook. I was the second…for an hour Standing Bear had a reception" (Truer, 124-126).
While Tibbles' account of Standing Bear's speech in the courtroom that day may have possessed a dramatic style, he captured the essence of Standing Bear's struggle to return to his homeland to bury his son.
Judge Dundy's decision on Chief Standing Bear
It took Judge Dundy ten days to reach his verdict: eleven pages of detailed reasoning. In it, Dundy passionately admitted that if he could decide a case upon sympathy, he would have given his decision in short order. However, Dundy explained that in the U.S. freedoms are regulated by law. Dundy felt Standing Bear's case needed "something more satisfactory and enduring than mere sympathy must furnish and constitute the rule and basis of judicial action…this case must be examined and decided on principles of law."
Read Part 3 of Chief Standing Bear's legacy.
Please help us raise awareness by sharing this story and the story of Native Hope with your friends and family! When you support Native Hope, you are investing in giving HOPE to the voices unheard.
Sources:
Treuer, David.
The Heartbeat of Wounded Knee: Native America from 1890 to the Present
. Corsair, 2019.