Jul 18, 2021 | Native Hope
Resting high above the treetops of the Black Hills (Paha Sapa), sacred lands of his people, a monument of Crazy Horse (Tȟašúŋke Witkó), legendary Oglala Lakota warrior, acts as a sentinel and symbol of a proud people. Its inception came as a direct counter to its rival Mount Rushmore. Mount Rushmore, created by Gutzon Borglum, which stands some 17.4 miles away from the Crazy Horse Memorial. Chief Henry Standing Bear, Brulé Sioux, made it his life's mission to create a memorial of Chief Crazy Horse that would dwarf the white faces of European leaders who stole Native American lands under the guide of the Doctrine of Discovery.
Chief Henry Standing Bear wanted to create a monument of the warrior, Crazy Horse, to show the world that "the Red Man has great heroes also." In 1939, Chief Henry Standing Bear invited sculptor Korczak Ziolkowski to carve a memorial to all Native Americans in the Black Hills. Ziolkowski agreed, solely purchased Thunderhead Mountain, and privately financed the entire project.
Who was Crazy Horse?
Born around 1840 in Lakota Territory, Crazy Horse, Tȟašúŋke Witkó, grew into the bravest warrior of his time. By age 21, Crazy Horse was also one of the most influential leaders among the Plains Indians: second in power only to Chief Sitting Bull. Stories of his courage on the battlefield against the U.S. 7th Cavalry hold what most know about the revered leader. Crazy Horse is known as the man who took down Custer at Little Big Horn (Greasy Grass). But this introvert would perhaps rather be remembered for his undying love of his people and their way of life.
Crazy Horse represented the true Lakota spirit. He was raised a public servant. Big-heartedness, generosity, courage, and self-denial remain the cornerstones of that servitude.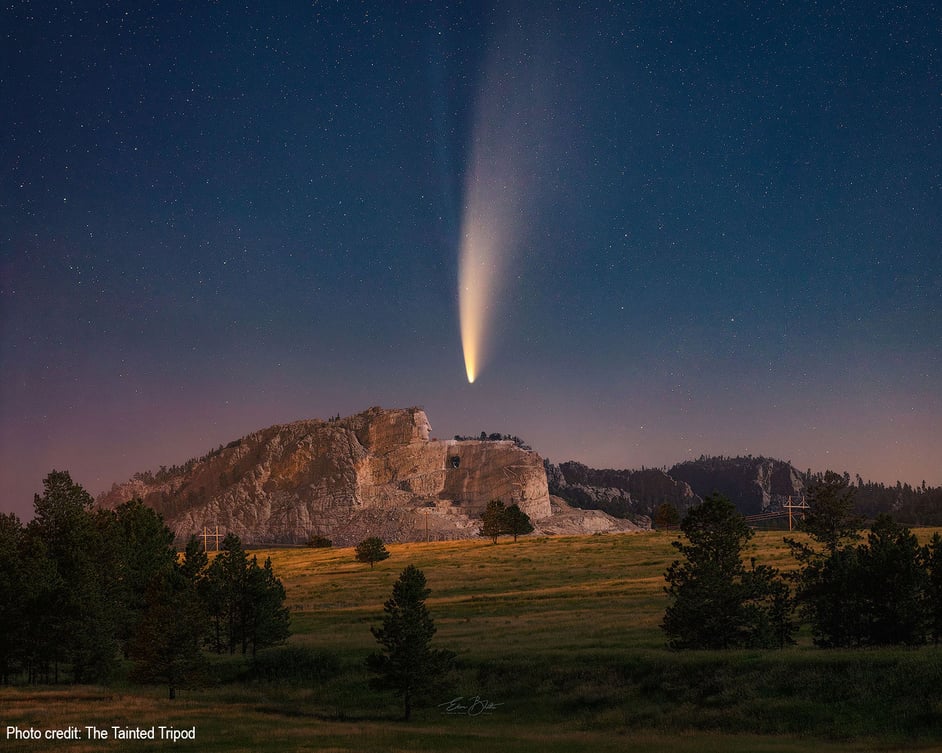 "He was perhaps 4 or 5 years old when the band was snowed in 1 severe winter. They were very short of food, but his father was a tireless hunter. The buffalo, their main dependence, were not to be found, but he was out in the storm and cold every day, and finally brought in 2 antelope.
"The little boy got on his pet pony and rode through the camp, telling the old folks to come to his mother's teepee for meat. It turned out that neither his father nor mother had authorized him to do this.
"Before they knew it, old men and women were lined up before the teepee home, ready to receive the meat, in answer to his invitation. As a result, the mother had to distribute nearly all of it, keeping only enough for 2 meals.
On the following day the child asked for food. His mother told him that the old folks had taken it all, and added: 'Remember, my son, they went home singing praises in your name, not my name or your father's. You must be brave. You must live up to your reputation.'"
Crazy Horse did what was right and cared for others above himself. This is perhaps what makes him so legendary. Crazy Horse's cousin, Nicholas Black Elk, relays to author Neihardt in Black Elk Speaks, that "...he [Crazy Horse] was a queer man and would go about the village without noticing people or saying anything. In his own teepee he would joke, and when he was on the warpath with a small party, he would joke to make his warriors feel good. But around the village he hardly ever noticed anybody, except little children."
There are no authenticated photographs of Crazy Horse. He felt a photo would steal his soul. Many say he stuck out as a boy—he was "uncommonly handsome" and "physically perfect." It is also said that he possessed light-colored, wavy hair.
While Crazy Horse was bold and brave, he felt akin with the spirit world and listened carefully to advice from elders and his visions. He respected nature. Living life off of the land—being careful only to take what was given to him by the Thunkašila, the creator. He valued the family system of the Lakota Tiyospaye, an extended kinship—placing his tribe's needs above his own.
"Crazy Horse is my hero because of his willingness to do whatever he could for his family and people. He was full of courage. He was valiant."-a Kul Wicasa tribal member.
Worthy of honor
The Indian Wars pitted oyatés (tribes) and tíospayés (families) against one another. Crazy Horse vowed never to succumb to the ways of the white man. He never signed a treaty nor did he leave his land to "experience" white man's civilization. He rejected all of it—right up until his death in 1877 at the hands of his own people and a U.S. soldier at Camp Robinson, NE.
"'Another white man's trick! Let me go! Let me die fighting!' cried Crazy Horse. He stopped and tried to free himself and draw his knife, but both arms were held fast by Little Big Man and the officer. While he struggled thus, a soldier thrust him through with his bayonet from behind. The wound was mortal, and he died in the course of that night, his old father singing the death song over him and afterward carrying away the body, which they said must not be further polluted by the touch of a white man. They hid it somewhere in the Bad Lands, his resting place to this day."
Today, Crazy Horse's spirit is memorialized by the vision of Chief Henry Standing Bear and sculptor Korczak Ziolkowski. While both men have passed, their families continue to create what will be the largest carved monument in the world: 641 feet long and 563 feet high. The great leader's arm will extend 263 feet while his head stands 87 feet high (27 feet taller than faces on Mount Rushmore).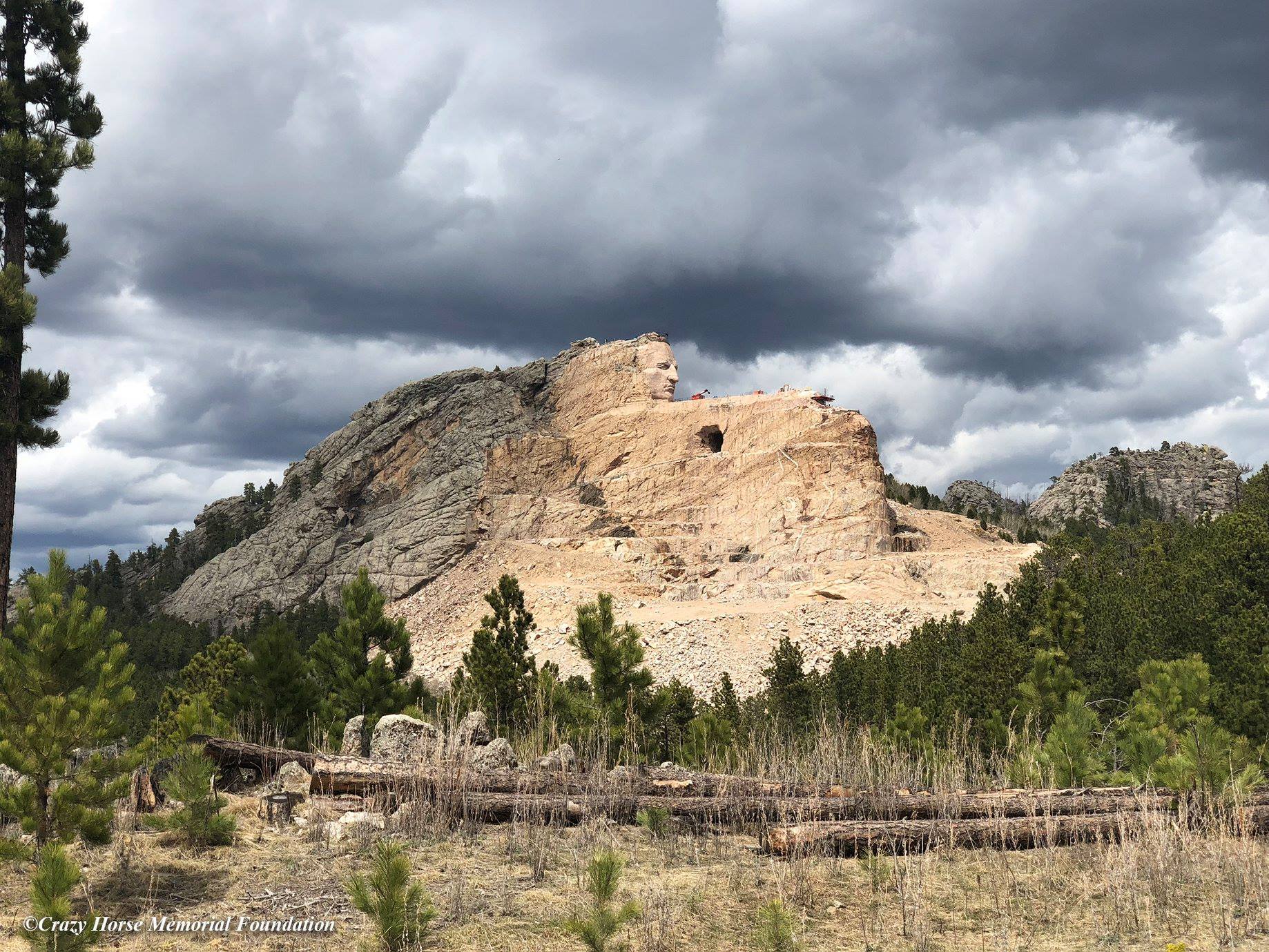 On June 3rd, 1948, a dedication ceremony was held to commemorate the future of the memorial. Standing Bear wanted the Crazy Horse Memorial to "serve to create cross-cultural understanding and to mend relations between Natives and non-Natives." The face of Crazy Horse was completed and dedicated in 1998, after 50 years of hard work and dedication—16 years after Korczak's death.
Chief Henry Standing Bear only lived 5 more years after the 1948 dedication, but his spirit lives with Crazy Horse on Thunderhead Mountain. The Memorial welcomes over a million visitors a year—those visitors generate the money necessary to complete this amazing tribute to Native Americans and the Oglala Sioux.
It must be said, however, that some do not agree with the memorial for two reasons: 1. Crazy Horse was never photographed, so the face on the mountain could not be his, and 2. The carving of a mountain destroys the natural beauty of the mountain, which goes against Native American beliefs. In spite of the debate, work on Standing Bear's vision continues.
Native Hope believes understanding the path of their great leaders, like Standing Bear and Crazy Horse, will inspire Native Americans to look to their cultural roots for guidance and identity.
Help us raise awareness by sharing this story and the story of Native Hope with your friends and family! When you support Native Hope, you are investing in giving HOPE to the voices unheard.