Sep 27, 2019 | Native Hope
In August, the Avera Health Employee Engagement Team of Sioux Falls filtered a book drive through Native Hope. Avera Health Employees donate books each summer, and the engagement team finds a partner to distribute the books. They brought approximately 2,000 books to Native Hope for distribution to places in need.
Why Is This Partnership So Valuable to Native Youth and Their Communities?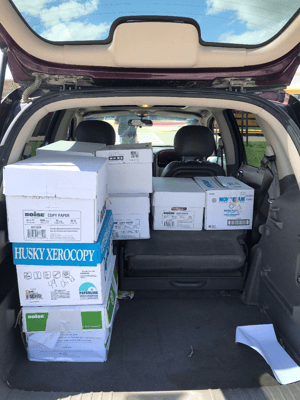 We all have memories of our favorite books from childhood, the books about adventure, friendship, animals, family, and more. Both the pictures and the stories leave a lasting impact on the developing mind of a young child, helping shape how they see the world and how they dream about what their life will become.
Literacy development (listening, speaking, reading and writing) develops early in a child's life and the environment in which a child is exposed to reading plays a huge role in a child's success later in school and life. In fact, reading—reading aloud—to a child is the single most important activity for the development of literacy!
Storytelling is already a crucial part of Native culture. Offering Native children new ways to access stories helps them develop this love of story into a love of words, reading, and writing.
We had the books due to the generosity of our donors at Avera Health. So, our job was to find the most effective outlets to reach Native children and help them discover the joy of reading.
Where Did the Books Go?
H

alf of the books

went

to St. Joseph's Indian School for their

book

m

obile

—

a bus filled with books that travels

over 3,000 miles to many of the

South Dakota

reservations and gives books

out to all who ask.



Crow Creek

Elementary School library

received 600

books rang

ing

from all levels

: K-12

.

The school reopened in 2014 after its building

s

were condemned. The new school meant a new library with shelves to be filled;

however,

their book budget has been limited

. Recently, the school restarted their Accelerated Reader program, so according to the school's librarian Kay

Koster

, "This donation was a blessing."



Next

,

100

pre-school

books

went

to the Crow Creek Shared

W

aters program. Shared

W

aters is a

prenatal

-age

5

program meant to help mothers on the

reservation with prenatal care. They also provide the

necessities for having a baby

such as car seats and beds.



Another 100

+

books went to the Crow Creek

Rural American Initiative's

Early Head

S

tart program in Fort Thompson.

The Early Head Start program

boasts three classrooms and services nearly 45 children: newborns to toddlers 3-4 years of age.



The

remaining 200 books went to the Fort Thompson

IHS

[

Indian Health Services

]

Field

H

ealth program. The Field

H

ealth program offers prenatal classes as well as home visits to families

,

encouraging well

-

child checks and immunizations.

The program's nurse brings a gift of

goodies

for

the children

in return for the home visit. W

hat better gift than

a book?



Let's Continue Working to Improve the Life of Native Children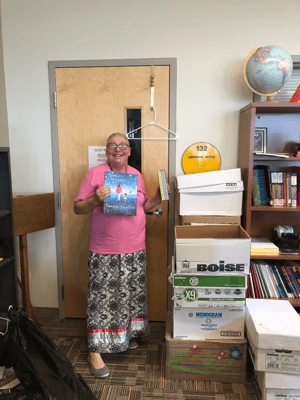 It's safe to say that all the books from the Avera Health employees have found wonderful homes and will make an impact throughout the Crow Creek Indian Reservation and beyond. We thank the Avera Health Engagement Team for the opportunity to partner with them. Partnerships like these are an amazing way to make a difference in the life of a child.
Investing in and improving the life of youth from Native communities creates a positive cycle of change. When Native youth have been given opportunities for growth, education, mental health support, and space to dream, they become adults who can be changemakers in their communities.
You don't have to donate children's books to make a difference! Your gift of $5 or $10 dollars helps Native Hope offer vital programming and resources to Native families living on reservations in South Dakota. Give today and join our community of supporters who are changing the future for Native Americans, one gift at a time.