Sep 12, 2021 | Native Hope
It is vital to the Native Hope team to live and work honoring all Lakota virtues of life, and we invite our donors and supporters to be mindful with us. The Seven Lakota Values, given by the White Buffalo Calf Woman, include Wóčhekiye (Prayer), Wóohola (Respect), Wówauŋšila (Compassion), Wówičakȟe (Truth), Wówačhaŋtognake (Generosity), Wóuŋšiič'iye (Humility) and Wóksape (Wisdom). Although we aim to incorporate each value in our daily patterns and outreach projects, August brought us a clear theme of Wówauŋšila. Wówauŋšila, or compassion, focuses on the love and care for the community: family, elders, youth, the mourning and sick – every walk of life.
With the COVID-19 virus resurfacing across the country, it is important to revisit our core values and listen to each other to protect our communities and loved ones. Our mission at Native Hope is to serve and provide direct support to Native communities and families to honor and preserve Native culture and traditions. Taking steps to protect and lift our Native communities is extremely important to the Native Hope team.
Native Hope began our outreach journey on August 6, delivering cleaning supplies and groceries for a family of six affected by COVID-19. Between our other projects and events for the month, we coordinated with Jewel, a Lower Brule Sioux Tribe Community Health Representative, and delivered to five more families between August 18 - 25. In total, we served 25 members in the Lower Brule, S.D., community. Jewel mentioned her and the families' appreciation. We hope to provide a sense of peace and care for our community members during these difficult times.
Our team also delivered to Restoring Hope on August 6. Restoring Hope provides advocacy support services, transportation and temporary emergency shelter for those who seek asylum. Native Hope brought essentials and school supplies for the current and future residents at the shelter. We returned on August 18 to deliver household furniture for those transitioning out of Restoring Hope into permanent homes.
On Tuesday, August 10, the Native Hope staff participated in a parade on the St. Joseph's Indian School campus to welcome 133 first through eighth-grade students. Outside as the staff and students socially distanced, we celebrated with music, laughter, bubbles, and fun posters. When the children returned to campus, they brought joyful spirits with them.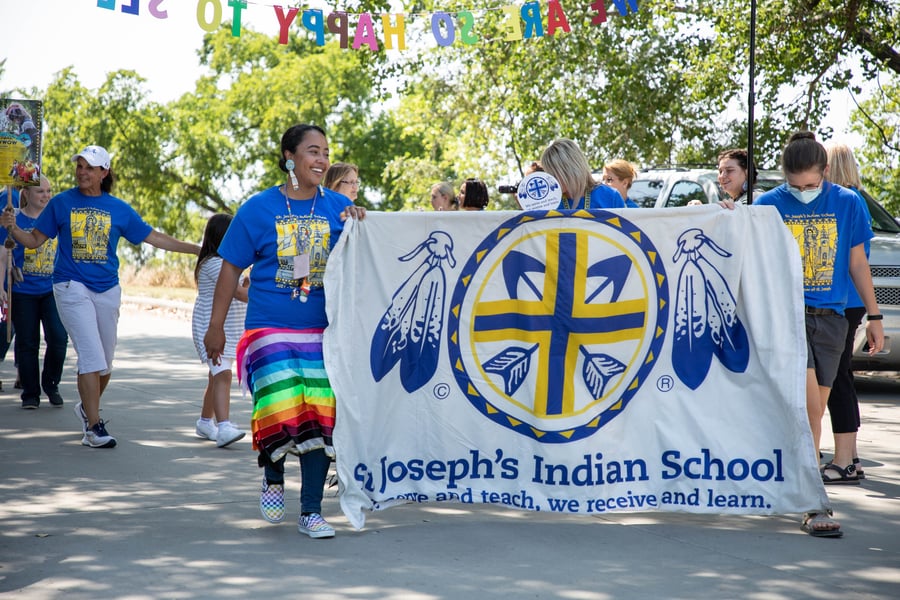 On August 20, Indian Health Services in Fort Thompson, S.D., held an event to honor those who passed due to the COVID-19 pandemic. One-hundred-fourteen participants walked together in remembrance of lost family members. An employee at IHS, said, "a member of the tribal council gave a welcome speech and prayed to honor those lost to COVID-19. Two participants shared their experience in loss and were thankful to be able to walk for them." Native Hope donated apples, bananas and oranges. We are thankful for events that provide healing for individuals by bringing the community together.
After dropping off fruit for the COVID-19 Walk, we crossed the river and delivered groceries and school supplies to a family seeking assistance in Lower Brule. We made another delivery to the family on August 25 to help make living conditions more comfortable for the grandmother and her nephews. Clothing, hygiene products, bedding and cleaning supplies were just a few of the items Native Hope provided. The grandmother said she is forever grateful for the generosity of Native Hope and its generous donors to make projects like this possible.
On August 24, Native Hope had another assistance opportunity for an individual who needed a new start. As we kept in contact throughout the week, we provided groceries, clothing, hygiene products and a gas voucher for transportation to appointments and classes.
Before we ventured to Lower Brule, S.D., on August 25, the team drove to Stephan, S.D., to deliver baby items to Shared Waters. Shared Waters is a tribal maternal, infant-and-early-childhood-home-visiting program that assists both Crow Creek and Lower Brule tribes. This month, we delivered parent and child essentials and baby play furniture, car seats and a crib. New items include but are not limited to cleaning supplies, nursing items and toys.
On August 26, Two Native Hope team members ventured to Rapid City, S.D., to attend the South Dakota Native American Tourism Alliance launch (https://sdnativetourismalliance.org/). According to the website, "The South Dakota Native Tourism Alliance is an ad hoc network of 60 representatives from the nine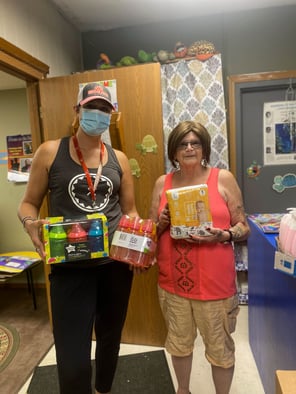 federally recognized tribal nations in South Dakota, industry leaders, and local, state, and federal partners, working together to develop Native American tourism as a catalyst for economic growth." The conference hosted many speakers, including tribal leaders and spokespersons of South Dakota's congressional leaders. Native Hope is excited to make connections and work within the SDNTA network.
Concluding the month of August, after 1,300 miles of travel across the state, the Native Hope team delivered to the Family Enrichment Program in Fort Thompson, S.D. Family Enrichment's mission is to foster a healthy family dynamic and empower guardians to work as a team to educate and raise their children. We brought items for baby bundles that the staff provides for their participants. An employee at Fort Thompson Family Enrichment, shared her gratitude and thanked our team for consistent support.
As we reflect on this past month, let us also reflect on our value at hand, Wówauŋšila. During August, our outreach program recognized the sick, the mourning, the youth, the elders, the family and the leaders. Native Hope serves our Native communities with fervor and will continue to uplift our people.
If it weren't for our donors, Native Hope would not have the ability to share the joy with the organizations and individuals we support. The Native Hope team takes pride in growing with our Native communities and making lasting relations. Thank you for keeping Native Hope and those we support in your hearts.
As always, we thank all who support our efforts to assist those in need
and to bring awareness to the beauty of Native culture.
Philámayaye!