Aug 30, 2016 | Native Hope
A sex trafficking sting at this year's motorcycle rally in Sturgis, SD, leads to eight arrests. All eight men were charged with attempted enticement of a minor using the Internet.
As you may know, Native Hope traveled to the Sturgis Motorcycle Rally earlier this month to create awareness around sex trafficking of young Native American girls and women.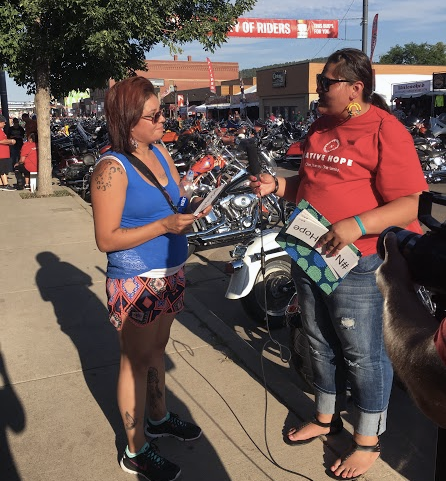 At the same time, joint law enforcement teams were conducting sex sting operations during the rally. KELOLAND News went undercover with the Divison of Criminal Investigation, or DCI. According to KELOLAND News, the Attorney General says this is a serious problem and "authorities will continue to go after those who prey on young children."
Agencies involved in the operation included the South Dakota Attorney General's Office, Rapid City Police Department, Pennington County Sheriff's Office, Sturgis Police Department, and Homeland Security.
"These arrests re-enforce that sex trafficking is a problem here in South Dakota, and protecting children will remain a top priority of law enforcement," said South Dakota Attorney General Marty Jackley.
Eight men from three states were arrested in this year's undercover sex sting.
Native Hope is determined to continue bringing awareness to the issue of sex trafficking among Native American girls and women. Please keep sharing our posts and helping us spread hope. Our partners provide direct services to victims including safe housing and a way out. Will you join Native Hope and help fund safe housing, training, and counseling for victims of sex trafficking? A full 100% of donations we receive from people like you goes directly to funding these vital programs for young Native Americans.