Sep 10, 2023 | Native Hope
The International Association for Suicide Prevention [IASP], in official relations with the World Health Organization, has deemed September 10 as World Suicide Prevention Day. Native American suicide rates are nearly double the national average. We invite you to join us as we address this crisis and work to provide hope for Native American youth.
The IASP website states:
Globally, an estimated 703,000 people die by suicide each year among which 77% of the deaths occur in low-and middle-income countries (WHO 2022). These global suicide rates are a serious public health concern. Every life lost to suicide creates a devastating impact to families, communities, and nations.
Suicide at crisis levels
In 2015, the New York Times shed light on the suicide crisis at Pine Ridge, SD. They shared the story of Santana, a social and seemingly happy 12-year-old Oglala Lakota girl who loved to ride horses. She decided to end her life just before Christmas 2014. Tragically, she was among nine Lakota youth on the Pine Ridge Indian Reservation in South Dakota who took their lives within four months.
Today, suicide remains an ongoing crisis for the Oglala. "According to the Oglala Sioux Tribe Suicide Prevention Program, between January 1 and August 17, (2020), there have been nine suicides among youth and adults aged 14 to 32"—four of these occurred in recent weeks.
Beyond the completions, there have been 177 total suicide attempts and 168 suicide threats this year (2020). These numbers illustrate the severity of the situation. Julian Bear Runner, Oglala President, recently declared a State of Emergency for his tribe, citing the pandemic as a contributing factor to the isolation and despair many are experiencing. Additionally, Bear Runner's declaration cites other contributing factors such as generational and historical trauma, and he reminds the U.S. government of its obligations to the people of Pine Ridge and other reservations. (See the State of Emergency declaration.)


Here are some additional statistics relating to Native Americans in our community:
Almost 850 suicide attempts and 1,300 threats-to-commit were recorded on the Pine Ridge Reservation between December 2014-June 2019 by the

Oglala Sioux Tribe Department of Public Safety

.

On the Rosebud Reservation, 47 teenagers committed suicide over two years, and at least two children a day are victims of a crime or exposed to abuse, neglect, or violence in school, the

Washington Post

reported

in November 2014.

Among Native Americans, 40 percent of those who die by suicide are between the ages of 15 and 24.

There are children as young as 12 who have completed suicide.
Native Hope's partners in action
We are honored and very pleased to be working with some of the best partners who provide help to Native Americans in crisis. Each with a skilled, caring staff and volunteers who provide direct services that allow victims to obtain counseling, treatment, and more.
St. Joseph's Indian School, our sister organization, is a residential school for Native American children. The school promotes the Lakota culture and language, while also providing healthcare and counseling services for each student. St. Joseph's Indian School, along with QPR Institute, believes anyone can learn to help save a life from suicide by using three simple steps: Question, Persuade, Refer [QPR].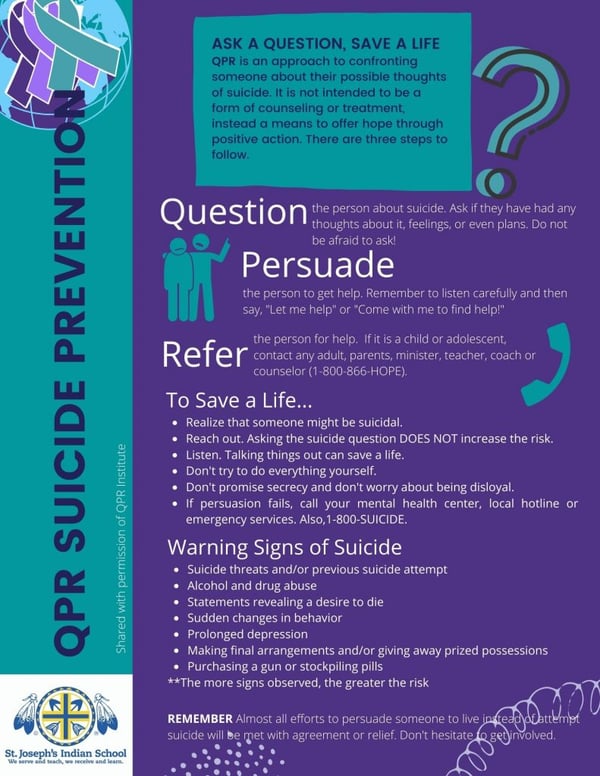 Another valuable partner in the fight for life is Yvonne, 'Tiny,' DeCory, Native Hope Fellow, and co-founder of the Be Excited About Reading [BEAR] Program on the Pine Ridge Reservation in South Dakota. She works tirelessly to fight the aforementioned suicide epidemic crisis. For the past 30 plus years, she and Eileen, the other partner of the BEAR Program, have battled suicide as the unofficial "official" preventionists. They worked with Oglala President Julian Bear Runner to draft the declaration of the State of Emergency released in August 2020.
Tiny believes in the power of reading as a preventative measure for children, but she knows that as youths enter their teen years, they need communication skills and confidence. Consequently, she also believes in the power of storytelling—of youth sharing experiences with one another, so they understand they are not alone.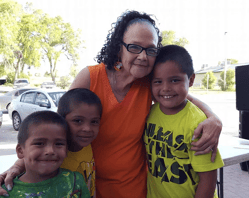 The BEAR Program has evolved into a robust youth group with talking circles, performances, summer and after-school programming, and so much more. Tiny and Eileen work to develop student mentors who assist them in the battle against suicide among the Oglala youth. Tiny, Eileen and her team make themselves available 24/7 for those in crisis—they travel the entire reservation to prevent suicide completions. During the pandemic, the BEAR team has been busy packing snack bags for the youth of Pine Ridge to provide nourishment and hope.
Finally, the Lower Brule Boys and Girls club [LBBGC] serves as another invaluable partner in the fight against suicide. Through their tireless efforts to provide meals, snacks, and activities to the children and teens of the Lower Brule Sioux Tribe [Kul Wicasa Oyate], the LBBGC maintains daily contact with their members.
It's okay to call
On World Suicide Prevention Day, September 10, Native Hope celebrates all organizations, professionals, and individuals striving to make a difference in the lives of those struggling to find their worth.
Native Hope believes that hope is at the foundation of real change. Hope opens the door to possibilities and dreams.
If you or someone you know is struggling with suicidal thoughts, please call the Suicide Prevention Lifeline at:
1-800-273-TALK.
We invite you to join us in The Circle of Hope, a community of people passionate
about bringing hope to Native American youth.