Feb 25, 2021 | Orlando Skidmore
The idea was suddenly and unexpectedly born in 1995. I was living at my mother's house on the Fort Apache Indian Reservation in eastern Arizona. Fresh out of high school and newly a father, my prospects for any type of future were bleak. A product of an alcoholic environment — it was tradition and almost culture to spend most of the week in an alcoholic blur. Convinced there was nothing more for me in this world after high school, all ambitions and dreams ceased for me. I was merely the next town drunk. What a difference ten years makes.
The birth of a filmmaker
My childhood home in the 80s was a completely different place. Yes, alcohol was ever-present. And my home could go from my father's friendly classic rock party to my brother and I hiding under our bed as he and mom fought. Often, those fights would be physical and not good for mom or me. Most of the time, he was not home due to his work and the nature of the reservation. Drinking sprees could last weeks. So, I would quickly forget about him, and we'd go out and be kids.
The reservation was booming, and we did not know how good we had it. The timber business was employing hundreds. The ski resort was thriving. Our bowling alley and arcade was the place to be, and the ice cream shop down the street had a jukebox with all the newest breakdancing singles. It was normal for me to spend all my ice cream money playing "Friends" by Whodini, over and over and over.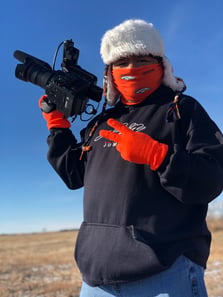 But Wednesdays were special. I could not wait for Wednesday. Every week, as the sun approached the western horizon, nearly all the kids of the reservation lined up outside an ugly and unassuming brick building. It was our local theatre. Most films played a week-long, and Wednesday was dollar day. $1.00 per ticket and a few dollars more got you popcorn and soda. My friends and I made our way down the sticky aisles with our snacks. We sat and laughed and threw popcorn around until the lights went dim. The whole place would erupt with cheers. This was when it happened, a naive belief. As the screen glowed with lightsabers, proton packs, and a Nazi's melting face, this dream inside me grew. I wanted to walk through that screen and be a part of that world. I could not conceive barriers at my young age. I was just sure this was what I was going to do. What a difference ten years makes.
A strange question for a reservation
It was a beautiful late spring day in 1995. The sky was clear blue, the breeze was perfect, and the flies seemed to have something better to do that day. I was on track to miss the day because I was so hungover. As awful as I felt, sleep was not happening. So I got up and got ready. Then I decided to watch a movie, unsure which, but I barely pulled the VHS out of the movie box when there was a knock at the door. I wasn't surprised to see my drinking buddy and cousin Jay. I figured it was just that time. I was ready to cure my hangover.
Little did I know he was there that day to change my life. He started with the usual, "Hey. What's up?"— which followed with all the typical platitudes. All of a sudden, he pivoted and asked a strange question. Strange for the reservation anyway. "Hey. You feel like acting?" Acting? What was he talking about? Acting? "What'cha mean?" I asked.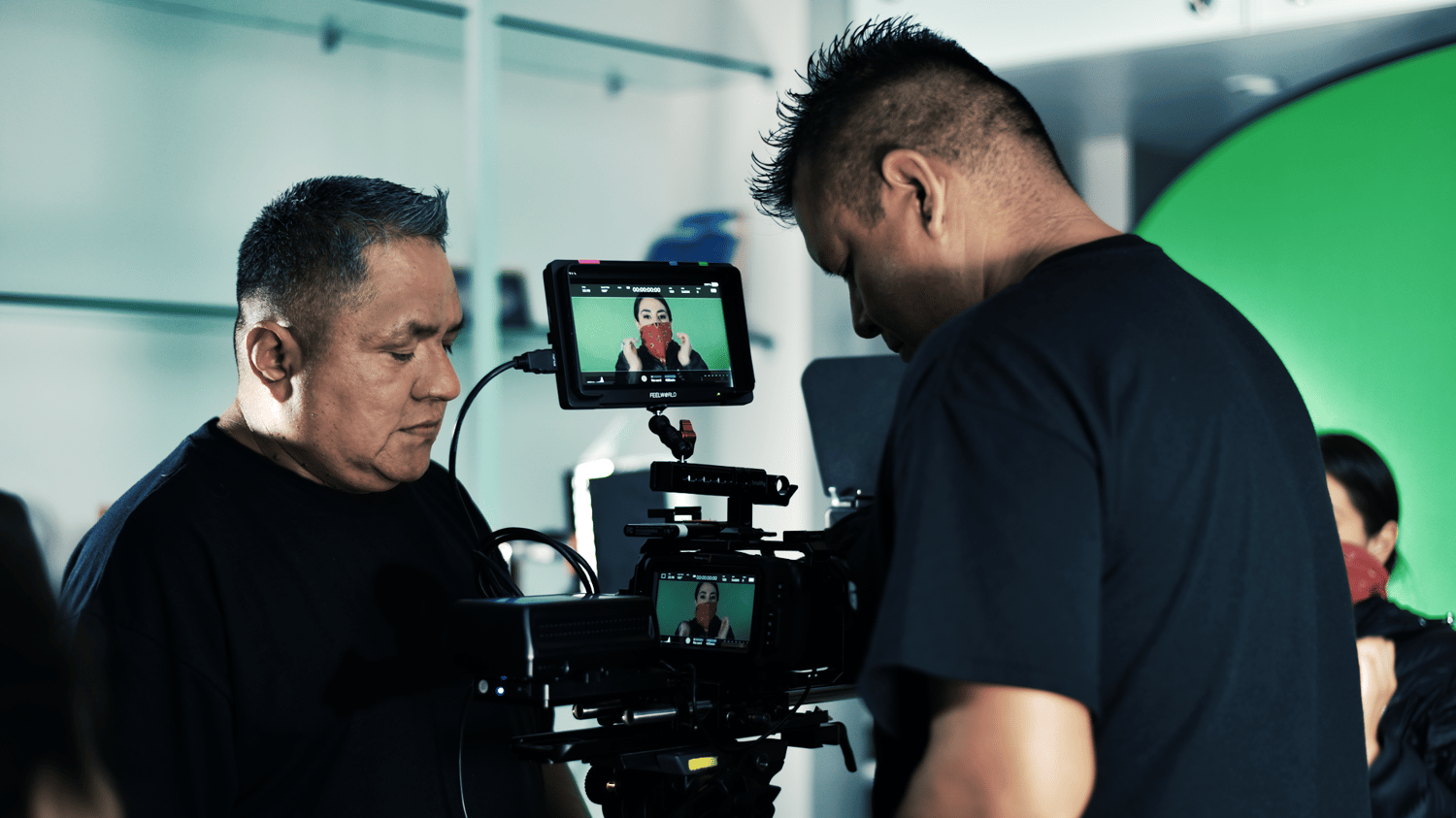 So, for the next few minutes, he explained how he had been working for several months for a nonprofit run by the tribe's behavioral health department. I was shocked. He had a job? I felt like we partied too much for him to be employed. I did not believe him. His response to this was to take me to his car and open up the hatch. Inside was the biggest camera I'd ever seen. He had all the lights, stands, and some cool-looking sound equipment. I was shocked. He had a job! And it was cool!
I was his actor that day. Within two weeks, I was his co-worker. A few years later, I had produced dozens of video PSAs, taught video classes at my old high school, written/directed my first short film, and finally felt like a proper father to my daughter. But, all things eventually come to an end. And the time to be a little videographer from a small town was over.
Look at all these white people
There came a time when the decision was made, by me, that I should take my talents and apply them to real Hollywood movies. The obvious route was to go to the local community college in Albuquerque, N.M., for their film course. In a way, it worked. In 2014, I walked onto my first real movie set. As I stepped onto set, I took it all in. It was amazing. And then it struck me. I looked around once more, and my immediate, honest thought was, "Look at all these white people." I wasn't uncomfortable, I was not out of place, nor was I intimidated or fearful. I also was not upset. But, I realized, were it not for my student status, I would likely not be here.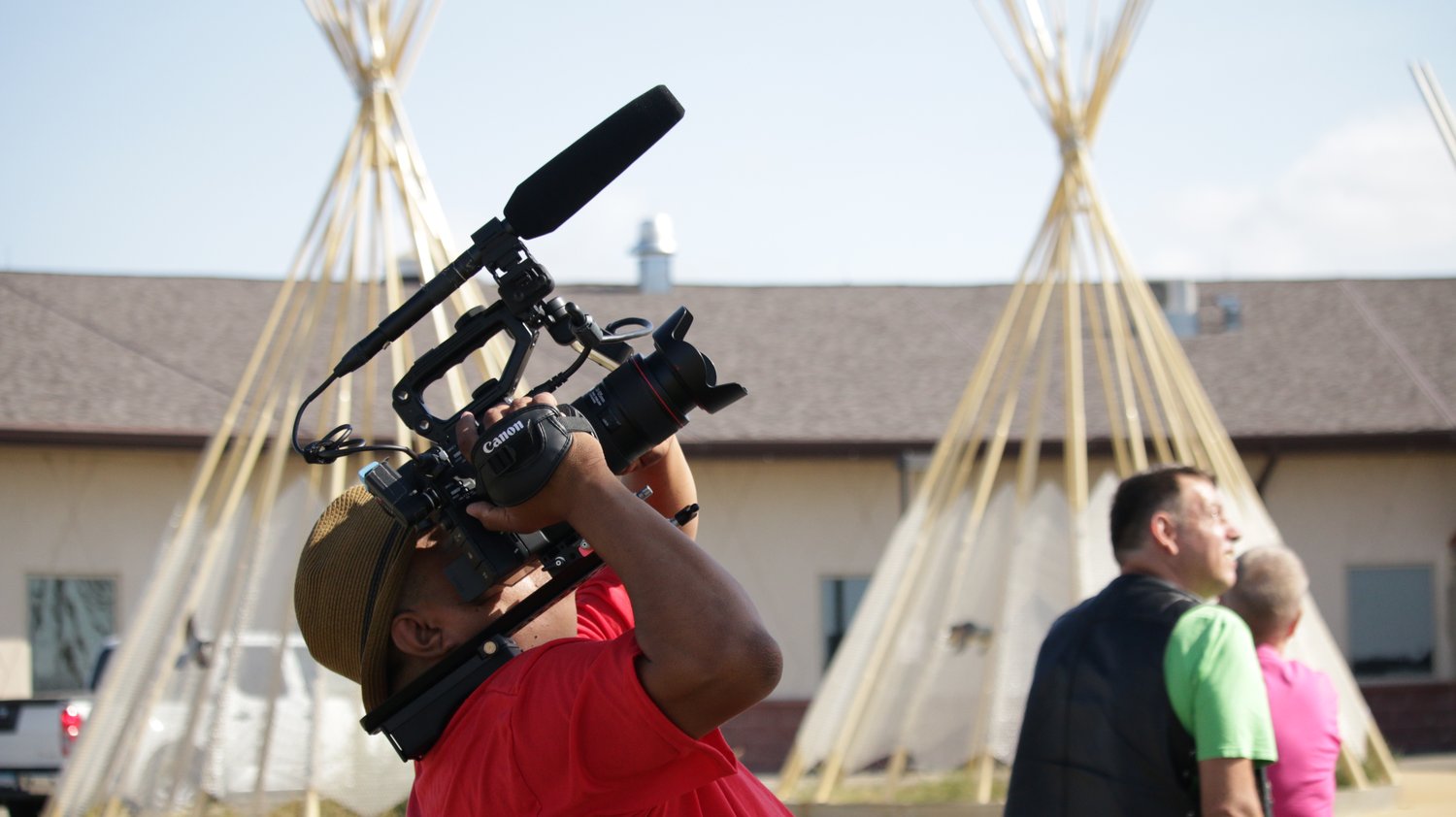 For the next month, I did my best to impr
ess upon my "film family" that I was not here to prove anything. I was just looking to live this creative life like they were. Now, t
hey were all the nicest folks and super talented. I still look up to them to this day. But, they were a part of the machine that seemed designed to repel others. So, I was indulged, may be tolerated, and we finished the movie. When the First A.D. hollered "Martini Shot," the whole set was electric. It meant that this was the last shot of the film. As the crew grew exuberant, I could see, this Martini Shot would not just be signaling the end of the filming but an end for me as well.
It was 4 a.m. when I made my way to a dark road at the edge of the city. I walked alone for a while, recounting every connection, hoping it was enough. It would not be enough. My wife found me walking as she made her way to pick me up. I had a great time, I told her, but…but… I finished my film course the following week. The paper I received said I was proficient in my abilities and training to perform the necessary tasks required to work on the big Hollywood movie film sets. The piece of paper they gave me sits in a box somewhere in my garage. I never heard from any of my "film family" again.
A mesa, a mountain, and a love for film
Native Americans are not anything if not resilient. And being Apache, I was not done, not in the least. I got on every independent, student, and oddball production (they exist) I could find. There, with all who loved film and storytelling more than failure, I discovered my Film Family after all. Moreover, I started to meet all the Natives in film. And there, I meet my future business partner, Mr. Darrell Fong. Darrell is part Hopi and part Chinese, and he grew up on the mesas of the Hopi Reservation in Arizona. We shared stories and musings of growing up on reservations so different, but in many ways, the same. If I didn't mention, I was raised on the mountains of the Fort Apache Indian Reservation. We started to become sort of a team, as we worked on more and more productions together.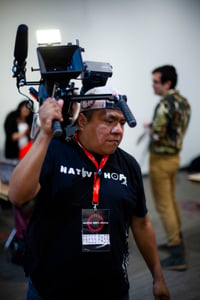 As with many things in this world, you need to look out for your own. We realized this was very much the case with film. There needed to be a space for Native American creativity and talent. And this space was not just going to appear on its own. We decided this was a noble, if not profitable, endeavor. We would create this space for Native talent and creativity. And we would call it... uh...we hadn't the slightest clue what we would call it. We had many meetings about the name of our company. When we couldn't think of a name, we went back to our musings of the mesas and the mountains.
One evening, as I was working on another project, it hit me. Mesa Mountain Media. I shouted at my wife in glee, "I got it!" We were going to be Mesa for the mesa my partner's home. Also, for the mesas west of Albuquerque, our new home. Of course, we were to be Mountain for the mountains of Arizona, my home, and the Sandia Mountains to the east of Albuquerque. Later, we replaced 'Media' with 'Film' to better represent our niche.
Mesa Mt. Film
Over two decades in the making, we launched Mesa Mt. Film in 2020. Our mission statement is as follows: Mesa Mountain Film, LLC, is a Native-owned film production company based in Albuquerque, New Mexico. Our goal is to create quality, innovative motion media while providing industry opportunities for emerging and seasoned Native American film and media talent. We strive to support our clients with impressive, story-driven, digital motion content.
Mesa Mt. Film is a 100% Native-owned production company with a talented crew of mostly Native Americans who are highly talented and professional. Mesa Mt. Film has lofty ambitions for the near future, and we will be employing a crew of nearly 75% minorities, at least half of that will be Native American. There will be plenty of opportunities to support Mesa Mt. Film in these endeavors via Indiegogo campaigns and sponsorships. Learn more about Mesa Mt. Film at www.mesamtfilm.com. Keep tabs on upcoming opportunities to support us on Facebook, Instagram, and YouTube. Links to our social media are on our website.
I truly appreciate you taking the time to learn about this idea to allow and rely on Native American storytellers to participate in the filmmaking process. We look forward to offering quality entertainment by Native storytellers.
We're on a mission to spread healing by telling the beautiful and the tough stories that come from the Native American experience. Help us spread healing today and inspire hope. #StorytellingHeals