Julz Rich explains she didn't always have the strength to fight the demons of drug and alcohol abuse. She makes no excuses for her life. Instead, she hopes her mistakes will teach others that they, too, can overcome addiction. Read part 1 of Julz' story here, and part 2 here.
For years, Julz lived in an abusive marriage. It took its toll on her and her children.
"Growing up, I couldn't do anything when my dad beat up my mom," explains Jon Jon, Julz's son, but now, he will do everything in his power to keep his mom safe.
Currently, Julz lives with her four children: Jerene, Jerica, Jon Jon, and Francine along with two grandbabies and her older brother in her mother's house in Pine Ridge Village.
"Everybody has struggles. Life is hard, but you know what—we're sober," relates Julz, who has been sober for eight years.
"We are all crowded in—the house isn't even livable, but we are happy because we are alive, we're sober, and we're a traditional family, and so that is good."
She continues, "But it's the other ones who have the alcohol and the meth; we need to save those babies. I am doing this for them."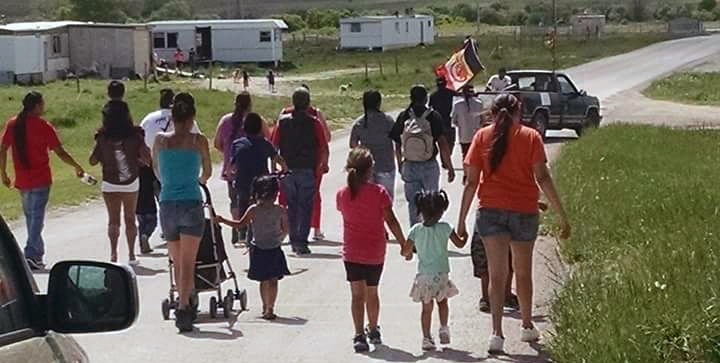 In addition to forming Mothers Against Meth Alliance, M.A.M.A., Julz is also working with her friends from other reservations to promote the creation of laws that would make it an act of violence against a child if a person is caught using or even possessing meth around a child. It would be considered a criminal offense.
But Julz and her family have found themselves in the battle of their lives. Their windows have been broken out. Their pickup has been vandalized, and their mission has been mocked. Julz understands that her fight is dangerous; in fact, her own nephew pulled a gun on her.
Julz and her children are constantly bombarded by negative comments. One time when Julz was putting gas in her pickup, a man shouted, "You're trying to throw our people under the bus!"
This doesn't phase her. "Warriors don't just fight until they are uncomfortable," she explains. "I don't even care," she continues. "Bring it on! Because this is my fight—I chose it. I prayed about it. I Sundance. The grandfathers said that they are going to protect me, and they have. They have protected me this whole way through."
The scar to the heart
However, nothing could protect Julz from the the blow she would receive. She had actively been fighting against meth for over three years when the fight hit her at home.
She recalls, "My mother told me she thought my daughter Jerene was using meth, and I just couldn't believe it."
She didn't think it was possible that Jerene could be using. Julz had founded M.A.M.A. and regularly handed out pamphlets about the dangers of meth in the playground behind her house. She had even broken up meth deals. Her own daughter simply could not be using meth.
Julz now realizes that she was blind to her daughter's addiction; she was in complete denial.
But, one night Julz caught her daughter using the drug. She immediately put her on an Involuntary Commitment Hold (IC Hold) that would send her to treatment.
"I was angry at my mom," Jerene admits.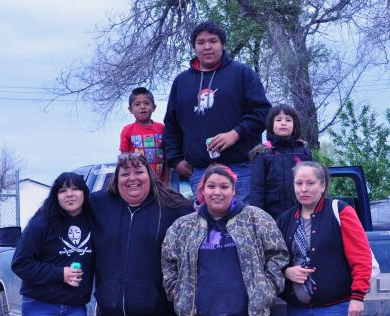 In spite of the hold, Jerene was able to meet a dealer outside of their home. Luckily, Julz interrupted the deal.
The dealer escaped on foot, and the cops failed to arrest him. Jerene ran, too. Eventually, Jerene landed in jail, and this intensified Julz's efforts.
Today, Julz's family is on a better path, and her children and grandchildren are involved in the fight against meth. She holds rallies and marches all over the reservation; she gives interviews, speeches, and presentations whenever and wherever she can.
Native Hope is working with Julz and other Native Americans like her to bring hope and change. Add your voice and join our movement.