A vast majority of Native American youth living on reservations today are overwhelmed with extreme daily challenges. These include high rates of poverty, addiction, abuse, and suicide. Our young people are being faced with seemingly insurmountable issues that make it almost impossible to dream and plan for a brighter future. Simply put, they need hope. They need us coming alongside them, giving them a platform for their voices to be heard.
Part of our mission in reaching Native youth is to tell stories of people just like them—stories of Native American individuals overcoming the obstacles, embracing their culture and identity, and achieving their dreams. Darren Thompson, from the Lac du Flambeau Ojibwe Indian Reservation in northern Wisconsin, is passionate about his culture and seeing his people empowered to live out their dreams with purpose and fulfillment.
A journey towards empowerment
Darren is an educator, public speaker, and journalist who has also received global recognition for his talent as a Native American flute player. He has spent most of his adult life serving communities through leadership development, American Indian cultural awareness workshops, and the arts. He expresses his passion for his instrument, however, as something that may "seem simple, but is all-consuming."
This all-consuming passion began while he was an undergraduate at Marquette University in Milwaukee, Wisconsin. Darren relates that he had a "burning curiosity" for this nearly lost instrument that was part of his cultural history. He has since shared the stage with many award-winning musicians and artists, his talents giving him the inspiration to thrive as an artist.
A consuming passion
Darren states, "When I play the instrument, I think of what our ancestors might have thought when they heard it sing. It wasn't until I discovered the flute that I understood the loss of our people and our history." He is aware of the effects of the transgenerational trauma that have afflicted Native people throughout the generations, and he wants to offer hope. He states, "Although this trauma is in our past, there are ways that we can overcome that and not allow that to define us. We can use our accomplishments as a means to overcome the trauma."
Darren encourages his people and says, "Be empowered that you're still here! Our culture is still thriving in ways that other people's are not." His music has played a vital role in his own discovery and journey to see his culture thrive. "The flute made me see that if we teach about our past, of what we have, people are sure to discover what we have lost. However, after loss comes rebuilding, and we continue on as a people, and make sure to revive and preserve it."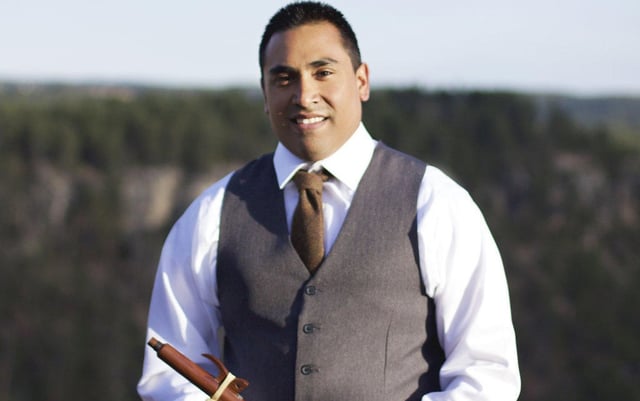 Changing the narrative
"I try to see the beauty in all things. That's where my music comes in and allows me to rebuild and to never lose my enthusiasm," states Darren. That enthusiasm has earned him a nomination from the Native American Music Awards for "Flutist of the Year" in 2016 for his album Between Earth and Sky. Also, in 2017 he partnered with well-known flute maker Jon Norris to develop a "Darren Thompson Signature Flute," providing devoted flute players with the opportunity to enjoy a "world-class instrument that reflects my cultural heritage and Jon's precise craftsmanship."
Photo by Tara Rose Weston, Oglala Lakota
Darren shares our vision at Native Hope that when you give a voice to the voiceless and allow their story to be heard, "it empowers them to be themselves and express themselves." He continues by saying, "As a people, we know that we have a very rich and very beautiful history and that it has been very rarely shared. And if it has been shared, it has often been shared in the wrong narrative." At Native Hope, we believe it's time to change the narrative.

Join us we strive to equip a generation of Native American youth to pursue a bright future and see their culture thrive.