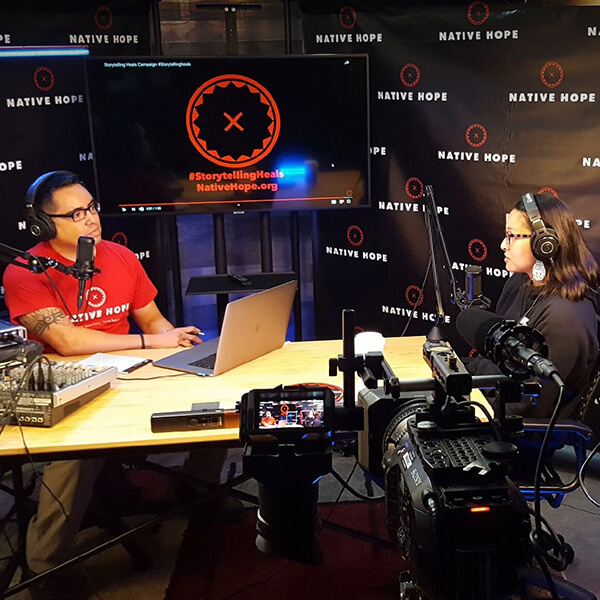 One of the greatest challenges facing Native Americans today is the lack of positive, authentic representation in mainstream media, culture, and consciousness. For many non-Native people, Native Americans are either a historical idea, stuck firmly in the past, or they are a marginalized group in the present who live on reservations and face unusually high rates of poverty, alcoholism, addiction, and unemployment.
While these modern day challenges exist, they are not the full story. It's time to start telling the true story of Native Americans living today, and that story is one of resilience, diversity, and success in every arena of public life.
We are thrilled to announce a new initiative that we hope will raise awareness of all the ways today's Native Americans are thriving and inspiring the next generation of Native youth: the Native Hope video podcast.
Keep reading to learn more about our first guest and about the goals for this new storytelling platform.
A Platform for Indigenous Storytelling
The Native Hope podcast was developed to be a larger platform for authentic contemporary Native stories told by Indigenous people themselves.
Our guests are all Native. They are entrepreneurs, astronauts, health and wellness trail blazers, politicians, professional athletes, scientists, or people who are breaking down barriers in Indian Country as their life's work.
Our hope is that we can break down barriers and stereotypes through open and honest discussion between our guests and hosts. Every podcast episode is a glimpse of the adversities, tragedies, and victories that led our guests to the healthy, successful, and positive lives they are living now.
We believe that adversity is part of every human life. No one has lived a perfect life nor an easy life, everyone has struggles, at some point in our lives, we've all felt overwhelmed and unappreciated and at times, alone. The Native Hope podcast embraces all of that difficulty and shows how people have worked to overcome their challenges.
Both Native Hope and our guests believe that Native lives and Native issues matter. Our biggest hope is that we are connecting with our Native and non-Native listeners and that our similarities are greater than our differences.
A Platform for Inspiration and Healing
When you listen and watch the Native Hope video podcast, we hope you get a sense of the guest's story, the whole arc of their own personal journey, the obstacles, the difficulties, the challenges, the adversities.
We want listeners, both Native and non-Native to feel like they are not alone, that they are connected. The more you feel connected to our guests and their experiences, the more you can relate to their obstacles, the more you know that you can conquer those obstacles in your own life.
For our young listeners, we want these podcasts to be a source of infinite inspiration to dream big and to know that your dreams are attainable and possible. As you listen and learn from these Native guests who are walking their life journeys and redefining what it means to be Native American today, think about your dreams and goals and the obstacles you may be facing. The world needs your passion and your presence!
Our podcast is about good people talking about good work that's happening in Indian country and in their own lives, all in the name of healing through storytelling.
Meet Two of Our First Guests, Kelly Holmes and Ria Thundercloud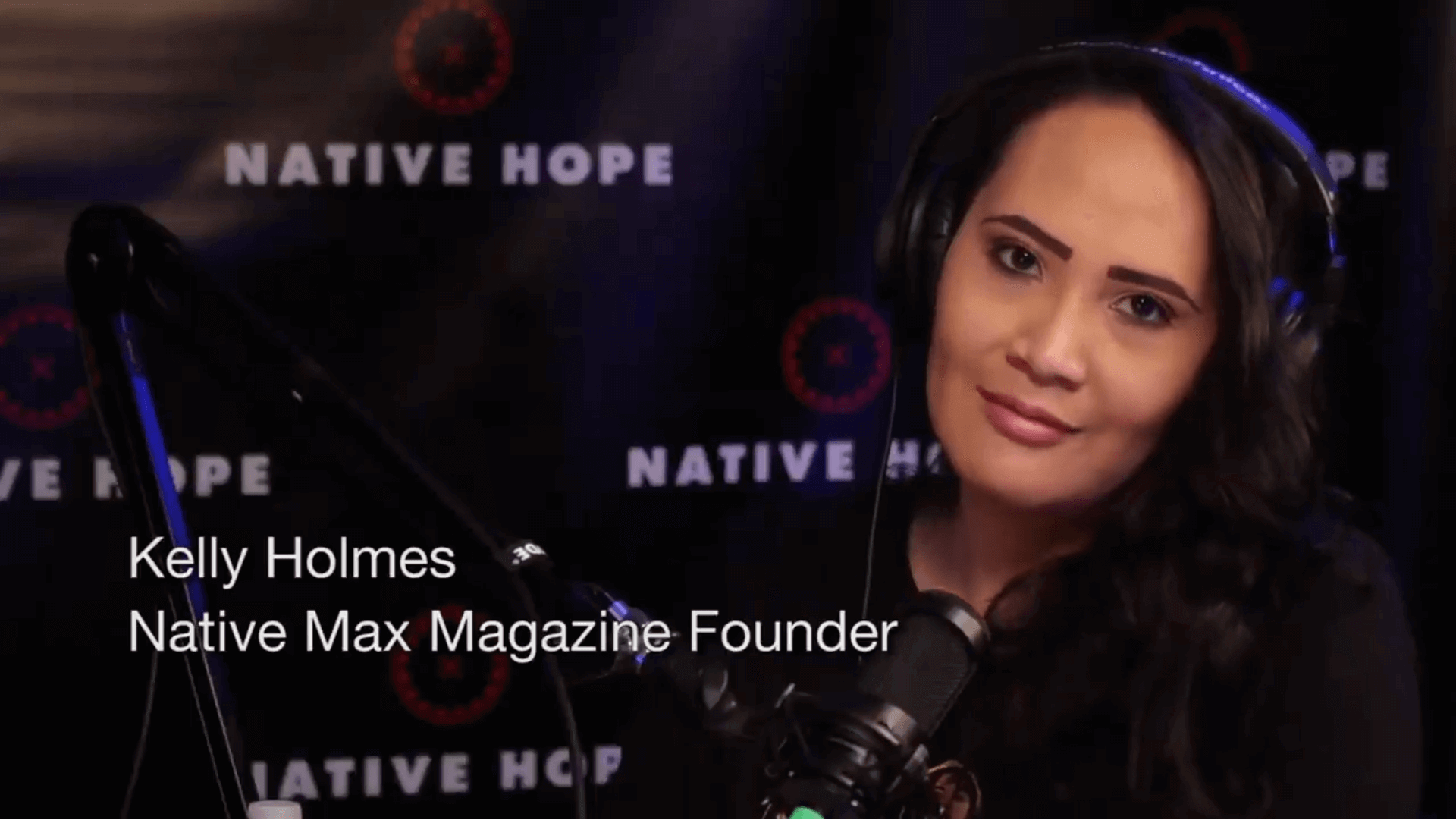 Kelly Holmes (Fly's Among Eagles Woman) of the Cheyenne River Sioux Tribe was hurt by stereotypes as a Native American young woman attending grade school in a predominately non-Native community. She found it difficult to establish an identity given her ancestry as three-quarters Mniconjou Lakota, and one quarter non-Native. While most of her peers were segregated by race, Kelly found herself in the middle. She broke down racial barriers by establishing her own identity through cultural reclamation.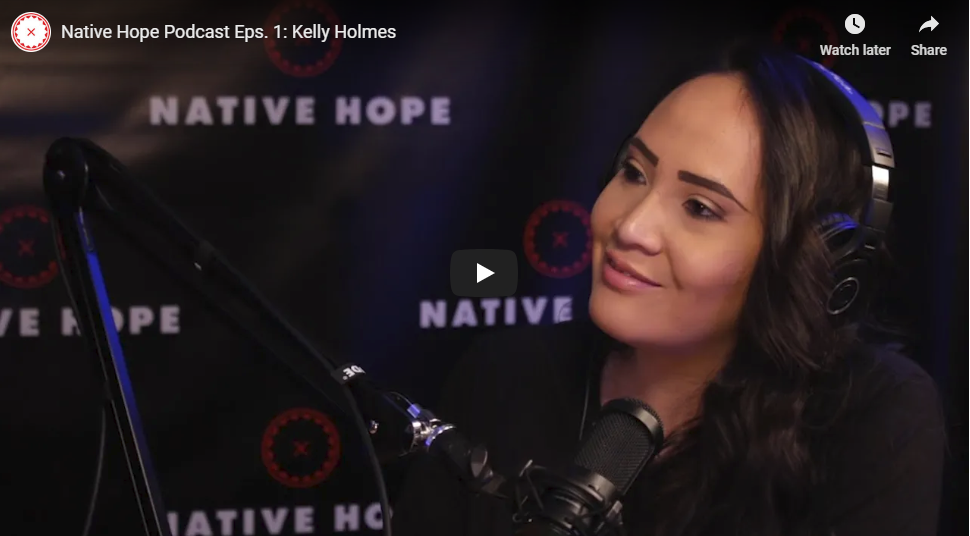 Kelly's passion for Native American fashion was ignited through her confidence in claiming her heritage and her sense of her Native beauty. In the fashion world, Native American culture did not seem present, and when it was present, it was not conveyed accurately. Kelly sought to change this portrayal of Native American culture, and is influencing this transformation of the fashion industry as the founder of Native Max Magazine.
Native Max Magazine is now organizing events, such as Native Fashion in the City, that create a marketplace for Native American artists to share their work. At this event Native American fashion designers-including OXDX Clothing, Aconav, and Red Berry Woman-are able to network, and Native American models are invited to participate, including those new to the industry. Kelly and other Native American entrepreneurs are creating new opportunities for Native American culture and for the reclamation of indigenous identities.
Ria Thundercloud is a graduating senior of a Bachelor's Degree in Indigenous Liberal Studies from the Institute of American Indian Arts in Santa Fe, New Mexico. Her experience as a Native American with roots and ancestors from multiple nations, including the Hochunk Nation and Sandia Pueblo, has allowed her to create her own identity that she expresses through dance.
She has been taking contemporary dance courses and has been dancing in pow wows as a fancy shawl dancer since early childhood. She dances the traditional Eagle Dance, a dance that includes adorning the arms with fully feathered eagle wings, for ceremonies as well as public performance. This line of work has taken her internationally, to countries as far as Saudi Arabia.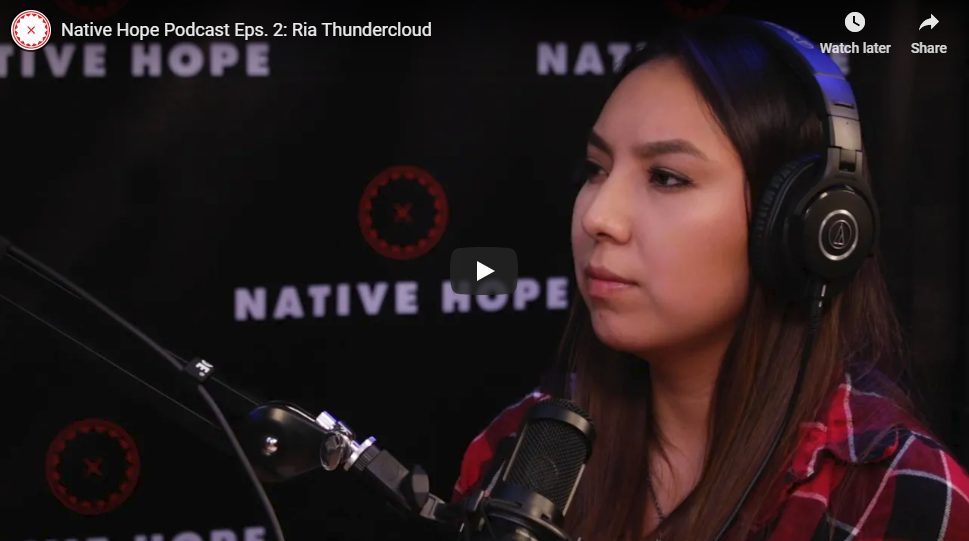 Throughout her years, she has also partnered with other Native American performing artist groups, including the indigenous dance group "Dancing Earth" and the Lakota band "Brule." Ria will be sharing her talent as a dancer this summer to inspire Native American youth. She will be guiding dance class and workshops at the Hochunk Nation Youth Services in St. Paul, Minnesota.
Stay in the Loop About These Inspiring Indigenous Stories
We're already six episodes into our first season of podcasts, and we have lots more stories on the way!
Join the family of supporters and listeners who are tuning in to these stories by subscribing to the podcast today. You'll be notified every time a new episode comes out, and in the meantime, you can catch up on the existing episodes here on the Native Hope YouTube channel.
It's never too late to start learning the untold story of Native Americans today. Subscribe to the Native Hope podcast to explore the modern realities of successful Native Americans from all walks of life.